In Memory of Police Officer George E. Elder
In Memory of Police Officer George E. Elder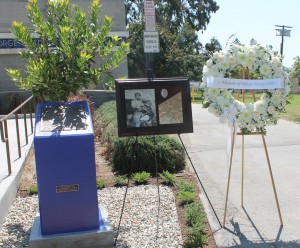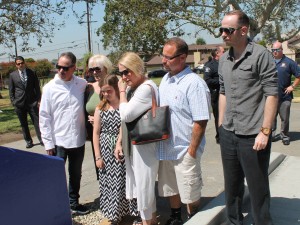 The Monterey Park Police Department rededicated the memorial plaque located at Elder Park to honor one of the city's heroes on June 8th.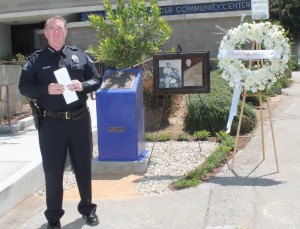 Police Chief Jim Smith welcomed the family members of Officer George Elder who was killed responding to a holdup at the Star Market on June 9th, 1961 at the age of 29.  On December 1st, 1957 the police department hired George Elder.
Chief Smith introduced his family members: his children Debbie, Karen and George, his grandchildren Dwayne, Andrew and Sophia and his brother retired Monterey Park Police Chief Jon Elder to the audience.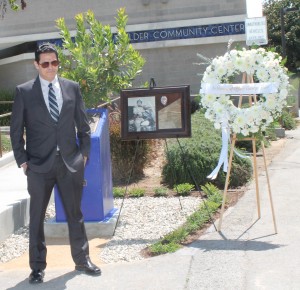 Pastor Johnny Cabrera from Trinity Church led the invocation. He asked God to remember with goodness and sadness. We are glad and thankful for defenders who serve us. We are thankful for police running into the danger.
It is so sad because this hero was taken at a young age from his family and his community. He thanked God. We mourn the loss of life. He prayed for peace and justice.  God said we must not repeat evil with evil. We must cover it with love.
Chief Smith said Officer Elder saw a box boy chasing two men from the store. He watched as one of the men shot at the box boy so he pulled his gun to bring the crime to an end.
Retired Chief Jon Elder said his brother; George Elder was shot two times but was able to return fire. He hit the car as they drove away. He was badly wounded but survived until the EMTs responded to the scene.  He was able to describe the getaway car to other officers. He died of his wounds on the way to a hospital.
The car that Officer Elder's bullets hit was located and the men were arrested for their crimes.  They were sentenced to life.
Chief Smith said the city dedicated Elder Park in his memory and later installed a memorial marker at the front entrance of the gym.
He also introduced Mayor Pro Tem Peter Chan, City Manager Ron Bow, Risk Manager Tom Cody, Officer Troy Grant and Sgt. Gus Jimenez, Parks Supervisor Chris Reyes and Rudy Valenzuela.
He credited Troy Grant and Gus Jimenez for their research on fallen officers. They also located another fallen member Office William Guidera who was hit by a car on Garvey helping a driver fixing a taillight in 1927. His name was added to the Los Angeles County Memorial wall.
He thanked Chris Reyes and Rudy Valenzuela for cleaning up the memorial site. The Monterey Park Police Officers Association installed and dedicated the memorial. He also thanked the city staff.
Chief Smith thanked the family for attending this rededication. He met the family for the first time last year with assistance from Jon Elder. He connected with the family and gave them some mementos that the city had from their father's employment.
He said the fire department's research also located three firefighters who died in the line of duty. The departments have suggested to Council that the city have a Public Safety Memorial to remember all of our dedicated employees who have died for our Monterey Park family.
Officer Troy Grant said brothers and sisters in uniform feel we know him. They see his picture every day as they drive off to patrol the city. They all serve.  Any one of them could be killed in the line of duty. He remarked all of the tears lost by the city on that fateful day could over fill a lake. He remembers George Elder and his spirit of service.
George Elder was a veteran. He served his country and his community. The Police Officers Association and all of our police officers are glad that he was located in Monterey Park.
Officer Grant thanked his fellow officers for their service. He will keep George's spirit alive.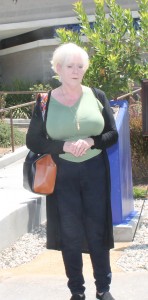 George Elder's oldest daughter Debbie said they still miss their dad. Their mother worked as a cashier to support their three children. She told them to treat people with respect so they will treat you with respect. Their mother died 28 years ago.
She thanked everyone for being here today. Our family prays for you each and every day.
Chief Smith thanked everyone for coming. They will have the memorial wreath at the site and have a police car guard the location through June 9th. The city flags will fly at half-staff in his memory.
They will move George Elder's picture into the lobby with another wreath for the public viewing. Officer George Elder will not be forgotten.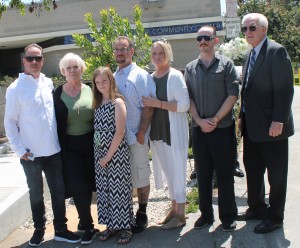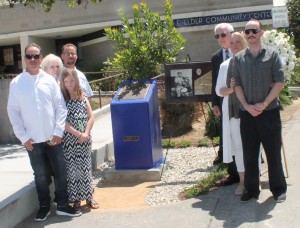 The Elder family stood at the memorial site in memory of their beloved father, grandfather and brother.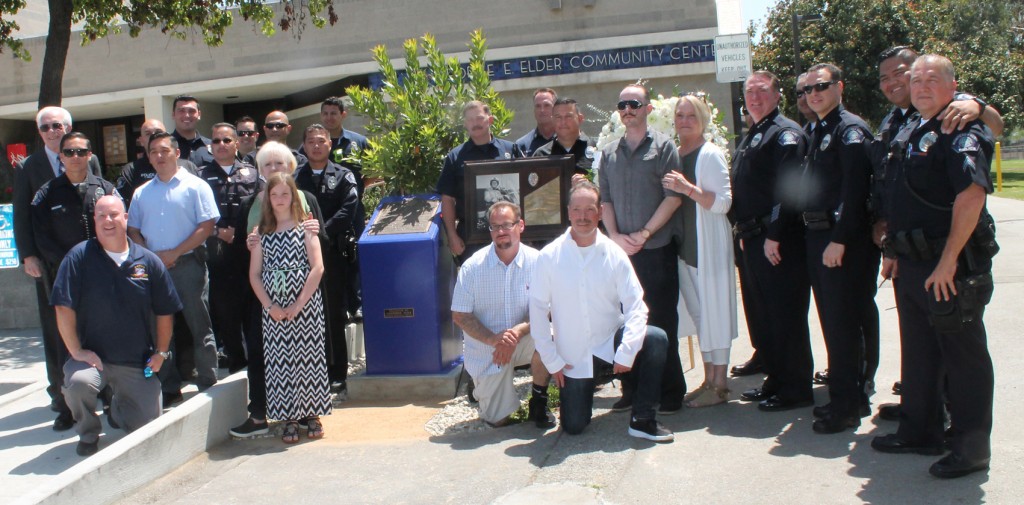 Members of the Monterey Park Police Department in remembrance, love and honor surrounded the Elder family.
Leave a Response