Monterey Park Police Arrest Two Males for Grandridge Avenue Residential Burglary
On February 27, 2018 at approximately 10:07 a.m., two suspects were arrested in the 1900 block of Grandridge Avenue in the City of Monterey Park. One suspect knocked on the front door of a residence, while a second suspect waited in a parked vehicle in front of the home. An alert neighbor saw the suspect walking into the rear yard of the residence and called police.
Upon the police department's arrival, the suspect that was in the rear yard entered the awaiting vehicle and the two suspects attempted to the leave the area. A traffic stop was initiated a short distance from the residence and an investigation was conducted. Based on the officers' investigation, both suspects in the vehicle were arrested for residential burglary. Detectives were also able to determine that they committed two additional residential burglaries in Monterey Park.
Monterey Park Police ask that all members of the community stay vigilant and, if you see something say something.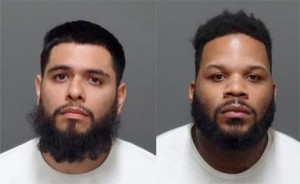 The suspects are identified as:
Andrew Patrick Dominguez, 28, of Los Angeles and Patrick Tyquan Webb, 29, of Altadena.
Both suspects were booked for 459 PC/Residential Burglary and are being held on $50,000 bail. Both are set to appear at the Alhambra Superior Court for arraignment on Thursday March 1, 2018 at 8:00 a.m.
Leave a Response