ALHAMBRA HISTORICAL SOCIETY PRESENTS ANNUAL JOINT DINNER MEETING
ALHAMBRA HISTORICAL SOCIETY PRESENTS ANNUAL JOINT DINNER MEETING
On Wednesday evening of March 28th the Alhambra Historical Society will host the Annual Joint Dinner meeting with the Dinsmoor Heritage House Cultural Museum, the Ramona Museum of California History, the San Gabriel Historical Society, the Historical Society of Temple City and the Monterey Park Historical Society.
The meeting will be held at the Alhambra Masonic Center at 9 West Woodward Ave. at the corner of Woodward and First Street. The topic for the evening will be "The History of the Guasti Mansion and Winery" presented by Glenn Barnett, local historian and author, and Carol Jones, Director of Visitor Services at the Guasti Mansion. The public is invited to attend.
At one time Secundo Guasti owned the largest winery in the world centered in the Ontario area and built himself an Italian Renaissance style mansion in the West Adams district of Los Angeles which has been lovingly restored and is available for tours.
There will be a social hour from 5:00 to 6:00 pm, followed by dinner catered by Charlie's Trio Café and a cherry desert catered by Claro's Italian Market. The program will begin at 7:00 pm. The cost for the evening will be $15.00 and there will be at least 10 door prizes for paid attendees. Please pay by Friday March 23rd to assure an accurate meal count. For details call Rosemarie Markus at 626-281-0445.
Parking is available in lots on the north and east side of the Masonic Center. Street parking is also available.
Photo Caption: The Guasti Mansion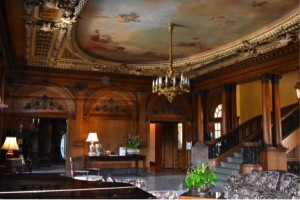 Leave a Response