Rosemead HS Coach CJ Joe Duran, RIP
By Chuck Lyons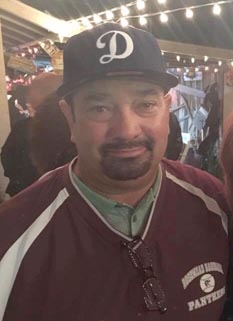 Coach Joe Duran, known as CJ, passed at home on Thursday, Jan. 11, 2018. Services were held on Saturday, Jan. 27, 2018, at noon at St. Anthony Catholic Church in San Gabriel. A reception followed at Rosemead Community Center in Rosemead.
He was a beloved owner and director of Running Rebels of West San Gabriel Valley boys and girls youth basketball program and girls junior varsity basketball coach at Rosemead High School for many years. CJ also coached baseball a few years at Rosemead High School. He worked at Rosemead High School as a campus supervisor for many years.
CJ will be remembered by his friends and co-workers for teaching life skills and basketball skills in his own unique way. Many people respect him for helping students learn to do better in school. It was his proudest moment when a student did better in the classroom. He has students in the past and on the current Rosemead High teams who were ineligible or had low grades at one point in the past and became honor roll students because of his tough love and encouragement.
He talked for example of a former Running Rebels player who now coaches at the community college level and how she gets the graduating players into four-year universities, with many of them still playing basketball, and most importantly continuing their education which he so greatly instilled in young people. He talked of his academic and baseball careers as a proud graduate of Azusa Pacific University. He had friends in the basketball community at LA Valley College, UCLA, LA Sparks and many colleges and basketball and baseball youth clubs.
His tough love style sometimes wasn't liked by a few, although some of the people who complained the most were also hit hard of his passing. The love and emotion of players of basketball and baseball teams, students who didn't even play on teams he coached on campus, after his passing is remarkable and a tribute to his classroom first mentality, followed by his encouragement of any student to do better in life, then basketball or baseball.
It was reported the campus was somber and had some great emotions that Friday after it was announced to the school, a testament to how many people he reached. Players, who were informed in a team meeting Thursday afternoon, students who didn't play sports but were encouraged and given hope by him in school and life and some staff are said to be still trying to handle their emotions.
It was said CJ always thought if you involve people in something you build a better community. A way to thank him is to get involved. Hundreds of people participated a vigil on Sunday evening, Jan. 14, 2018 at 5 p.m. in front of Rosemead High School.
Thank you CJ for your tireless efforts to people young and old.
Leave a Response