Day of the Dead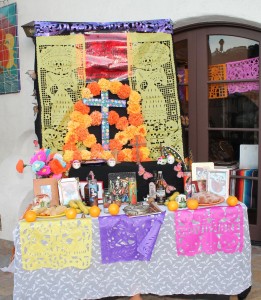 The Day of the Dead is celebrated by many cultures on November 2nd, which is also called "All Souls Day" when families remember their loved ones, who died by creating an altar in their memory.
Each altar displays pictures of their loved ones along with their favorite foods, favorite drinks, special items like their brand of cigarettes, their favorite music, movies and more.
The altars are adorned with candles, incense and flowers made of paper.
Marigolds are the flowers of choice used by most people to honor their loved ones.
Victoria Chavez-Calderon created this altar in November of 2016.
Leave a Response