Carol Sullivan Honored As 2017 Woman of Achievement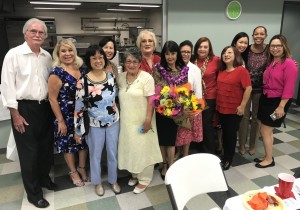 Carol Sullivan, a Monterey Park Community Activist, was honored by members of the East Los Angeles Business and Professional Woman  (BPW) on October 25th at a celebration dinner held at MERCI.
Mrs. Sullivan is a member of the City of Monterey Park's Community Participation Committee, which plans the City's annual trip to the Hollywood Bowl. She was co-chair of the City's Centennial Committee and helped organize and plan the City of Monterey Park's Centennial Dinner and other events for Monterey Park's Centennial. She was on the City's first Holiday Snow Village Committee. She was on the original Committee, which developed the Geranium Festival, including painting electrical boxes on the streets in Monterey Park. She is now back working on the Geranium Festival. She is on the Monterey Park Library Foundation's Board and has helped organize their annual dinner fundraisers and the "Day at the Races."
She is an active member of the Family Promise of San Gabriel Valley organizing the basket drawing for the annual Empty Bowls luncheon, hosting breakfasts for the families when they stay at St. Paul's Lutheran Church and participating in other fundraising events for the organization. In addition, she has helped her husband Larry with the Monterey Park Breast Cancer relay that was held for two years and with the hosting of Special Olympics. People know if they need someone to help with an event, they can call on her.
Larry Sullivan, her husband, other family members and friends joined Carol Sullivan for this special event.
Picture submitted by Theresa Amador
Leave a Response