News from assemblymember Ed Chau Assemblymember Chau holds digital citizenship roundtable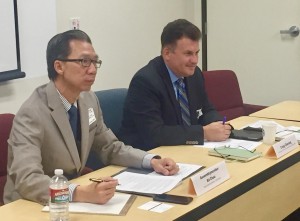 On October 17, Assemblymember Ed Chau (D-Monterey Park) joined local Superintendents and school officials, along with Craig Cheslog, Vice President of California Policy and Advocacy for Common Sense Kids Action, to discuss Digital Citizenship.
"Digital media is driving significant changes to the way that children live and learn, and while those changes bring exciting opportunities, such as new career paths and innovative means of self-expression, they also pose potential dangers, including cyberbullying and exploitation, if not managed appropriately through education or other means," said Assemblymember Ed Chau. "We all play a role in making sure children learn how to navigate the digital world safely and responsibly, and integrating digital citizenship as a topic of discussion in our schools is one way of doing so."
This year Assemblymember Chau partnered with Common Sense Kids Action to foster a greater understanding of Digital Citizenship by authoring Assembly Concurrent Resolution (ACR) 130. ACR 130 annually recognizes the third week of October, as Digital Citizenship Week to raise awareness about the importance of Digital Citizenship. Digital Citizenship is a set of defined and teachable skills for children in the 21st century. It means that children appreciate the responsibility for their choice of content, as well as their actions when using the Internet, cell phone, and other digital media.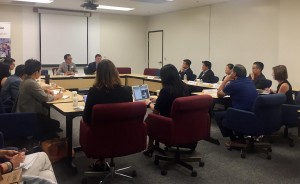 The round table discussion put ACR 130 into action by engaging communities on how to best promote responsible use of the internet and digital technologies. Participants at the roundtable discussed the experiences and challenges schools face with the rise of new technology and social media, and had the opportunity to learn about some of the free resources for the classroom that are available online to teach digital citizenship.
Legislators Host Hearing Examining Equifax Data Breach Impact
On October 24, Assemblymember Ed Chau (D-Monterey Park) joined Assemblymember Matt Dababneh (D-Woodland Hills) and Assemblymember Jacqui Irwin (D-Thousand Oaks) for an oversight hearing to examine the Equifax data breach that compromised the personal credit information of more than 145 million consumers.
This joint hearing of the Assembly Committee on Banking and Finance, Assembly Committee on Privacy and Consumer Protection, and Assembly Select Committee on Cyber Security heard testimony from several panelists on the impact of the data breach and reviewed options to protect consumers from future attacks.
"The data breach reported by Equifax that exposed the personal data of nearly half the country goes beyond disappointing or unsettling – it is horrifying, and people will have to live with the negative consequences of this breach for years if not the rest of their lives," said Assemblymember Ed Chau, Chair of the Assembly Committee on Privacy and Consumer Protection. "Today's hearing allowed us to garner a more detailed sense of the full impact of this information disaster, and begin a dialogue about whether our system is sufficiently updated and robust to respond to information age disasters like this one."
"Financial institutions and corporations buy this personal data about our lives from the big three credit reporting companies, and until they hold Equifax and its competitors accountable, I worry we will not see real progress in protecting consumers," said Assemblymember Matt Dababneh, Chair of the Assembly Committee on Banking and Finance. "The problem with the data breach and how Equifax is handling it can be best explained by John Oliver, host of HBO's Last Week Tonight program. When reporting on the breach, Oliver said, 'We are not the consumer – we are the product. Or to think of it in terms of KFC, we're not the guy buying the 10-piece bucket – we are the chicken.'"
"Recent large scale cyber-attacks, like the one that happened at Equifax present a major threat to Californians," said Assemblymember Jacqui Irwin, Chair of the Assembly Select Committee on Cybersecurity. "My hope is that hearings like the one held today will allow for California legislators to understand the ramifications and come up with an appropriate response that protects the citizens of our state."
Witnesses at the hearing included representatives from the California Department of Business Oversight, California Cybersecurity Integration Center, California Credit Union League, CALPIRG, Consumer Attorneys of California, VM Ware, and California Department of Justice.
Assemblymember Chau announces new laws that
take effect in 2018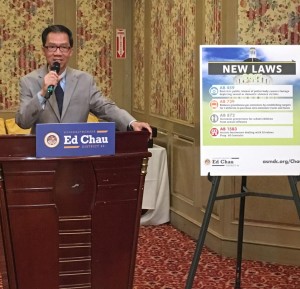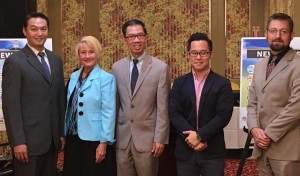 On October 27, Assemblymember Ed Chau (D–Monterey Park) held a press conference in Monterey Park to discuss bills from his legislative bill package that will become new laws on January 1, 2018.
"I worked on a number of policies this year to provide some protections for Californians in their everyday lives," said Assemblymember Chau.  "Some of the legislation I authored will help cut down on the number of businesses facing frivolous lawsuits, protect school children from being around teachers charged with sex offenses against a minor, require state agencies to purchase zero-emission trucks and buses to benefit the environment and public health, and safeguard the privacy rights of sexual and domestic violence victims when there are public records requests to disclose audio and video files from body-worn cameras documenting those crimes."
Governor Edmund G. Brown Jr. signed a total of 9 bills authored by Assemblymember Chau.  Some of the bills highlighted in today's press conference included:
Businesses
Assembly Bill (AB) 1583 – Proposition 65 Enforcement: Frivolous Lawsuits – This bill assists the growing number of businesses facing lawsuits under Proposition 65 by requiring the Attorney General to provide a letter, to both the private enforcer and alleged violator, when it concludes that a lawsuit is meritless, by clarifying that the factual basis for the lawsuit is discoverable, and by educating businesses on compliance with the law. Sponsor: Author. (Chapter 510, Statutes of 2017.)
Education
AB 872 – School Employment: Sex Offenses – This bill updates the Education Code to reflect sexual offenses, involving a minor, that are listed in the Penal Code, so the California Commission on Teacher Credentialing can automatically suspend an employee's teaching credential who has been charged with a sex offense in order to keep them from being around minors until their case is resolved. Sponsor: California Commission on Teacher Credentialing.  (Chapter 167, Statutes of 2017.)
Environment
AB 739 – Greenhouse Gas Emission Reductions: State Vehicle Fleet – This bill requires at least 15% of specified heavy-duty vehicles purchased by state agencies to be zero-emission (ZEV) by 2025 and at least 30% of those vehicles to be ZEV by 2030. Sponsor: Author. (Chapter 639, Statutes of 2017.)
Privacy
AB 459 – Body-Worn Cameras and Victim Privacy – This bill requires public agencies to consider the constitutional right to privacy of any victim of sexual violence, domestic violence, or child abuse when receiving requests to disclose audio and video files documenting those crimes, and to further consider redaction as means to protect privacy even in cases where disclosure would serve an important public purpose. This bill also makes it clear that the victim depicted has a right to view and obtain a copy of the recording without putting the record into the public domain. Sponsor: Author. (Chapter 291, Statutes of 2017.)
Assemblymember Ed Chau represents the 49th Assembly District, which includes the cities of Alhambra, Arcadia, Monterey Park, Rosemead, San Gabriel, San Marino, Temple City, and portions of El Monte, Montebello, and South El Monte.
Leave a Response