BOE Member Jerome E. Horton Honored at Assessors Association Conference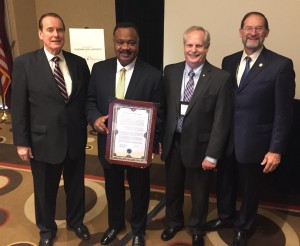 The California Assessors' Association (CAA) Central-Southern Region honored Board of Equalization Member Jerome E. Horton during the welcome reception of the 2017 – 155th Annual CAA Annual Conference on October 17, 2017, at Knott's Berry Farm Hotel in Buena Park.  Its president, Assessor Claude Parrish of Orange County, presented the resolution acknowledging and commemorating Member Horton's many contributions in public service.
Jeffrey Prang, Los Angeles County Property Tax Assessor, also acknowledged Horton's contributions saying, "He is an advocate for California taxpayers who fights to assure fairness and equity in tax administration and helps California taxpayers maneuver through the system."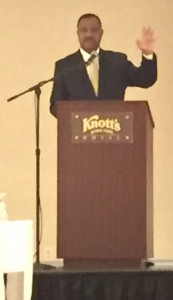 Horton spoke to the Assessors and others about legislative tax policies designed to create employment opportunities, develop affordable housing, and expand homeownership. Horton shared various studies that indicate excessively high taxes and inflation are pulling California back into a recession, as evidenced by the following facts:  6 of the 10 metropolitan areas in the country with the highest percentages of unemployment and 77 of the nation's most "economically challenged" cities are in California – the state that also has the highest poverty rate in the nation.
Horton said, "Studies show that regressive taxes are more damaging to those with low- and middle-incomes and cannot be justified by offering worthwhile programs when you don't have quality jobs with salaries that keep up with inflation."
The California Assessors Association has a mission to promote the cooperation of the assessing officers of California in matters of mutual interest and responsibility, the cooperation and communication among the various Assessors and their personnel within a regional group, the improvement of assessment procedures and assessment laws of the State of California for the public good; and to liaison with the State Board of Equalization and the International Association of Assessing Officers.
Leave a Response