MERCI ACCEPTS DONATIONS FROM ST. PAUL'S LUTHERAN CHURCH
By Linda Wilson
Photos By Daniel Pedroza
On September 21st St. Paul's Lutheran Church made a donation of grooming kits and art supplies to MERCI clients. Executive Director Marta Escañuelas said that, "the clients were very pleased to accept these gifts."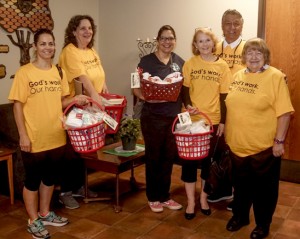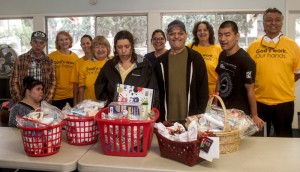 From left to right Jennifer Cortez, JoAnne Mitchell, Christina Cisneros (Christina is a member of St. Paul's and also President of the MERCI Board), Jean Sais, Ed Sais and Linda Wilson.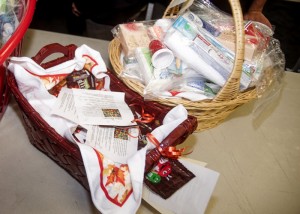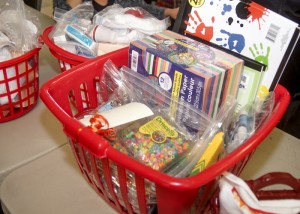 Some of the donated gifts.
MERCI continues to fund raise to help pay for the loans for the new buildings built at 525 N. Chandler Avenue in Monterey Park. Its next fundraiser will be the annual Trees of Enchantment, which will be Sunday, December 3rd at Almansor Court, 700 S. Almansor Street, Alhambra, CA. The champagne brunch starts at 11:00 A.M. Tickets are $65 each or $45 for children 5-12, if purchased in advance. Children under the age of 5 eat free. For more information see http://www.merci.org.
Monetary donations to MERCI can be mailed to MERCI, P.O. Box 676, Monterey Park, CA 91754 or potential donors can visit MERCI's website at http://www.merci.org and make a donation online. Donations to MERCI are tax deductible, as MERCI is a 501 (c) 3 non-profit organization. For more information contact Executive Director Marta Escañuelas at (626) 289-8817 or E-mail her at martaesc1@verizon.net.
A group of parents of children with developmental disabilities from the San Gabriel
Valley and East Los Angeles formed MERCI in 1955 as a school because at that time there were no educational options for their children. In 1962 MERCI moved into the 525 N. Chandler Avenue site, which had been built in 1919. Over the years MERCI has moved into supporting adults with day programs and adults in residential homes.
MERCI presently serves 120 adults with developmental disabilities from all over the San Gabriel Valley in five programs and in two residential homes.
Leave a Response