News from Assemblymember Ed Chau
Assemblymember Chau Helps Launch Program That Assists Mobilehome Owners Properly Register And Title Their Homes
On September 28 Assemblymember Ed Chau (D-Monterey Park) recently joined Director Ben Metcalf, from the Department of Housing and Community Development (HCD), and others, to announce the commencement of the Register Your Mobilehome California program.
"Thousands of Californians living in mobilehomes cannot properly register and title their home, due to unpaid back taxes that were incurred by a prior owner and not the new owner," said Assemblymember Chau. "In effect, this leaves the new owner in a situation where they paid for the home, but have no meaningful proof of ownership, which not only exposes them to potentially thousands of dollars in taxes and penalties, but makes it impossible to transfer or sell the home, prohibits them from legally making repairs, prevents them from obtaining fire or flood insurance, and even subjects them to eviction."
California has an estimated 500,000 mobilehomes and more mobilehome parks than any other state in the country. According to HCD, approximately one-third of those mobilehomes are not properly titled and registered. Mobilehomes are often sold on a somewhat informal basis which can involve cash transactions. Problems arise when the buyer subsequently tries to transfer the title into his or her name and discovers that the previous owner fell behind on their tax bill. If the buyer is unable to pay the previous owner's back taxes, then the title cannot transfer. As a result, buyers are in a situation where they paid for their home, but don't have the title to show proof of ownership.
To address this issue Assemblymember Chau authored AB 587. The bill was signed into law in 2016 and created the program now known as, Register Your Mobilehome California. AB 587 created, until January 1, 2020, a temporary tax abatement program that gives mobilehome owners an opportunity to bring title into their names without having to pay certain outstanding amounts owed, including delinquencies incurred, by previous owners. The bill also required sellers to obtain a Tax Clearance Certificate from HCD (indicating that HCD may legally amend the title) prior to any sale. Finally, it required information about registration, titling and taxes to be included in the annual notice that park owners provide to homeowners regarding the rights and responsibilities of both parties, under the Mobilehome Residency Law.
"I am proud to announce the launch of this new program and hope that anyone who does not have a proper title will take advantage of this opportunity to potentially waive thousands of dollars in unpaid taxes and fees, and properly title and register their home," concluded Assemblymember Chau.
For more information on the Register Your Mobilehome California program, please visit www.RegisterYourMobilehome.org or call (800)952-8356.
Assemblymember Chau Hosts Appointments Seminar To Encourage Greater Diversity In State Boards And Commissions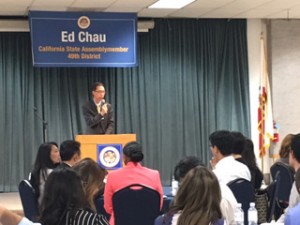 On September 29 Assemblymember Ed Chau (D-Monterey Park) recently convened a community seminar, at the Monterey Park Club House, in search of talented and qualified individuals to apply for important positions on state boards and commissions. Over one hundred attendees participated in the seminar, including several local area residents who presently hold, or previously held, appointments.
"I am tremendously gratified by the outpouring of interest from the community to learn how they can become more involved in our state government," said Assemblymember Chau. "It is only when we have greater representation to reflect our cultural and geographic diversity that we will then be able to craft better public policies."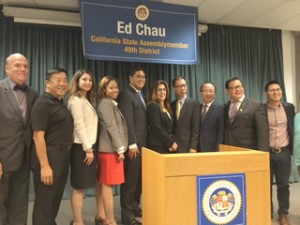 The seminar was organized in collaboration with Assembly Speaker Anthony Rendon's Appointments Unit, Governor Jerry Brown's Appointments Unit, the City of Monterey Park, League of California Cities – API Caucus, and Asian Pacific American Legislative Staff Network (APALS).  The seminar included presentations from Nikki Johnson with Speaker Rendon's office and Lila Mirrashidi with Governor Jerry Brown's office.  Participants at the seminar received packets of information detailing the application process and a list of boards and commissions that constitute California's government.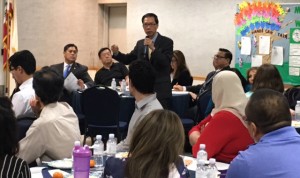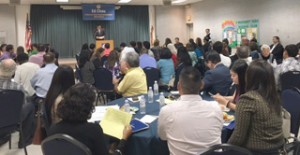 "I encourage all constituents who are civically minded to contact my office for more information on the application process," concluded Assemblymember Chau.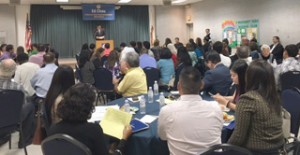 On October 10 Governor Brown signed Assembly Bill (AB) 739, authored by Assemblymember Ed Chau (D-Monterey Park), which requires at least 15% of vehicles, with a gross vehicle weight of over 19,000 pounds that are newly purchased by state agencies, to be Zero-Emission Vehicles (ZEV) beginning in 2025, and at least 30% of those vehicles to be ZEV beginning in 2030.
"With the Federal Government rolling back environmental protections and clean air regulations, it is more important than ever for California to step-up and take a leading role in the fight against climate change," said Assemblymember Ed Chau. "I want to thank Governor Brown for continuing our efforts to curb climate change by signing AB 739 into law, which will ensure that state agencies are procuring zero-emission vehicles for our larger truck and bus fleets."
In 2012, Governor Brown's Executive Order B-16-2012 called for 1.5 million ZEVs to be on the road in California by 2025, as a means of helping the state reach its greenhouse gas (GHG) emissions reduction goals. Included as part of that Executive Order was a requirement that called for our state government to "increase the number of its zero-emission vehicles through the normal course of fleet replacement, so that at least 10 percent of fleet purchases of light-duty vehicles be zero-emission by 2015 and at least 25 percent of fleet purchases of light-duty vehicles be zero-emission by 2020." However, there was no mention of larger, heavier-duty trucks and buses.
Fossil fuel trucks and buses produce disproportionately higher GHG and air pollution emissions. According to a recent report from the Union of Concerned Scientists and the Greenlining Institute, Delivering Opportunity: How Electric Buses and Trucks Can Create Jobs and Improve Public Health in California, heavy-duty vehicles account for 33 percent of California's smog-causing nitrogen oxides (NOx) emissions and 40 percent of the harmful particulate matter created by burning fossil fuels. Heavy-duty vehicles make up just 7 percent of vehicles in California, but contribute 20 percent of global warming emissions from the transportation sector. Commercially-available advanced technologies, like battery electric or hydrogen fuel cell trucks and buses are able to more efficiently perform the same jobs without emitting any pollutants or GHGs into the air.
"AB 739 builds upon the 2012 Executive Order by setting procurement goals for our state's heavy-duty vehicle fleet, which will help create jobs and a market that fosters heavy-duty ZEV development, provide for more fuel-efficient vehicles, and contribute to our GHG emission reduction goals, while improving public health," concluded Assemblymember Chau.
Assemblymember Ed Chau represents the 49th Assembly District, comprised of the communities of Alhambra, Arcadia, El Monte, Monterey Park, Rosemead, San Gabriel, San Marino, Temple City and portions of Montebello, and South El Monte.
Leave a Response