A Pasadena Masterpiece
By Mona Raskin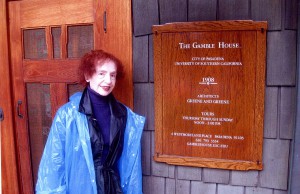 On March 5th we were pleasantly delighted by a visit from our son David. He was here to attend a special conference in Ventura. While here for the weekend, we managed to start with a nice family get together consisting with our daughter Keri Bedol, and her spouse, Mark Bedol, children, Adam and Laura Bedol.
The following day, our son suggested he was interested in attending a tour of "The Gamble Home". It is a special and unique structure of Architecture that has stirred the imagination and interest of many visitors who were fortunate enough to have taken the time to check it out.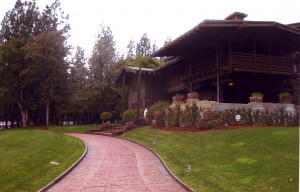 The History of this project began in 1908, when Proctor and Gamble Company (business partners) became successful in the production of such items as Ivory soap, Tide, Comet, Crest toothpaste, etc. Mr. David B. Gamble House was internationally recognized as a masterpiece of the turn of the century Arts and Crafts movement in America.  It is the original work of architects Charles summer Greene and Henry Mathher Greene.
The Gamble House, furniture, built –in cab entry, wood carvings, rugs, lightings, leaded tinted glass, accessories and landscaping were all custom-designed by the architects and were created in the true hand-crafted spirit in the arts and crafted movement. The house is a symphony in wood with interiors carried out in teak, mahogany, maple, oxford cedar and oak, each piece carefully selected and hand-rubbed in a satin finish.
In 1966, the Gamble House was presented by the heirs of Cecil and Louise Gamble to the city of Pasadena in a joint agreement with the University of Southern California in the interest of its cultural heritage and historic preservation. Its mission is to inspire the public's appreciation and understanding of fine historic architecture of the special work of Greene and Greene
I was happy and pleased to tag along with my son to this very interesting sight and would highly recommend it as a wonderful place to visit in Southern California!
Leave a Response