Mayor Anthony Wong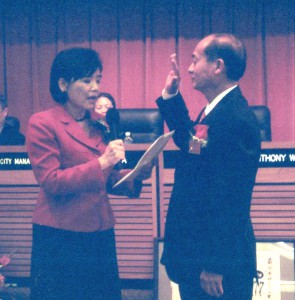 Congressmember Judy Chu administered the oath of office to Monterey Park Councilmember Anthony Wong on February 17 during a Special Meeting at City Hall.
Ms. Chu called Mr. Wong a great leader who will be a good mayor. He will help the residents and the businesses.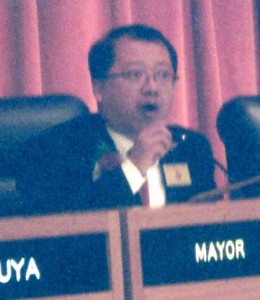 Outgoing Mayor Mitch Ing said Monterey Park is the second best place to raise your family. We have quality education, our own police and fire departments and many volunteers. We should all be proud of that.
He introduced his wife and son to the audience. He dedicated his mayorship to his maternal grandfather who lived in Monterey Park. His grandfather was a veteran of World War II who would be proud of the Chinese –American War Memorial that will be installed in front of City Hall. He dedicated his service to his father who died before he was sworn in as mayor.
He recalled a couple that he met in town. The husband was placed in acamp during World War II and never registered to vote.  The man was in his 70s before he voted. He thanked all of the people who made his service memorable. He thanked the Council and said he enjoyed serving as mayor with them.
Monterey Park is a General Law City where all the Councilmembers serve as mayor for nine and one-half months.
Joman Wong was the Master of Ceremonies.  He welcomed all to this great Monterey Park City Council Meeting and introduced the special guests to the audience.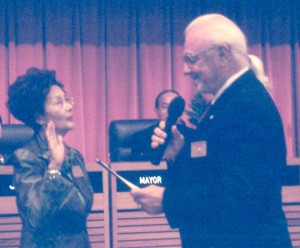 Councilmember Frank Venti swore Mayor Pro Tem Betty Tom Chu into office.
Mayor Pro Tem Chu congratulated Mitch Ing for his service to the city through difficult times.  She congratulated Anthony Wong on being the mayor. She said she would do her best to help him in these difficult times. She thanked the staff for serving Monterey Park. She thanked the members of the Chinatown Committee for their support of the city.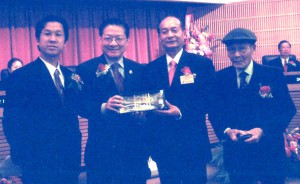 Joman Wong joined Assemblymember Mike Eng when he presented Mayor Wong with his gavel. Wing Nin Wong, his father presented him with his mayoral badge.
Mayor Wong thanked Mitch Ing for his service as mayor. He congratulated Betty Tom Chu on being the Mayor Pro Tem. They all will serve Monterey Park. He thanked David Lau and Frank Venti for their service. He thanked all the guests for being here tonight. You have high hopes for the city. The Council is working on transforming downtown in Monterey Park.  He thanked the employees for their hard work. Council and the residents can work together to resolve the budget issues. The city is well prepared to balance the budget with the assistance of the staff. He thanked them for sacrificing their benefits for the city. They have worked together to make Monterey Park a success before and it will a success in the future. We must support the businesses. We need to attract more tourists in the city. They shop in our city and stay at our hotels. He stated the North Atlantic project is scheduled to open in May. It will bring in more sales tax dollars. He hopes to have a project at Garvey and Garfield very soon. We need to work together to bring our economy back to success. He pledged to work with the residents, department heads, commissioners, Chamber, schools and BIDAC to provide businesses in the downtown area. He will work closely with our Congressional members and our Assemblymember to improve our economy. We will work together to make things happen.
Mayor Wong introduced his wife, father, son and other family members to the audience.
Presentations were made outgoing Mayor Mitch Ing, Mayor Pro Tem Betty Tom Chu and Mayor Anthony Wong.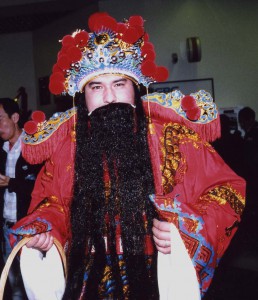 The event featured Chinese Lion Dancers, Chinese monks demonstrating Martial Arts and the God of Luck.
A reception followed the event at City Hall.
Leave a Response