Oratorical Winner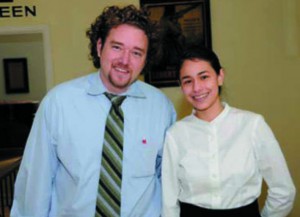 Citlalli Sandoval from La Salle High School pictured with her Speech Coach Rand Laird.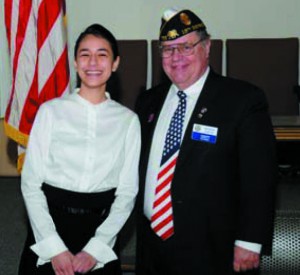 Lower right is Citlalli Sandoval with District 18 Commander George "Bucky" Curtis.
Students from local high schools were involved in the 73rd annual American Legion National High School Oratorical Scholarship Contest, which involves a prepared oration of eight to ten minutes in length about some phase of the Constitution of the United States and a dissertation of three to five minutes on a related subject from the Constitution- al Amendments.
District 18 covers the entire San Gabriel Valley, and at the recent District 18 speak off at Pasadena Post 13, the winner was Citlalli Sandoval from La Salle High School speaking on "An American on a World Stage".  Citlalli represented District 18 at the 6th Area speak off on February 21st hosted by Valley Post 582, San Fernando.   The winner of this event will proceed to the Department finals in Merced on February 28th.
Contestants receive cash awards as they advance through the various levels, Post, District, Area, and Department (State) with semi-finals and finals at Indianapolis, Indiana.  The three winners at the final competition in Indianapolis receive college scholarships of $18,000, $16,000 and $14,000, awarded by the National Organization next April.
Leave a Response