Classic Film Program at the Monterey Park Bruggemeyer Library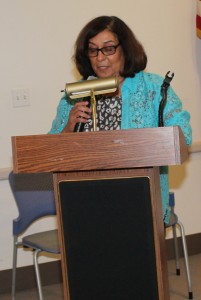 Librarian Cindy Costales welcomed the audience to the Classic Film Program presented by Friends of the Library and the Monterey Park Historical Society on July 23rd in the Friends Room.
This event is part of the library's Global Citizens Program, "One World, Many Stories". This project was made possible with support from California Humanities, a non-profit partner for the National Endowment for the Humanities.
She introduced Foster Hirsch, a professor of film history at City University of New York and a Mark Keppel High School alumnus.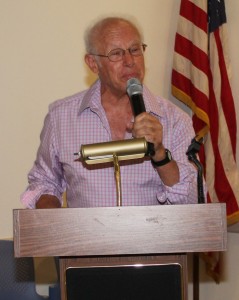 Foster Hirsch said he had just returned from Berlin. Monterey Park is more important to him. He welcomed Diane Baker, a co-star in Alfred Hitchcock's "Marnie", a 1964 milestone psychological thriller.
Her co-stars were Tippi Hedren and Sean Connery, who began his James Bond career in 1962.
Diane Baker also started in the "Diary of Anne Frank" produced by George Stevens. She played Margot Frank in this 1959 film.
Foster Hirsch said "Marnie" opened in 1964 to bad reviews.  This adult movie had "sex on the brain". Mr. Hitchcock, the director, was obsessed by a woman in turmoil. His leading character "Marnie" was not quite lucid. This film has no humor in it. It is a work of expressionism. Enjoy the film!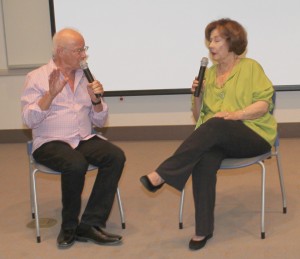 Foster Hirsch and Diane Baker spoke about her experiences working with Alfred Hitchcock on this film. She said Mr. Hitchcock invited her into his home before she read the script.  He wanted her to play "Lil Mainwaring", the sister-in-law of "Mark
Rutland", who befriends "Marnie Edgar". She read the script later.
She said Mr. Hitchcock, a great director, did not advise the actors on how to play their characters. He let them make their decisions.  She played Lil as being in competition with Marnie for the love of her brother–in-law, Mark.
Diane Baker said that Alfred Hitchcock and Tippi Hedren fought through the filming. It was like he was harassing her. He played games on the set.
She said "No thank you" to harassment in Hollywood. She did not lose any parts over it.
The movie was full of very interesting points. She was young and didn't realize the issues.
Diane Baker spoke about Edith Head designing her clothes for the movie. Mr. Hitchcock requested each character be dressed in different colors.
The production was not a happy one. She didn't like some of the moments.
Diane Baker spoke about working with George Stevens. He cared about people and he had a heart.
Mr. Hitchcock never separated his personal life from his public life. He brought it to the job.
She advised the audience that most people are good and bad. She suggested that you don't bring your problems to the job.
Foster Hirsch asked her if she was glad to make this film.
Diane Baker said she was happy to do the film. It was a great film.
They both agreed that Alfred Hitchcock was a creative genius. He created a storyboard before each scene. It was said the film was shot on paper before it was shot on film.
Diane Baker is working on a film, "Lens On Life" about immigration issues, war and politics to help guide our children.  She hopes to have this film shown at schools to help the children.
The students need speakers to take the time to talk to them about the world.
We all need mentors. She will be asking for help. She remembers all of the people who helped her. She is all about helping other people.
Cindy Costales thanked the audience for their attendance.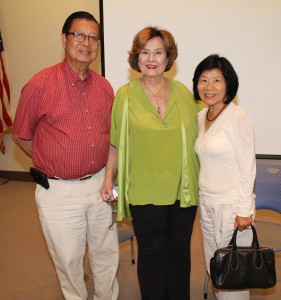 Former Monterey Park Mayor David Lau and Cici Lau, his wife and actress, thanked Diane Baker for spending the afternoon with us.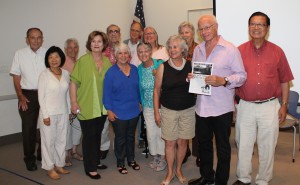 Diane Baker and Foster Hirsch joined with members of the Historical Society and Mark Keppel Alumni at the end of the event.
Leave a Response