Monterey Park City Council Appoints Ron Bow as City Manager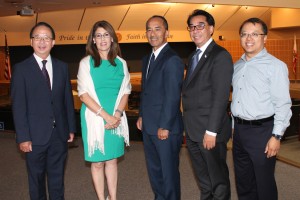 Mayor Theresa Teal Sebastian, Mayor Pro Tem Stephen Lam, Councilmember Peter Chan and Councilmember Mitch Ing joined the residents and staff at the welcoming reception for City Manager Ron Bow on August 8, 2017 at City Hall.
Ron Bow was appointed City Manager by the Monterey Park City Council at the meeting of August 2, 2017 for a term of three years by a 5 – 0 vote.  Mr. Bow had been filling the position as Interim City Manager since December 2016.
City of Monterey Park Mayor Teresa Real Sebastian stated, "I am excited to share with the community that the City Council unanimously agreed to select Ron Bow as the permanent City Manager for the City of Monterey Park. Ron brings a wealth of municipal experience, strong work ethic, cooperative management temperament and a passion for the betterment of our city. Ron was also recently recognized as the 49th Assembly District's 2017 Veteran of the Year. As an added bonus, he is a long time resident of Monterey Park. We look forward to his leadership as we continue the course for the bright future of this organization and our great city."
She also joked that other cities wanted to hire him as their City Manager. The Council told them no! He is our City Manager.
Mayor Pro Tem Stephen Lam said he is pleased and happy to welcome Ron Bow as our new City Manager. He gets along with everyone. He is real. I am looking forward to working with him.
Councilmember Peter Chan said they found a good manager. Ron Bow applied for the job and filed all of the required paperwork. He is the best person for the job. He is available for us. He is happy to call Ron Bow our City Manager.
Councilmember Mitch Ing spoke about the meeting he attended with Ron Bow before he was hired as Interim City Manager. His wife, Gloria and his daughter, Chantal attended the meeting. His daughter, meeting Mr. Bow for the first time, called him a deep thinker and said he will do well on the job. Mr. Bow has a great staff and five Councilmembers. He will do the best job for the city.
In speaking about his goals as City Manager, Mr. Bow expressed his appreciation to the city council for this opportunity to pursue economic development growth, provide efficient and effective financial oversight, address infrastructure improvements in the community as well as inter organizational effectiveness, foster a stronger investment towards employee growth and succession planning and improve the overall quality of Monterey Park's municipal services.
Ron Bow thanked the City Council for hiring him. He thanked his staff for their support. He thanked the executive staff and the community for their support. We will make the city a better place. He will get the work done.
He thanked Lillian for her support. He thanked the dad and his in-laws for their support. His family supports him.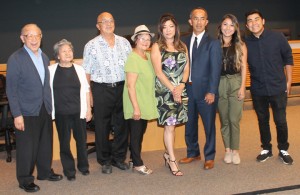 City Manager Ron Bow was joined by Lillian, his wife of 26 years; Lauren, his daughter; Justin, his son; Ron Bow Sr., his father and Kim Bow, his wife; Abe Fukui, his father-in-law and Mickey Fukui, his mother-in-law. His mother was not able to attend this special event.
Previously, Mr. Bow was Monterey Park's Director of Public Works/Assistant City Manager and Director of Public Works for the City of Monrovia. He brings additional experience in the public works and water utility industries from the cities of La Verne, Alhambra, and water utility service from Otay Water District. Mr. Bow served 24 years in the U.S. Air Force in active and reserve capacity.
Ron Bow and his wife, Lillian have deep roots in the city, having lived in Monterey Park for 13 years and whose two adult children, Lauren and Justin, attended local schools. As residents of Monterey Park, he and Lillian have been involved volunteering at schools, Tiger Youth Club, Boy Scouts, Girl Scouts, and the early years of the Cherry Blossom Festival. Mr. Bow continually attends Monterey Park's community events, resulting in a greater familiarity with the residents and businesses of the community.
Leave a Response