Monterey Park Police Update
Monterey Park Police Arrest Stabbing Suspects
On July 26, 2017 at approximately 6:30 a.m., Monterey Park Police responded to a stabbing that occurred in the 300 block of South Garfield Avenue. Two suspects fled the location prior to officers' arrival. One adult male suspect was located in the immediate area and detained by patrol officers.
During the course of the investigation, the second suspect (male juvenile) was identified and detained on July 28, 2017 in East Los Angeles. Both of the suspects were arrested and booked for attempted murder. The victim was treated for multiple stab wounds. His injuries are non-life threatening.
The investigation is ongoing and no further details are available at this time.
Monterey Park Police Seek Suspects in Connection with South Lincoln Avenue Burglary
On July 12, 2017 at approximately 1:30 p.m., a residential burglary occurred in the 600 block of South Lincoln Avenue, Monterey Park, CA. Suspects were captured on security cameras committing the burglary.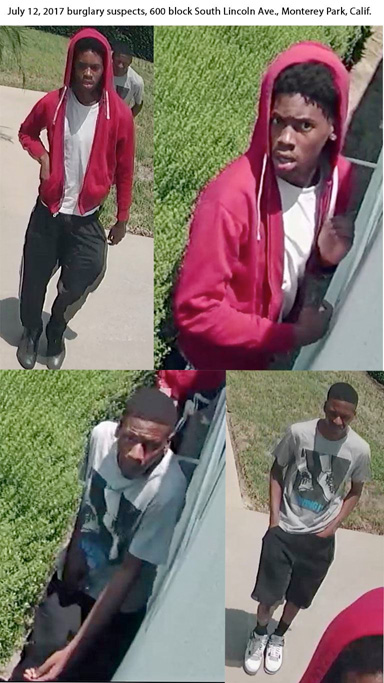 Suspect number one is described as a male black, 15-21 years of age, thin build, short afro braided hair, diamond studded earring on the left ear, red hooded sweatshirt, white t-shirt, black athletic style pants with vertical white stripes, and black shoes.
Suspect number two is described as male black, 15-21 years of age, thin build, short natural hair, grey Air Jordan "Wing It" short sleeve t-shirt, black shorts, white shoes and carrying a cellular phone.
The suspects knocked on the front door of the residence and received no answer. The two suspects then climbed over a side gate and gained entry into the residence through an unlocked bathroom window. The suspects ransacked the residence and fled with property.
The Monterey Park Police Department is seeking the public's assistance in identifying the suspects depicted in the photographs. If you know the persons in the photographs or have information regarding this case we urge you to contact the Monterey Park Police Department Detective Bureau at 626-307-1226 or the on-duty Watch Commander at 626-307-1200. MPPD would like to remind all residents to secure all windows and doors when they will be away from their home and report suspicious activity, persons and vehicles to their local police department.
Suspect Arrested for Alleged Sexual Assaults on 1700 block of West Garvey Avenue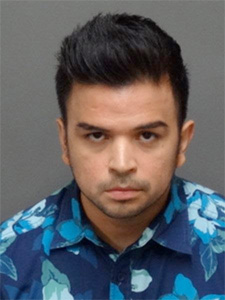 On August 3, 2017, the Monterey Park Police Department arrested a male, later identified as Angel Cano, in connection with a alleged sexual assault involving two victims.
Cano approached the victims in front of a CVS in the City of Alhambra and told them he would pay them to go to his hair salon to try some new hair products. The suspect transported the victims to the hair salon in his vehicle, a grey Toyota Rav4, from the City of Alhambra. Once at the location in the 1700 block of West Garvey Avenue in the City of Monterey Park, the victims were allegedly assaulted. The victims are both males, 16 and 18 years of age.
Cano, a 35-year old resident of Alhambra, was arraigned on August 7, 2017 in Alhambra Superior Court on eight counts of sexual battery and sexual penetration. Cano is currently being held on $1 million bail, and is being housed at the Los Angeles County Men's Jail.
The Monterey Park Police Department is asking for anyone who has had a similar encounter with the suspect to contact Detective Denise Ferrari at 626-307-1241 or dferrari@montereypark.ca.gov.
Leave a Response