Athens Services Tour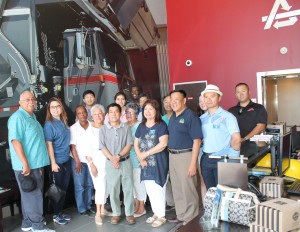 On June 21 I joined with several commissioners and community members taking a tour of Athens Materials Recovery Facility (MRF) in Sun Valley hosted by Ed Chen, Director of Governmental Affairs.
Mr. Chen welcomed everyone to the tour as we rode in style on a bus from Monterey Park City Hall to their plant. He introduced the group to Johnnie Stevenson, Operations Manager and Juan Ornelas, Operations Supervisor.
We sat in the Board Room and watched a video of the plant in operations. We were able to take pictures of the plant but were asked not to take pictures of the employees.  Athens sorts 1,500 tons of waste each day as their trucks delivery it to the plant.
The trash is dumped on the floor and the first step of the sorting process begins.  First by hand and later on conveyer belts that sort the glass, the cans, the paper and the cardboard into separate sections.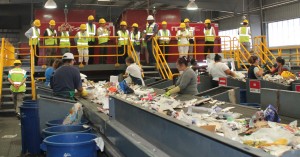 We put on safety glasses, hard hats and safety vests to take a walking tour of the plant.  We walked up and down the stairs as we watched the process of sorting our trash.   It was very interesting to see how the line workers and the machines sort all of our trash looking for materials that can be recycled.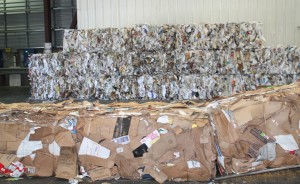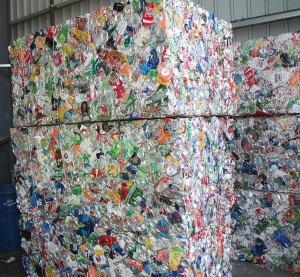 The tour included the guests seeing tons of cardboard, aluminum cans and more packaged for resale to various companies that purchase these goods to be recreated into new boxes, new cans and other products.
It is very nice to see my cats' food cans crushed and ready to be re-created into new cans.
You all should arrange to take a tour of Athens Services MRF Plant to see recycling in action on a massive scale.
Athens Services is recycling our trash to help us save our earth.
Leave a Response