NEWS FROM ASSEMBLYMEMBER ED CHAU
Assemblymember Chau Statement on State Budget
Assemblymember Ed Chau (D-Monterey Park) issued the following statement on June 15 after the Assembly passed the 2017-18 State Budget:
"Today's Budget builds on the progress we have made to secure a strong economic future for California by growing our total reserves to $9.9 billion; the largest in recent state history. Establishing a robust reserve will safeguard California from the harmful impacts of an economic downturn in years to come.
"This Budget maintains our commitment to making college affordable, by preserving the Middle Class Scholarship, and making it accessible by setting targets for the UC to enroll at least 1,500 more undergraduates in the 2018-19 academic years, and for the CSU to support an increase of 2,487 full-time equivalent students in the 2017-18 academic year.
"The Legislature has taken steps in this budget to also expand California's Earned Income Tax Credit to cover the self-employed and incomes up to $22,000, annually, which will support more working families."
Assemblymember Chau Introduces legislation to give broadband internet customers more control over their personal information
On June 19 Assemblymember Ed Chau (D-Monterey Park) was joined by numerous consumer advocacy groups and technology experts to unveil Assembly Bill (AB) 375, the California Broadband Internet Privacy Act, which will ensure that consumers enjoy choice, transparency and security in the treatment of their personal information when accessing the Internet through an Internet Service Provider (ISP).
The legislation responds to the April 2017 repeal by Congress and the Trump Administration of Federal Communications Commission (FCC) rules that would have given broadband Internet customers increased control over their personal information. As the portal to the internet, Broadband ISPs have a unique ability to know everything about a consumer's online activities.
"The idea that a person should have some say about how their Internet Service Provider can use, share or sell their personal information is not a controversial question for everyday consumers – it is common sense," said Assemblymember Chau, Chair of the Assembly Committee on Privacy and Consumer Protection.  "Congress and the Administration went against the will of the vast majority of Americans when they revoked the FCC's own privacy rules in April, but California is going to restore what Washington stripped away."
On October 27, 2016, the FCC adopted rules titled "Protecting the Privacy of Customers of Broadband and Other Telecommunications Services" (FCC-16-148). The FCC at the time described the rules as giving "consumers the tools they need to choose how their Internet Service Providers (ISPs) use and share their personal data. Building on widely accepted privacy principles, the rules require[d] that ISPs provide their customers with meaningful choice and keep customer data secure while giving ISPs the flexibility they need to continue to innovate."
However, before the FCC internet privacy rules went into effect, Congress and the Trump Administration approved a measure (Senate Joint Resolution 34) that repealed the privacy rules adopted by the FCC.  A public opinion poll conducted after Congress acted found that 80% of Democrats and 75% of Republicans wanted the President to veto the bill and allow the FCC privacy rules to take effect.
AB 375 broadly protects customer personally identifiable information through an opt-in consent requirement for the use, sale, and sharing of personal information beyond service delivery and other necessary functions. It also prohibits pay-for-privacy practices and penalties for customers who do not consent to unnecessary uses, and requires providers to protect customer information through reasonable security procedures and practices. The bill also allows ISPs  freedom to use customer information in open and appropriate ways.
"AB 375 will give consumers far more control over how ISPs use and share their personal information, while still leaving flexibility for ISPs to operate and ensuring that information is securely protected. Californians deserve no less," concluded Assemblymember Chau.
What they're saying:
A diverse coalition of more than 25 civil rights, consumer protection, privacy, technology, and non-profit organizations support AB 375, including those who shared statements below:
"Californians have a fundamental right to control their personal information. AB 375 is a commonsense step to further cement California's constitutional guarantee and protect our privacy rights in the digital age. AB 375 will help make sure that no Californians have to choose between basic access to the internet and their privacy rights."
-          Nicole Ozer, Technology and Civil Liberties Policy Director, American Civil Liberties Union (ACLU) of California
"We support the proposed California Broadband Internet Privacy Act (AB 375) because personal privacy is essential for open networks to support freedom of information and expression. Citizens must have the opportunity to make informed choices about how their personal communications are monitored and their online information is gathered, stored and shared. Unwanted surveillance for commercial gain has an immediate chilling effect on local voices and harms many aspects of modern life – health, public safety, education, commerce and civic engagement all suffer when our freedom of information and expression is suppressed."
-          Sean Taketa McLaughlin, Executive Director, Access Humboldt
"The FCC's adoption of broadband privacy rules was a major victory for civil rights, and the rights of all users online. With the recent reversal of these rules by the U.S. Congress, California residents are now left unprotected from Internet Service Providers (ISPs) that have unprecedented access to everything individuals do online and all of our personal information. Now more than ever, we need powerful protections for Internet users in California and for those communities most vulnerable to data collection and predatory schemes."
-          Brandi Collins, Senior Campaign Director, Color Of Change
"Internet service providers should ask our permission first before snooping on us. AB 375 will reverse the harm Congress did when it stripped us of our online privacy rights."
-          Richard Holober, Executive Director, Consumer Federation of California
"Common Sense applauds Assemblyman Chau for proposing strong new protections for the privacy of California children and families in their online lives, including the right for California broadband customers to make informed choices about the use and sharing of their and their kids' online information. Common Sense has long advocated for increased online privacy protections at home and in school, by all players in the internet ecosystem, and this proposal is a critical step in the right direction."
-          Craig Cheslog, Vice President, Common Sense Kids Action
"The California Broadband Internet Privacy Act restores the consumer privacy rights Congress took away earlier this year. The bill ensures that California customers of companies like Comcast, AT&T, and Verizon are not forced to pay extra fees to keep their personal information private from third parties eager to monetize their online activity. EFF fully supports Chairman Chau's efforts and urge the state legislature to pass this bill into law this year."
-          Ernesto Omar Falcon, Legislative Counsel, Electronic Frontier Foundation
Below are links to additional comments made by Assemblymember Chau on AB 375:
Assemblymember Chau says there was a similar FCC regulation scheduled to go into effect earlier this year. (:17)
https://caucus.asmdc.org/sites/default/files/audio/20170619AB375InternetPrivacyChau2.mp3
Assemblymember Chau says AB 375 gives consumers control of the personal information collected by internet service providers. (:17)
https://caucus.asmdc.org/sites/default/files/audio/20170619AB375InternetPrivacyChau1.mp3
Assemblymember Chau says California needs AB 375 to remain a leader on internet privacy. (:11)
https://caucus.asmdc.org/sites/default/files/audio/20170619AB375InternetPrivacyChau3.mp3
Assemblymember Chau says the idea behind AB 375 is really quite simple. (:03)
https://caucus.asmdc.org/sites/default/files/audio/20170619AB375InternetPrivacyChau5.mp3
Assemblymember Chau says there is wide spread support for the idea giving consumers the right to control what ISPs can do with their personal information. (:17)
https://caucus.asmdc.org/sites/default/files/audio/20170619AB375InternetPrivacyChau6.mp3
Assemblymember Chau Recognizes Ron Bow as Veteran of the Year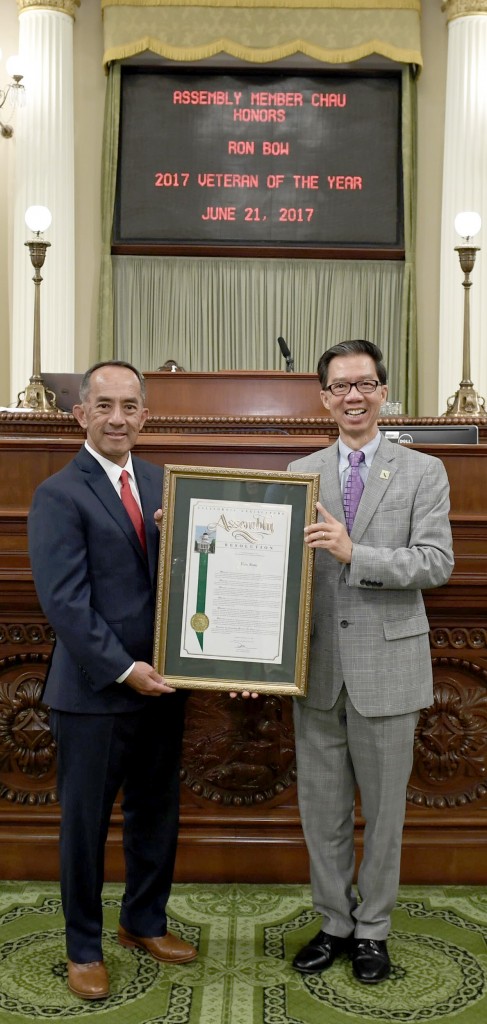 On June 21, Assemblymember Ed Chau (D-Monterey Park) recognized Ron Bow, as the 49th Assembly District's 2017 Veteran of the Year during the 10th Annual Veteran's Recognition Luncheon hosted at the Sacramento Convention Center.
"I am honored to recognize Ron Bow as the Veteran of the Year, an individual of immense courage, conviction, and patriotism," said Assemblymember Chau.  "Ron Bow dedicated his life to serve our country in the United States Air Force where he received numerous decorations and awards in recognition of his superb leadership and devotion to duty."
Ron Bow served in the United States Air Force from 1981 to 1985, during which time he was trained as a Heavy Equipment Operator and held assignments at Hahn Air Force Base in Germany and Hurlburt Field Air Force Base in Florida, where he received additional training as a "Red Horse" member of an elite construction unit that mobilizes anywhere in the world regardless of a country's peace or wartime situation.
Upon the completion of his tour of duty, Ron Bow returned to the United States and began a 20-year commitment as an active Air Force Reservist, and while assigned to the 445th Norton Air Force Base in San Bernardino, he attained the rank of Technical Sergeant (E-6) and became the Heavy Equipment Section Superintendent. From 1994 to 2000, Ron Bow was deployed in humanitarian missions to places, such as Ecuador, Jamaica, Germany, and Korea.
In 2000, Ron Bow was selected to an Individual Management Assignment at Headquarters Pacific Air Command Air Force, and, as a Master Sergeant (E-7), managed all Civil Engineering Heavy Equipment Assets in the Pacific Command, for which he received the PACAF Command Award as the IMA Reservist of the Year in 2002. He retired from the military in 2005.
The Veteran of the Year Recognition Luncheon is an annual event in the City of Sacramento for Legislators to recognize veterans from their district for their distinguished service and outstanding contributions to their communities.
Assemblymember Chau recognizes Boys and Girls Club of West San Gabriel Valley as nonprofit of the year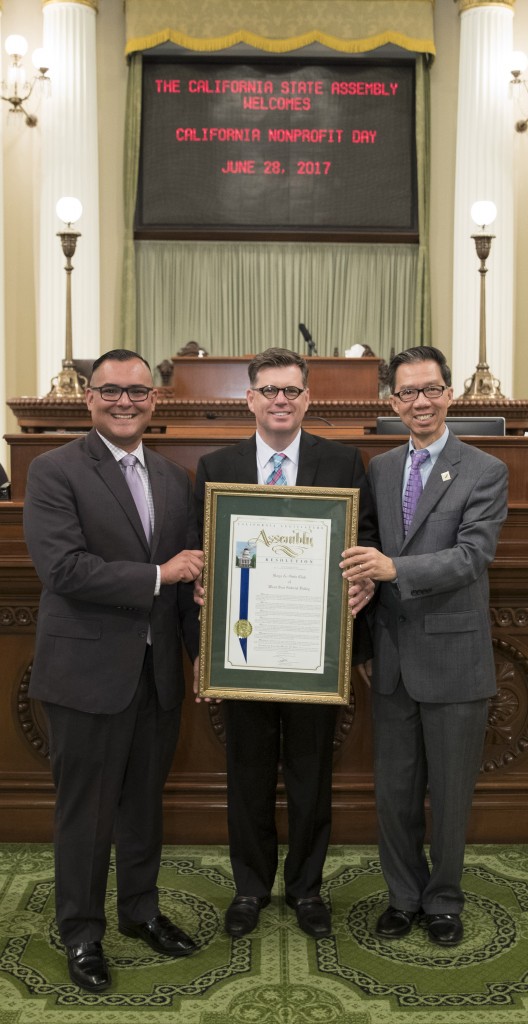 On June 28, Assemblymember Ed Chau (D-Monterey Park) recognized the Boys and Girls Club of West San Gabriel Valley as the 2017 Non-Profit of the Year for the 49th Assembly District.
"I am ecstatic to recognize the Boys and Girls Club of West San Gabriel Valley, as the Non Profit of the Year," said Assemblymember Ed Chau.  "The Club has stayed true to its mission of providing invaluable services to the people of our local area, especially our youth, and I applaud its long history of community support."
The Boys & Girls Club of West San Gabriel Valley was established in 1972 under the leadership of its founder, Dr. Friedrich Thomas, who realized there was no place for his own children to participate in after school activities and helped start the Club by donating the building and providing seed money to initiate its programing.  By mid-1980's, the Club outgrew its space and needed additional funding for a larger facility.  On October 8, 1988, the Club opened its doors at its current location in Monterey Park, at which time membership immediately skyrocketed from a school year daily average of 70 to approximately 200 children.  Since 2012, the Club has boasted a total membership in excess of 2,100 members.
The California Association of Nonprofits (CalNonprofits) hosted California Nonprofits Day, at the State Capitol, in honor of nonprofits across the State.
Assemblymember Chau represents the communities of Alhambra, Arcadia, El Monte, Monterey Park, Rosemead, San Gabriel, San Marino, Temple City and portions of Montebello and South El Monte.
Leave a Response