Monterey Park Water Conservation Demonstration Garden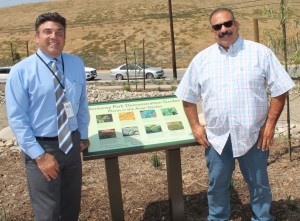 Parks Supervisor Chris Reyes and Rudy Valenzuela at the Ribbon Cutting of the Demonstration Garden on June 2nd. Each section has a map listing the type of flowers, grass and trees planted in that area.
The garden is located at 720 Metro Drive in Monterey Park on Orange Avenue located between Metro Drive and Tegner Drive. The site is 1.12 acres of property that is opened to the public through a partnership with the San Gabriel Valley Municipal Water District (SGVMWD).
The project features a renovated, water-wise, and internationally themed garden. The site is now repurposed to demonstrate landscaping that is attractive, environmentally friendly and conserves water.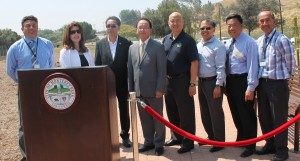 Mayor Teresa Real Sebastian, Mayor Pro Tem Stephen Lam, Councilmember Peter Chan, Councilmember Hans Liang, Councilmember Mitch Ing, City Clerk Vince Chang were joined by Ed Hill from the San Gabriel Valley Municipal Water Distinct, Parks Supervisor Chris Reyes, Interim City Manager Ron Bow, Interim Public Works Director Tito Haes and Water Utility Manager Frank Heldman.
Mayor Real Sebastian welcomed the audience. She is glad to have the drought resistance garden finally here. We are going green. Residents wanted to see what plants are native to Monterey Park. She thanked the Public Works Department, Ron Bow and Chris Reyes. She thanked Ed Hill for their financial assistance with this garden.
Mayor Pro Tem Lam thanked them for this lovely garden that is drought resistant. He thanked everyone for attending.
Councilmember Chan said welcome to my neighborhood. He is very happy to be here to use this park since he walked his dog in this area. The conservation garden will help us conserve water. It is beautiful. He thanked the city staff.
Councilmember Liang said he is happy to see the completion of this garden. It is newly planted and it will grow over the years. Thank you!
Councilmember Ing welcomed everyone to his old neighborhood. He lived with his family in this area while he attended college. He remembers passing by this site. He remembered an old Chinese expression" "Drink water but don't forget your source". He thanked the city staff. This is a place for families to visit.
City Clerk Chang said he is excited to be here. This place in on his bike-riding path. It is a great place to relax.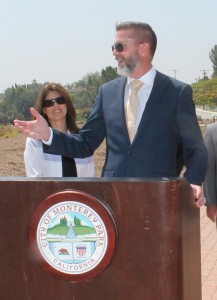 Ed Hill from the San Gabriel Valley Municipal Water District thanked the City Manager and the Council for their vision. He thanked Ron Bow, Chris Reyes and their staff. He also thanked the city staff and residents of Monterey Park for their being part of this project. This park will instruct the residents on the plants that will grow. Water is a natural resource.  He spoke about the droughts over the last 60 years in California that is dry.
Mayor Real Sebastian said the cost of this project was $230,000 with a gift of $50,000 from the San Gabriel Valley Municipal Water Distinct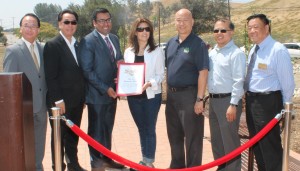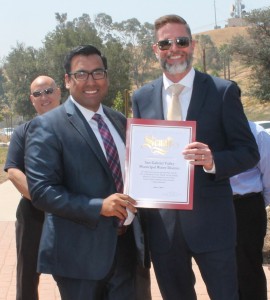 Jorge Marquez from Senator Ed Hernandez' s office said Monterey Park is at the forefront of conserving water. He presented a proclamation from Senator Hernandez in honor of this special garden.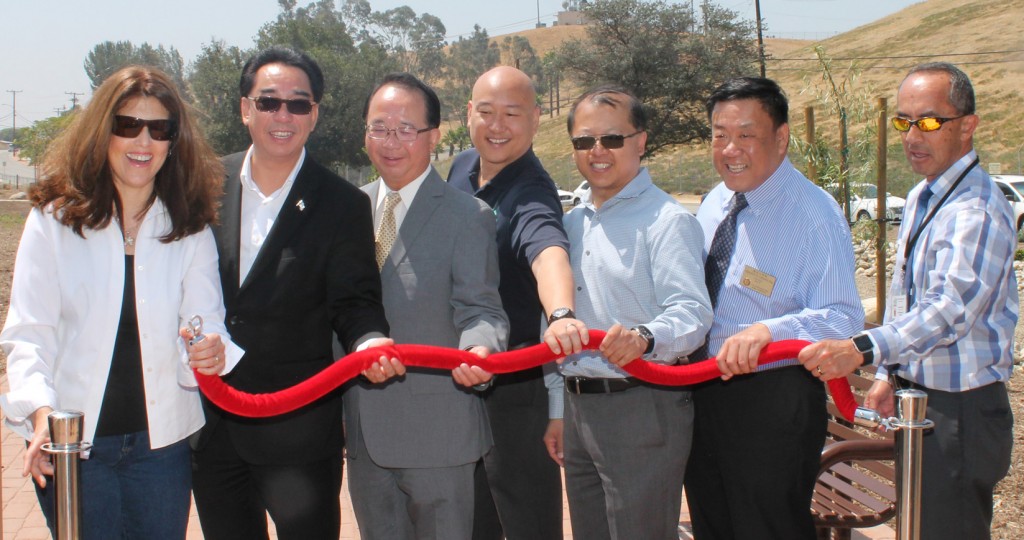 The elected officials opened the park to the public and thanked them for attending.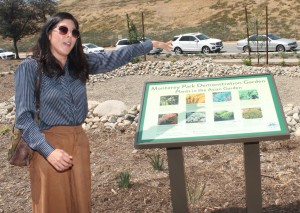 Jaime Yamashita, Five Point Design, planned out the garden for the city. She led the group on a tour of this garden. She pointed out that each area has a map so the community will be able to identify species of drought tolerant plants, trees, and cultural themes (Asian, California native meadow, modern Mediterranean, Spanish garden, water wise irrigation and artificial turf) that may be applicable to their use or foster ideas from the visual aids of the Demonstration Garden.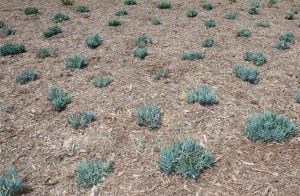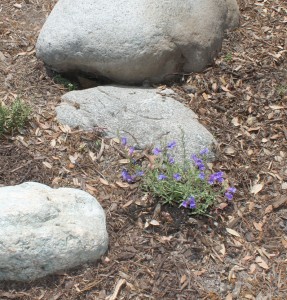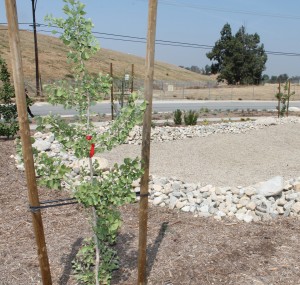 The park has just been replanted so the garden will grow up and fill in over the years.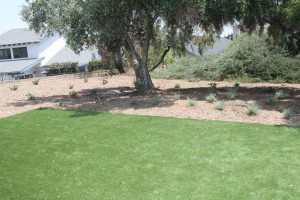 State of the art irrigation systems is on display for specific application or various uses as well as some artificial turf for the residents to inspect. She warned the residents not to overwater your plants or trees.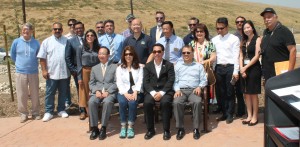 This garden is opened for you, your family and your friends to enjoy the natural beauty of Monterey Park as the city goes green.
Leave a Response