News from Assemblymember Ed Chau
California state Assembly recognizes may 2017 as Asian Pacific islander American heritage Month
On May 15, members of the California State Assembly and the Asian Pacific Islander (API) Legislative Caucus joined Assemblymember Ed Chau (D-Monterey Park) in co-authoring Assembly Concurrent Resolution (ACR) 81, which declares May 2017 as Asian and Pacific Islander American (APIA) Heritage Month.
"APIAs have and continue to play an important role in forging and enriching the history of California and the United States," said Assemblymember Chau.  "APIA Heritage Month serves as a time to honor this history and to recognize past and present APIAs for their dedication and accomplishments. It also promotes the diversity within the APIA community."
The California API Legislative Caucus celebrated the accomplishments of nine outstanding Asian Pacific Islander Americans in their respective professions. The 2017 honorees are as follows:
Jordan Clarkson, is a Filipino-American NBA player for the Los Angeles Lakers, since 2014, that was honored for excellence in Sports. In his first year of being drafted, Jordan was named to the NBA All-Rookie First Team.
Yu Brothers, Charles and Kelvin Yu, are highly successful editors, writers and actors, and were honored for excellence in Entertainment.  Charles is an Editor for Westworld on HBO and has written three books, including How to Live Safely in a Science Fictional Universe, which has been translated into eleven languages and published in over a dozen countries. Kelvin is an actor, writer, and producer whose television and film credits include Gilmore Girls, Felicity, ER, The Shield, Studio 60 on the Sunset Strip, Grandma's Boy, Cloverfield, and J.J. Abrams' reboot of Star Trek.
Vic Lee, is an Anchor for ABC 7 News, and was honored for excellence in Journalism. Vic's reporting has received both local and national recognition. For example, his investigative series on the hidden health hazards in Silicon Valley's semiconductor industry earned him the George Polk Award of Journalism for best local TV reporting. He has also won numerous Emmys and awards from the Associated Press, Radio Television Digital News Association (RTNDA), Society of Professional Journalists and the Asian-American Journalists Association.
Putu Blanco, is the Chief Financial Officer and Co-Owner of Paul Blanco's Good Car Company, and was honored for excellence in Corporate Business. Putu and her husband founded the company in 2008 as partners. Since then, it has expanded into seven California cities and Reno, Nevada. She handles the day-to-day operations, reconciles finances, and directs and motivates management to achieve maximum performance, and cultivate great employee relationships.  She serves as a member on the Board of the Sacramento Asian Chamber of Commerce.
Minh Nguyen, is the President and Chief Executive Officer of CD Video Manufacturing, Inc., and was honored for excellence in Small Business. Minh and his two brothers started their own company MTS, which would later become CD Video Manufacturing, Inc. Thanks to his entrepreneurship and vision, CD Video Manufacturing Inc. has 98 full-time employees, and a single day production capacity of 95,000 CDs, 160,000 DVDs and 18,000 Blu-Ray Discs. Minh is also a committed member of the community, and sponsors various community events and projects throughout the year.
Marilyn Chin, is an English Professor and Activist, and was honored for excellence in Education.  Marilyn's books have become Asian-American classics and are taught in classrooms internationally. She has also won numerous awards, including the United Artist Foundation Fellowship, the Radcliffe Institute Fellowship at Harvard, and the Rockefeller Foundation Fellowship at Bellagio, to name a few. Her new book of poems Hard Love Province won the prestigious Anisfield-Wolf Book Award in 2015, an award that honors important contributions that address the issues of racism and diversity.
Julie Su, is the Labor Commissioner for the State of California, and was honored for excellence in Advocacy.  Julie is the first Asian-American to serve as California Labor Commissioner and is a nationally recognized expert on workers' rights and civil rights who has dedicated her distinguished legal career to advancing justice on behalf of poor and disenfranchised communities. In her 17 years as a civil rights lawyer, Julie brought landmark lawsuits resulting in millions of dollars for low-wage workers and policy changes in California and the United States protecting immigrant victims of crime and human trafficking.
Richard Konda, is the Executive Director of Asian Law Alliance (ALA), and was honored for excellence in Law.   Richard is one of the founding members of ALA and during his tenure as an attorney, he has conducted hundreds of workshops and presentations on legal rights and responsibilities in the areas of housing law, immigration law and consumer issues.
ACR 81 passed with 68 co-authors.
Legislation to protect children from marijuana exposure and reduce carbon emissions clears Assembly fiscal committee
On May 26, the Assembly Committee on Appropriations approved three bills authored by assemblymember Ed Chau (D–Monterey Park).  The bills include efforts to protect children from exposure to marijuana products, and to ensure the state procures zero-emission heavy duty vehicles.
"I am thrilled to see these bills move forward because they protect children from exposure to marijuana products, and continue California's effort to reduce carbon emissions," said Assemblymember Ed Chau.
AB 76 – would prohibit the operator of an Internet Web site or online service, online application, or mobile application from marketing marijuana products or services to a minor, or to a person under 21 years of age, in certain circumstances.
AB 175 – would require manufacturers of adult use marijuana, prior to releasing marijuana-infused edible products into California's market, to receive approval for the labeling and packaging from the Department of Public Health.  This would ensure that the products are in compliance with the child safety and marketing provisions of the Adult Use of Marijuana Act (Proposition 64).
AB 739 – would require at least 15% of heavy-duty vehicles purchased by state agencies to be zero-emission vehicles (ZEV) by 2025 and at least 30% of those vehicles to be ZEV by 2030.
Legislation to reduce California's greenhouse gas emissions advances to senate
On June 2 The California State Assembly approved Assembly Bill (AB) 739, authored by Assemblymember Ed Chau (D-Monterey Park), which will require at least 15% of heavy-duty vehicles purchased by State agencies to be zero-emission vehicles (ZEV) by 2025 and at least 30% of those vehicles to be ZEV by 2030.  Specifically, this bill establishes phased-in targets for incorporating more ZEVs into the State's heavy duty fleet.
"AB 739 will help California meet its climate change and greenhouse gas emission reduction goals by requiring the State to procure zero-emission vehicles for its fleet of large trucks and buses," said Assemblymember Chau.  "These larger vehicles disproportionately produce higher levels of pollution, so replacing them with zero-emission vehicles will have a greater impact on protecting our environment."
In 2012, Governor Brown issued Executive Order B-16-2012, which called for 1.5 million ZEVs to be on the road in California by 2025, as a means of helping the State reach its greenhouse gas emission reduction goals.  AB 739 builds upon the Executive Order by setting a requirement for the State's heavy-duty vehicle fleet to be comprised of more ZEVs. This will help create jobs and a market that fosters heavy-duty ZEV development, provide for more fuel efficient vehicles, and help the State meet its greenhouse gas emission reduction goals.
AB 739 passed with 51 votes.
Assemblymember Chau Recognizes Kin Hui as 2017 SMALL BUSINESS OF THE YEAR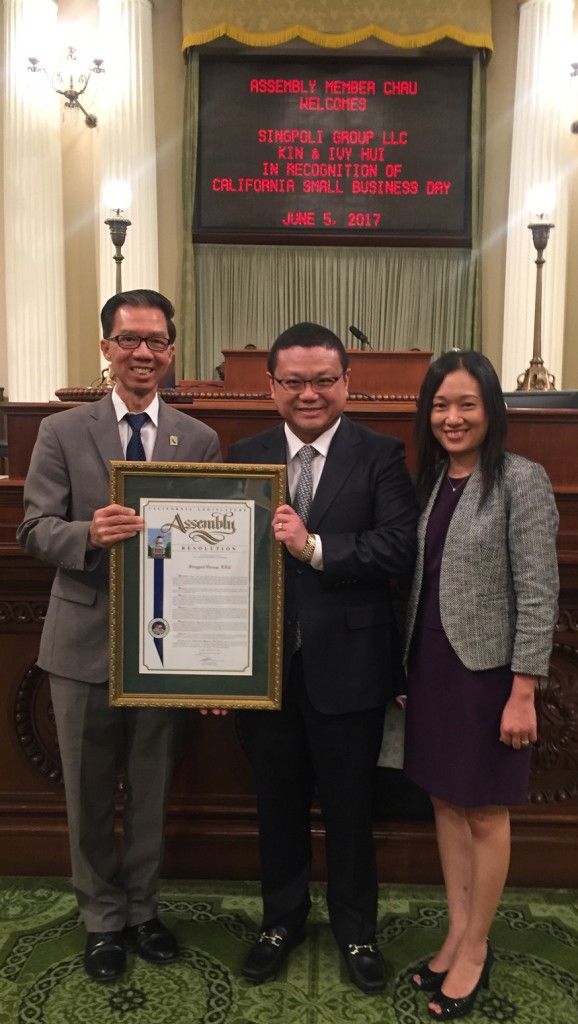 On June 5, Assemblymember Ed Chau (D-Monterey Park) honored Kin Hui as the 49th Assembly District "Small Business of the Year" for 2017, at an event the hosted by the California Small Business Association in Sacramento. The ceremony recognizes small businesses for their outstanding contributions to California.
"I am recognizing Mr. Hui for his ongoing investments and contributions to California," said Assemblymember Ed Chau.  "Not only does Mr. Hui uphold Singpoli's mission and vision to serve in the best interest of its clients, investors, and employees, but he has continuously given back to the community through his philanthropic work."
Kin Hui is the Chief Executive Officer (CEO) of Singpoli Capital Corporation and Chairman of Invest L.A. Regional Center. Singpoli was founded by Herman Hui and began as a construction company in Hong Kong in 1977. Today, Mr. Kin Hui leads Singpoli companies that specialize in real estate investment and development, general construction, property management, and architectural and building design on both the east and west coasts of the United States.
Mr. Hui's philosophy in life is to give back to the community. As founder of the Kin Hui Charity Foundation, he is devoted to helping special needs children in orphanages. Singpoli has provided sponsorships to many non-profit organizations, such as Pasadena Symphony and Pops, American Cancer Society, California Institute of Technology, Huntington Library, Pasadena City College, and University of California, Irvine.
Assemblymember Ed Chau represents the 49th Assembly District, comprised of the communities of Alhambra, Arcadia, El Monte, Monterey Park, Rosemead, San Gabriel, San Marino, Temple City and portions of Montebello, and South El Monte.
Leave a Response