Easter Egg Hunt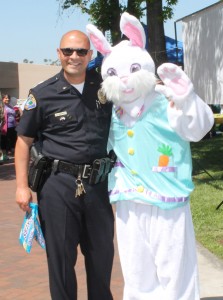 Lt. Gus Jimenez welcomed the Easter Bunny to Monterey Park on April 15th to join in the annual Easter Egg Hunt in front of City Hall.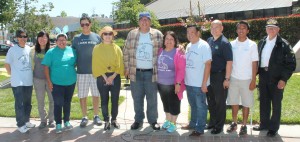 Councilmember Hans Liang, City Clerk Vince Chang, Members of the LAMP Optimist Club: Dennis Gutierrez, Sam Luk and Adele Andrade-Stadler, Pastor Johnny Cabrera and Pastor Carol Hsu from Trinity Church, Citizens Patrol Officer Paul Perez, Dillon – a student member of Mark Keppel's UNICEF Club, Timothy Thai – a student member of Mark Keppel's Eco Harmony and Chamber member Dora Leung welcomed everyone to this special children's event.  They instructed the parents in English, Spanish, Mandarin and Cantonese this event was only for the children.
Councilmember Liang thanked members of LAMP Optimist, the police cadets, the fire cadets, the Citizen's Patrol, members of UNICEF, members of ECO Harmony, members of Trinity Church and the city for their support of this special event. He wished everyone a Happy Easter!
City Clerk Chang thanked the families for coming to this important event for the kids. He wished the kids Good Luck! Happy Easter!
Mrs. Andrade-Stadler thanked all of the parents for coming to this event. She thanked Trinity Church for their support. She reminded everyone that Jesus is the reason for the Easter season.
Timothy, a member of ECO Harmony thanked every one for attending. Enjoy!
Pastor Johnny Cabrera thanked everyone for attending this event. He reminded the audience that the church services are opened to everyone.
Pastor Carol Hsu made her remarks in Chinese to the guests.
Dillon, a member of the UNICEF Club stated that their organization helps children around the world.
Mr. Gutierrez said their LAMP Optimist Club supports the youth in the community. Have a great day!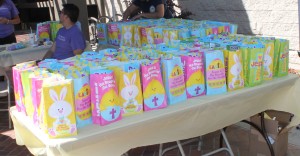 The children eyed the bags of candy supplied by members of Trinity Church that were passed out to all of them.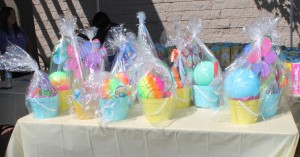 Easter baskets created by members of Eco Harmony were ready for the lucky winners to receive at the end of the hunt.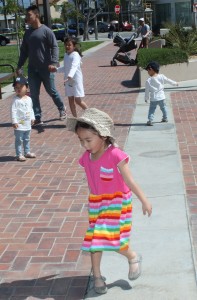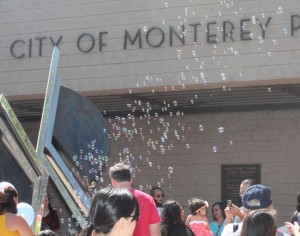 Children danced to the beat of the music and chased soap bubbles as part of the party.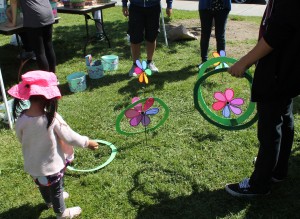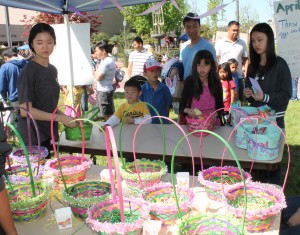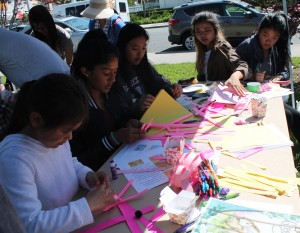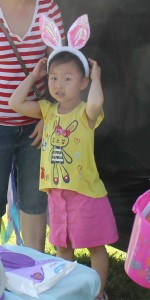 Children and their parents enjoyed several Easter related games: Garden Ring Toss, Egg Toss Madness, creating art and wearing Easter Bunny Ears as they waited for the hunt to begin. Each winner was presented several pieces of candy. The UNICEF Club sponsored their booths.
Approximately 1,000 plastic eggs were filled with candy. Only a limited few eggs held the rainbow winning tickets for the decorated Easter baskets.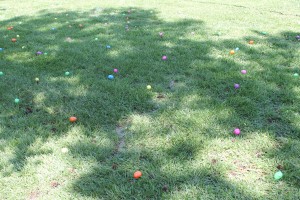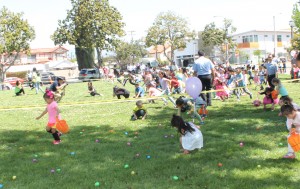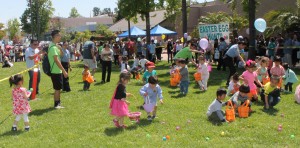 The colorful eggs were scattered in the grass in each of the three zones for the children to find.
Suddenly the areas were full of children picking up all of the eggs that they could hold in the hands.  Only the littlest one were allowed baskets to hold their eggs.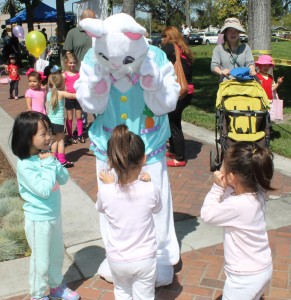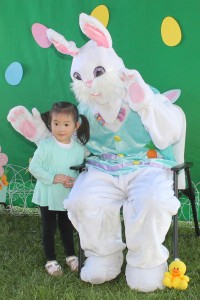 Family members both young and old each stopped to visit with the Easter Bunny on the sunny spring day.
Leave a Response