Rosemead and Sierra Vista Girls Basketball
Teams Make 1,712 Sandwiches for Homeless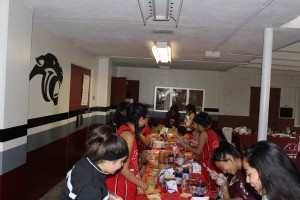 On April 19 it was reported Rosemead High School and Sierra Vista High school girls frosh soph basketball teams played a non league game at Rosemead near the end of the season, and then combined to make 1,712 peanut butter and jelly sandwiches for homeless people as part of Rosemead High School Girls Basketball Volunteer Day.
"Both teams had a lot of fun working together after the game to help others, "said Chuck Lyons, Rosemead girls frosh soph coach. "This Volunteer Day was a great way for students who don't know each other to play a game with great sportsmanship and then combine efforts to help so many other people. These youth showed great leadership and compassion for other people."
Local businesses helped by donating items for the project. Oroweat Bakery on Temple City Boulevard in Rosemead donated 120 loaves of bread, Target in Rosemead donated peanut butter and jelly, Dollar Tree in Rosemead donated the zip lock sandwich bags and Grocery Outlet at Rosemead Boulevard and Valley Boulevard donated more peanut butter and jelly so the original goal of 1,200 sandwiches was easily surpassed. U-Haul at Rosemead Boulevard and Mission Drive donated 21 new cardboard boxes to hold the sandwiches during transportation.
The players also enjoyed a lunch of pizza and snacks that included the players and coaches contributing food to enjoy, said the coaches.
"It is hoped that other teams and schools will take this idea and use it at their school," said Lyons. "Would be nice if the hundreds of high schools in Southern California did something like this on the third Saturday in January, which is known as bare cupboard month after giving away a lot of food to people in need in December for the holidays."
The 1,712 sandwiches were picked up and transported in a large truck from God First Native American Food Bank in South El Monte and were distributed to people in need in Los Angeles.
Go Rosemead Panthers and Sierra Vista Dons!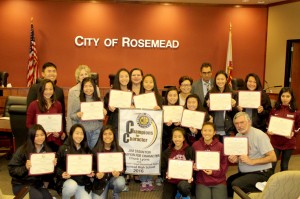 Rosemead High School 2015-16 Girls Frosh Soph Basketball Team was recently honored by City of Rosemead City Council for being the first team in California Interscholastic Federation Southern Section (CIFSS) history to receive the Jim Staunton Champions for Character Award for the 2015-16 season and the award was presented later in 2016 with more recognition coming in early 2017. Also,  El Monte Union High School District recently honored the team for the award for what CIFSS Commissioner Rob Wigod says the team is "the very finest in sportsmanship, character, integrity and athletics. This also is the first team and coach in EMUHSD and Mission Valley League to receive the award.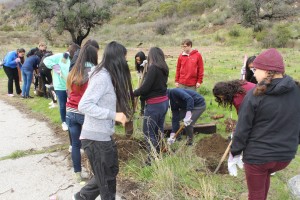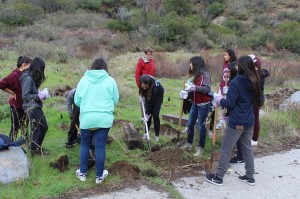 Rosemead High School and West Ranch High School girls frosh soph and junior varsity basketball teams played non league games and then traveled a distance to help restore a U.S. Forest Service campground that was previously burned by a fire. The players, coaches and volunteer parents worked with U.S. Forest Service and National Forest Foundation personnel to clean trash away from the flowing river's banks and a nearby dry riverbed, dug and installed heavy timber posts to keep cars from driving into areas beyond the paved parking so other groups can plant native plants and trees in those areas. National Forest Foundation also presented an educational session "outdoor classroom" about the forest and focused on trees and their benefits to the earth. Participants also went on a nature walk and learned about local plants and saw various wild birds and foot prints of animals.
Leave a Response