News from Assemblymember Ed Chau
ASSEMBLYMEMBER CHAU UNVEILS 2017 LEGISLATIVE AGENDA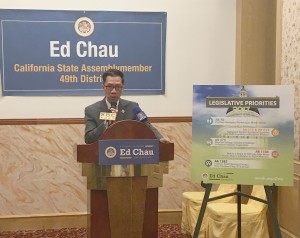 On March 17 Assemblymember Ed Chau (D–Monterey Park) unveiled his 2017 legislative bill package, which focused on the important work he will be doing to protect children from exposure to marijuana products, to help small business owners facing frivolous lawsuits, to ensure rebuilt salvage vehicles are inspected for safety, to address the dissemination of "fake news" stories, and to enhance cybersecurity, privacy and consumer protections for all Californians.
Marijuana – Assembly Bill (AB) 76 would prohibit an operator of an internet web site, online service, online application or mobile application from marketing marijuana products or marijuana businesses to a person under the age of 21.
AB 175 would require manufacturers of adult use marijuana-infused edibles to receive approval from the Bureau of Marijuana Control on the labeling and packaging, prior to releasing products into California's market.
AB 823 would require each single serving of edible marijuana-infused products to be stamped, marked, or otherwise imprinted with a universal symbol that makes it clear the product contains marijuana.
"When Colorado and Washington first legalized marijuana, one of the main issues that both states faced was child exposure and the accidental ingestion of marijuana-infused products," said Assemblymember Chau. "I want California to learn from the experience of other states. So, these three bills are designed to protect children as we implement the will and intent of the voters to legalize recreational marijuana use."
Small Business Lawsuits – AB 1583 would require private enforcers of Proposition 65 to provide the alleged violator with the factual basis for filing a lawsuit.
"The legal process for Proposition 65 lawsuits lends itself to unscrupulous attorneys forcing small businesses into settlements, because they can hide the basis of a lawsuit deep inside the legal process," said Assemblymember Chau. "This bill sheds light on the process by allowing an alleged violator access to the information up front, before having to spend tens of thousands of dollars in legal fees trying to figure it out."
Salvage Vehicles – AB 475 would require a certificate of structural integrity to be submitted to the Department of Motor Vehicles before a vehicle that has been reported as a total loss salvage vehicle, or dismantled vehicle, may be registered.
"Some in the auto industry report seeing cars sold where two halves of two different vehicles were simply welded together, raising concerns about safety. Unfortunately, not having a structural integrity inspection done on the vehicle can lead to dangerous or deadly situations when consumers believe the vehicle is safe," said Assemblymember Chau. "AB 475 would address this safety issue by requiring salvage vehicles to receive a certification of structural integrity, prior to being driven on the road."
Privacy and Consumer Protection – AB 1104 would attack the problem of "fake news" by creating a new state law designed to make it illegal for someone to knowingly and willingly publish false or deceptive statements, including those on the Internet, that are designed to influence the vote on a ballot measure or candidate.
"Misinformation campaigns, also known as 'fake news,' pose a real danger to our democracy. Some experts say the level of influence that fake news had on the U.S. Presidential race in 2016 was unprecedented," said Assemblymember Chau. "This bill is designed to protect our politics from deceptive practices, which have raised serious concerns about the public's lack of ability to distinguish between factual and fake news reports posted on the Internet."
Assemblymember Chau's legislative package also covers a wide array of policy areas.
legislation intended to improve mental health disparities for racial and ethnic communities' passes policy committee
On April 5, the Assembly Committee on Health approved AB 850, authored by Assemblymember Ed Chau (D-Monterey Park), which will expand the Mental Health Services Oversight and Accountability Commission (MHSOAC) by requiring the Governor to appoint an additional member with knowledge and experience in reducing mental health disparities, especially for racial and ethnic communities. Under current law, the MHSOAC exists to provide oversight for the implementation of Proposition 63, the Mental Health Services Act (MHSA).
"Although the MHSA has undoubtedly improved the mental health system and provided new and better services for consumers and their families in California, the Commission has not undertaken any significant evaluation on the topic of reducing disparities for racial and ethnic communities – who make up more than 60% of our state's population – since 2014," said Assemblymember Chau. "Consequently, it is difficult to determine if these communities are being served equitably or whether they are benefiting from programs that are effective, culturally appropriate, or desirable."
The MHSOAC is comprised of 16 members, with appointments by the Governor, the Legislature, the Attorney General, and the Superintendent of Public Instruction. In the past, the MHSOAC has received one hour of training per year by the Cultural and Linguistic Competence Committee. However, there has not been any such training in several years. Additionally, while there are requirements for each seat, there is no seat that requires knowledge of reducing mental health disparities for racial and ethnic communities.
"Having a person with knowledge and experience in reducing mental health disparities for diverse racial and ethnic communities to serve on the Commission provides an opportunity to have an advocate ask critical questions about whether MHSA programs and funding address cultural competence and reduce disparities," concluded Assemblymember Chau.
Assemblymember Ed Chau represents the 49th Assembly District, comprised of the communities of Alhambra, Arcadia, El Monte, Monterey Park, Rosemead, San Gabriel, San Marino, Temple City and portions of Montebello, and South El Monte.
Leave a Response