EAST LOS ANGELES-MONTEBELLO BUSINESS AND PROFESSIONAL WOMEN SELECT SANDRA ESPINOZA AS ITS "YOUNG CAREERIST FOR 2010"
EAST LOS ANGELES-MONTEBELLO
BUSINESS AND PROFESSIONAL WOMEN
SELECT SANDRA ESPINOZA AS ITS "YOUNG CAREERIST FOR 2010"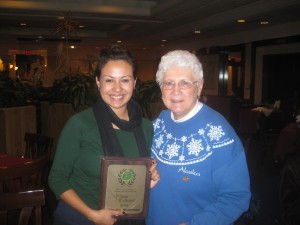 On the left is Sandra Espinoza, the Young Careerist winner for 2010. On the right is Kathryn "Kitty" Bates, President of the East Los Angeles-Montebello Business and Professional Women.
Monterey Park, CA—East Los Angeles-Montebello Business and Professional Women (BPW) selected Sandra Espinoza, who is the Coordinator for Teen Services for the West San Gabriel Boys and Girls Club, as its "Young Careerist for 2010." East Los Angeles-Montebello BPW announced her selection at their January 20th meeting at the DoubleTree Hotel in Rosemead. Espinoza grew up in El Monte. She has a B.A. degree in Psychology from California State University, Fullerton. Next fall she plans to start work on her Master's degree in Family Counseling. She has worked in the non-profit world for more than seven years. For more than a year she has been working at the West San Gabriel Boys and Girls Club. Each day she works with more than 50 teens. In her winning speech she talked about leadership. She pointed out that leadership is not easy. It requires practice, patience and open mindedness. Leaders need to be the example that they want their followers to be. Teens are searching for someone they can look up to. Many of the teens at the Boys and Girls Club come from single parent households and are latchkey children. There needs to be leaders to help combat drug and other problems. Espinoza feels a calling to be a leader in the community. Espinoza will compete next at the Sierra Mar District BPW level in Rialto on Saturday, April 17th.
The Young Careerist Program of BPW recognizes women and men between the ages of 21 and 35 who have been in their profession or business for at least a year. Candidates first have to win at the local level, which Espinoza did in January, to proceed to the District level.
For more information about BPW or the Young Careerist Program, call Sierra Mar District President Linda Wilson at (626) 307-5650.
Leave a Response