News from Assemblymember Ed Chau
Assemblymember Chau Holds Workshop To Warn Consumers About Scams And How To Avoid Them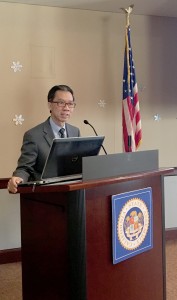 On February 24, Assemblymember Ed Chau (D-Monterey Park) hosted a free "Consumer Protection" seminar at the Crowell Public Library in the City of San Marino.
"In today's fast-paced world where you can shop online with your smartphone and have almost any item delivered to your door, it's easy to forget that there are those who would exploit this consumer convenience for their own gain," said Assemblymember Ed Chau, Chair of the Assembly Committee on Privacy and Consumer Protection. "As consumers take advantage of finding cheaper, more convenient options when looking for virtually anything, from contractors to accountants, it is my hope that this seminar will be a useful tool to help residents identify and prevent scams or confidence schemes."
The seminar was attended by residents from throughout the San Gabriel Valley. It featured presenters from the United States Postal Service, Contractors State License Board, County of Los Angeles Department of Consumer and Business Affairs, and the San Marino Police Department who provided information on how to protect against various types of construction fraud, home repair fraud, financial fraud, telephone fraud, and identity theft.
Assemblymember Chau Recognizes Ernestina Barbara Yamashiro As 2017 Woman Of The Year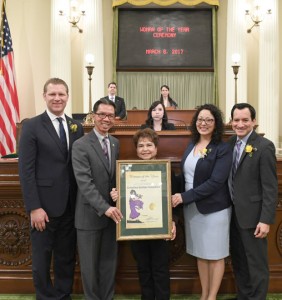 On March 7, Assemblymember Ed Chau (D-Monterey Park) honored Ernestina Barbara Yamashiro as the 2017 "Woman of the Year" for the 49th District during a legislative ceremony held at the Assembly Chambers. The ceremony recognizes women who have made outstanding contributions to California, as part of Women's History Month.
"I am recognizing Ernestina, because of her unwavering commitment to serving grieving families during some of the most difficult times of their lives, which is the loss of a loved one," said Assemblymember Ed Chau.  "She is truly a role model and pillar in the community that has turned a very difficult and personal experience into a lifelong mission to transform the lives of others, in an empowering way, by making sure that families of homicide victims are aware of the resources available to them, and by promoting peace and educational activities that attempt to end violence. She is, without a doubt, deserving of this recognition and much more."
Ernestina Barbara Yamashiro is the founder of Survivors of Murdered Children-San Gabriel Valley and a volunteer advocate for families of homicide victims. Survivors of Murdered Children-San Gabriel Valley, is an organization designed to help support, educate, and advocate on behalf of families of homicide victims.  Ms. Yamashiro became an advocate for families of homicide victims after her sixteen year old great-niece Sammantha Salas was murdered. Survivors of Murdered Children-San Gabriel Valley provides families with Thanksgiving food baskets, Christmas gifts for siblings, certified grief counselors, ensures families have an appointed court advocate throughout the homicide trial, and an in-depth understanding of the legal proceedings. Ms. Yamashiro is a long term resident of Alhambra, California.
Assembly committee held oversight hearing on the California department of technology
On March 7, the Assembly Committee on Privacy and Consumer Protection held an oversight hearing to review the operations of the California Department of Technology (CDT), while focusing on its progress in three major areas: general operations, information security, and IT project oversight.
"The Department of Technology has a rather remarkable set of responsibilities. In addition to the significant task of managing the state's computing infrastructure, it also has to oversee more than $3 billion dollars of ongoing IT procurements and keep state networks secure from criminals and those that would do us harm," said Assemblymember Chau (D-Monterey Park), Chair of the Assembly Committee on Privacy and Consumer Protection. "There obviously remains much to do and our challenges are not small, so we must continue to improve IT procurement oversight, build a strategy to modernize our state networks, and expand public-facing indicators and performance metrics to build transparency between CDT, the Legislature and the public."
The hearing panelists included key members of the CDT Executive team as well as representatives from the California State Auditor's Office, which has conducted audits on state cybersecurity efforts and critical IT projects over the last three years.  The State Auditor has made a number of recommendations to CDT on how to improve its oversight of state agencies' efforts to keep their IT systems secure, and how to improve its IT project approval and oversight functions. CDT provided an update at this hearing on its progress in completing these recommendations.
"Today's hearing is intended to be an annual occurrence; a regular opportunity for the Legislature and the public to review what needs improvement in state IT leadership, as well as what has worked well. From what I have seen and heard in the months since our last oversight hearing, there has been much progress made and such progress is expected to continue," concluded Assemblymember Chau.
Assemblymember Ed Chau represents the 49th Assembly District, which includes the cities of Alhambra, Arcadia, Monterey Park, Rosemead, San Gabriel, San Marino, Temple City, and portions of El Monte, Montebello, and South El Monte.
Leave a Response