MPK Bruggemeyer Library Celebrates Women's History Month with Incredible Women Program Series
MPK Bruggemeyer Library Celebrates Women's History Month with Incredible Women Program Series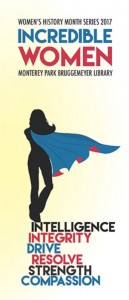 Celebrate Women's History Month at the Monterey Park Bruggemeyer Library and join the library's "Incredible Women" Series in honor of Women's History Month featuring guest speakers and film programs throughout the month of March.
The program series begins on Sunday, March 5 with guest speaker environmental science teacher and illustrator Andrea Lofthouse-Quesada who will talk about her work connecting art, culture and science in our local communities and her work with the nature conservation movement in China at 2 p.m. in the Friends Room. Guest speaker, Miriam Quesada will present "The Many Faces of Frida," a lecture on the famous Mexican artist Frida Kahlo on Tuesday, March 7 at 6 p.m. in the Friends Room. A film on the artist staring Salma Hayek will follow the lecture.
On Sunday, March 12, filmmaker Ed Moy will screen his documentary film "Aviatrix: The Katherine Sui Fun Cheung Story" sharing the history of the first licensed Asian-American female pilot in the United States at 2 p.m. in the Friends Room. The inspiring film based on the true story of Uganda chess prodigy, Phiona Mutesi will be screened on Wednesday, March 15 at 2 p.m. in the Friends Room.
On Sunday, March 19, author Van B. Choat will talk about her memoir, "Undaunted," a story of her experiences, resilience and survival during the Vietnam War as a young child and immigrant in the United States at 2 p.m. in the Friends Room.
On Sunday, March 26, meet Amy Lieu host and creator of the online talk show #AmyLieu Presents that aims to empower women from an Asian American perspective at 2 p.m. in the Friends Room. The programs are sponsored by the Friends of the Monterey Park Library.
In March, the public is also invited to view a display of a timeline of notable achievements of American women in the exhibit cases located on the first floor of the library. Since 1988, a special Presidential proclamation is issued every year to honor the extraordinary achievements of American women. National Women's History Month is held in March to coincide with the recognition of International Women's Day celebrated on March 8 throughout the world.
For more information about the free programs, contact the library at 626-307-1368 and/or follow on Twitter @MontereyParkLib.
The Monterey Park Bruggemeyer Library is the city's public library located at 318 S. Ramona Avenue, Monterey Park, CA 91754. Library hours are Sunday 1-5 p.m.; Monday and Tuesday 12-9 p.m.; Wednesday and Thursday 10 a.m.-6 p.m.; Friday and Saturday 10 a.m.-1 p.m. For more City of Monterey Park news and information, please visit the city website at www.MontereyPark.ca.gov.
Leave a Response