People Who Make A Difference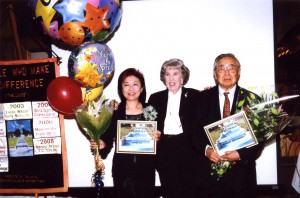 Former Monterey Park Mayor and Treasurer Louise Davis and the United Democratic Club honored Cindy Hu and Herb Motonaga on January 28 at the Monterey Hill Steakhouse in Monterey Park.
Gloria Guerrero, Club President welcome all to this special event that honors local residents who donate their services to the community but are not recognized.
Terry De Wolfe was the Master of Ceremonies.  He introduced special guests that included Mayor Mitch Ing, Mayor Pro Tem Anthony Wong, City Clerk Dave Barron, City Treasurer Joseph Leon, Assemblymember Mike Eng, Patricia Horton representing Congressmember Adam Schiff, Alhambra School Boardmembers Bob Gin and Adele Andrade-Stadler, City Librarian Barbara Williams, Bob Blackwood and Harry Panagiotes. Approximately 190 guests participated in this very special event to honor local volunteers.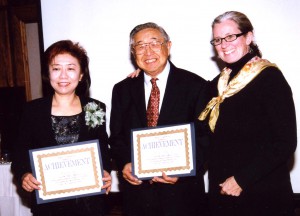 Patricia Horton presented Cindy Hu and Herb Motonaga with Achievement Awards from Congressmember Adam Schiff for their dedication to the community.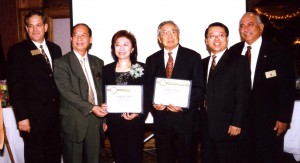 Mayor Mitch Ing, Mayor Pro Tem Anthony Wong, City Clerk Dave Barron and City Treasurer Joseph Leon honored Cindy Hu and Herb Motonaga with proclamations and words of praise.  Mr. Ing said Monterey Park has been selected as the second best city to raise your children. We have a good education system, affordable housing and an accessible location. Mr. Wong thanked the United Democratic Club for sponsoring this event to honor outstanding residents of the city. You give us the honor. Cindy is an outstanding reporter and Herb is a volunteer for the city. Mr. Leon congratulated the recipients and thanked the club.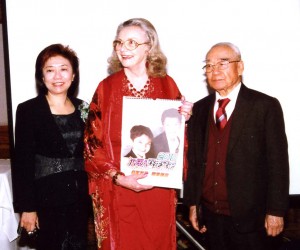 Kathy Wills presented a Chinese calendar with her grandsons' pictures to Cindy Hu's father who traveled all the way from Taiwan to join her in this celebration. They received several bouquets of flowers too.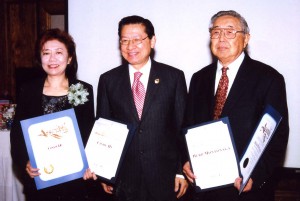 Assemblymember Mike Eng presented proclamations of appreciation from himself and Congressmember Judy Chu to Cindy Hu and Herb Motonaga. He said hello to the United Democratic Club and Louise Davis.  He asked for a round of applause for Terry De Wolfe. This award is for the honorees. He said that his dad advised him not to be swayed by the headlines and people who applaud you. The only thing that lasts is friends and family. This award is for people who make a difference. The many quiet people who make so much of a difference. The journalist, Cindy Hu, covered the Council Meetings during the great change. He reminded everyone that the city was incorporated before it became a city of garbage. Residents from Alhambra, Pasadena and South Pasadena threw their trash here. The residents made it a city of parks with 13 parks. He joked that Herb Motonaga could relate to his pigeon English since they were both raised in Hawaii. He praised Herb Motonaga for being a leader in the Eastside Optimists Club. The volunteers and journalists are who make the city great.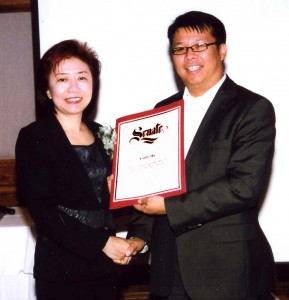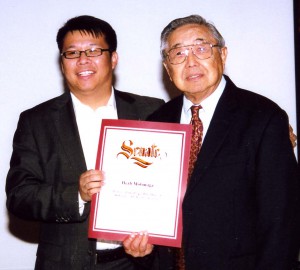 Henry Lo presented Cindy Hu and Herb Motonaga with proclamations from State Senator Gloria Romero that recognized some very special people. We need a free press and volunteers.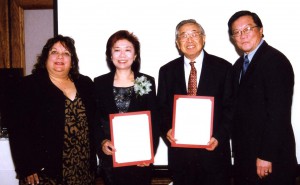 Alhambra School Boardmembers Adele Andrade-Stadler and Bob Gin honored Cindy Hu and Herb Motonaga as people behind the scenes and supporters of the schools. They gave the audience an updated report on the local schools.  They invited the audience to visit the newly completed buildings on Mark Keppel's campus in May or June of this year.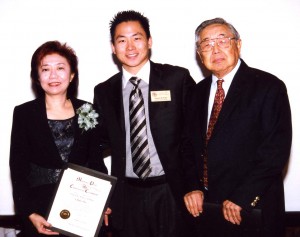 Daniel Kim from the Monterey Park Chamber of Commerce honored Cindy Hu and Herb Motonaga for their volunteer service to the community.
Club members Jane Besen and Marie Purvis were remembered for their valuable services to the community. They died in 2009. Mrs. Besen was a long time member of the club. Mrs. Purvis, a long time member of the club, also served on the City Council. A toast was made in their memory.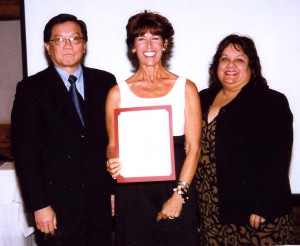 Alhambra School Boardmembers Bob Gin and Adele Andrade-Stadler honored Sonja Holladay for her service to the community.
Sonja Holladay was the guest speaker for the evening. She is an adult education instructor for the Alhambra School District and Monterey Park. She teaches a variety of water and land exercise classes to seniors at Langley Center and Barnes Park pool.  She spoke about the benefits of exercise to improve physical and mental health.  She suggested many ways to exercise to improve ones health. Her classes are opened to the public.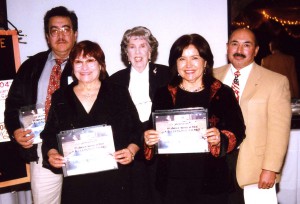 Louise Davis recognized Shirley Hwong, Didi Meza, Larry Odono, DDS and Jesus Ortiz for being nominees.  Mrs. Hwong is a wonderful volunteer and works on many committees. Mrs. Meza was able to secure a crosswalk for Bella Vista School on Findlay to protect the school children. Dr. Odono organizes sports clubs for children in the city. He is a volunteer and a Lion.  Mr. Ortiz is a member of the Cinco de Mayo Committee and volunteers to educate voters during the elections.
Pat Tomoyasu and Ed Wong, MD were also nominees but were not able to attend the event.
Kathy Wills thanked Ron Knoll, General Manager of The New Monterey Hill Steakhouse for making this evening a success. The food was delicious.
Dave Barron introduced Cindy Hu as an old friend that he met 20 years ago at City Hall. He called her a tiger that reports the hard news in Monterey Park and the San Gabriel Valley.  She has an instinct when stories are brewing at City Hall. She is a tough interviewer for the Chinese Daily News. She has written some great stories that are published locally and around the world. She has helped the Monterey Park Police Department capture a person wanted for murder with her picture and story. She also wrote about identity theft. She stood outside of the Lions Manor for a long night to report on a tragic murder story. She always gets her story. The Chinese readership and other Monterey Park residents recognize her. She taught him a lot about our open government. Cindy has a long career as a journalist.  Her daughter attended Mark Keppel and received the Crystal Youth Award. She currently is a student at UC San Diego.  Her father traveled all the way from Taiwan to join her tonight for this celebration.
Harry Panagiotes thanked the club for having this event. The city does not recognize all the volunteers. These are special people. He introduced Herb Motonaga as a gift to the Parks and Recreation Department. He is a long time member of the Eastside Optimists Club that supports the youth in the city. He has also served on several committees. He provides leadership for the kids. He told a story about how Herb had the club purchase a churro machine and shaved icemakers so they could raise more funds for the club to donate to the city.
Mr. Motonaga thanked everyone for attending this event. He didn't know anything like this existed.  He can now graduate.
Ms. Hu said she is a first generation immigrant. She is honored to receive the People Who Make A Difference Award. She thanked the club. She thanked her father, family and friends. She has seen a transformation in the city since 1980. It is open and helpful with city services. We have four Asian Councilmembers, the first Asian Congressmember and an Asian Assemblymember. This is the best city for our family and friends. She thanked everyone for coming.
Mr. De Wolfe thanked everyone for attending this event. See you next year.
Leave a Response