Veterans Day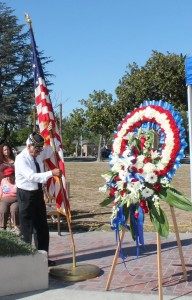 Members of American Legion Post #397 posted the colors at the beginning of the ceremony in front of the Monterey Park City Hall on November 11th.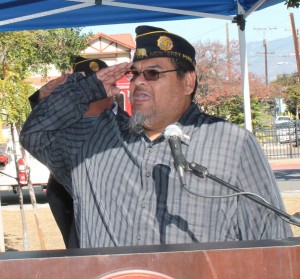 Post Commander Gabriel Suarez led our Flag Salute.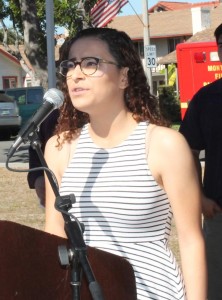 Carly Godoy sang our National Anthem.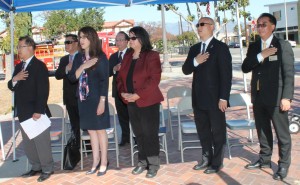 Monterey Park Mayor Mitch Ing, Vice Mayor Teresa Real Sebastian, Councilmembers Stephen Lam, Hans Liang and Peter Chan and City Clerk Vince Chang joined with veterans, their families and the residents in remembering the veterans of all of our wars.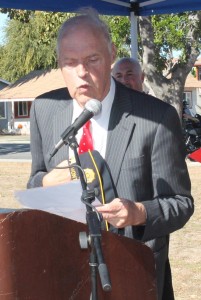 Post Chaplain Tom McCrady led the invocation. He asked God to please bless the veterans and protect them.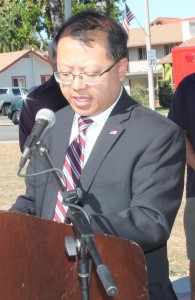 Mayor Mitch Ing welcomed everyone today's ceremony. He introduced the elected officials to the audience.
Mayor Ing said he is honored to be here. He lived in Canada and moved to Monterey Park to attend college at UCLA. His maternal grandfather was in the U S Army infantry during World War II. His grandmother lived in China when the Japanese invaded her village. She would not share her history. He grandfather reminded him all the U S has to offer. He advised his grandson to love family, country and God.
At the age of 30 he became a U S citizen. It took him five years. He read Lee Greenwood's song "God Bless The USA" to the audience. He doesn't understand why the protesters are burning our flag and damaging private property after the November election.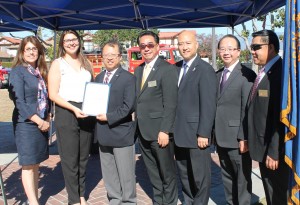 Ana Iskikian, a representative for Congressmember Judy Chu, presented a proclamation. She said the land of the free has become home to the brave because of our military.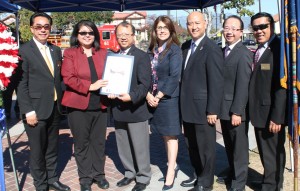 Jo Ann Yanagimoto-Pinedo, a representative for Supervisor Hilda Solis, presented a proclamation. She congratulated the veterans. She is from a military family. Veterans Day should be every day. Please thank the veterans. She thanked them.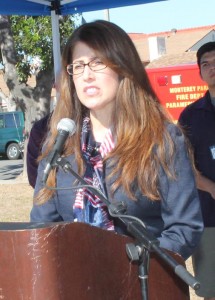 Vice Mayor Real Sebastian said she is proud to be an American and casts her votes. Some people are not allowed that freedom. She thanked Congresswoman Grace Napolitano for her active support of the veterans. She spoke about a countywide event to help the homeless that include a large number of veterans. We need to support our veterans.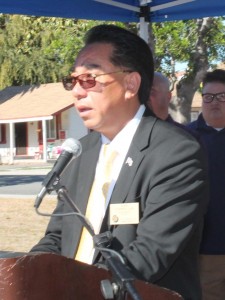 Councilmember Lam thanked the veterans. He is grateful for everything they did for our nation. He salutes the veterans who fought to keep us free.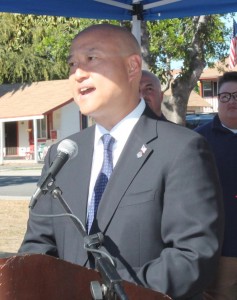 Councilmember Liang thanked the veterans. The veterans made a decision to become part of our U S military service. It is their choice to leave your family and friends to become military members. Heroes chose to become part of the military. He thanked the veterans, firefighter and police officers for protecting us.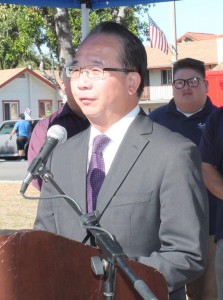 Councilmember Chan thanked the veteran for their service to our country. He thanked them for their sacrifices. He spoke about a family friend's son who had become a "bad boy" until he enlisted in the Army. After six months in basic training he changed his image at home. He was send to training where he learned to fight for people who can't fight for themselves. He thanked all of the veterans.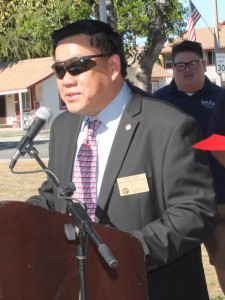 City Clerk Chang thanked all of the veterans for their services. You know the price of freedom. We just had an election. We have the right to vote thanks to the veterans. He thanked the families for allowing their family members to serve. The veterans protect the people who have different opinions and backgrounds from harm. He thanked all of the new veterans who were born in China and now live in America.
Mayor Ing thanked the firefighters and police officers for their service to our community. He introduced City Manager Paul Talbot and Assistant City Manager Ron Bow, who is a veteran.
Commander Suarez said it was a pleasure to have this many veterans attending this event. The post has veterans from World War II, Korean, Vietnam and the Middle East. The post is opened to all veterans. We need our families to help support our military members with love. He thanked the firefighters, police officers and other city employees for their services to our community.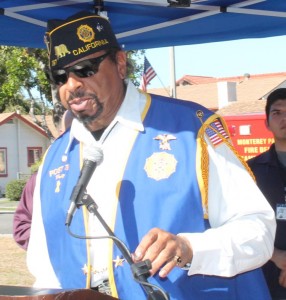 Dr. Frederick "Fritz" Wilson said it is an honor to be here today. On the 11th day of the 11th month at the 11the hour World War I ended. He thanked the veterans from all of our services. He teaches students behavior and respect. He helps young people to enlist in the military. The firefighters and police officers need respect. They protect us. That are over 50,000 homeless veterans in our country, we need to put them at the top. We need to come together as the veterans protect us against our enemies. Veterans support other veterans. We must support each and everyone. America is one color. He asked God to bless America, the veterans and everyone.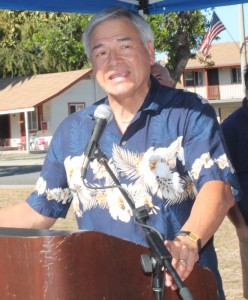 Judge Frederick P. Aguirre said the veterans allow him to provide justice for all. He is from a long line of military members from World War II to today. He provided a framed copy of the Japanese surrender document signed on the USS Missouri in Tokyo Bay that ended World War II.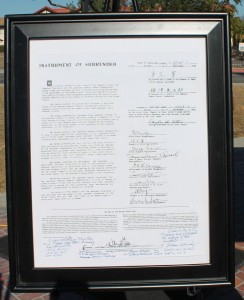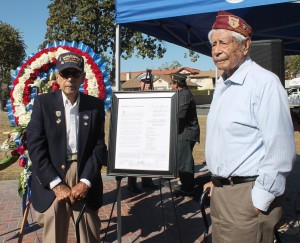 World War II veterans Bill Sanchez and David Fuentes were witnesses to the surrender.
U S Navy Commander Arthur Fong spoke about his tours in the Middle East. He urges the next generation to serve in the U S military. He thanked the veterans for their service.
Chaplain Mc Crady asked God to protect our service members at war. Please don't let their lives lost be in vain.
Commander Suarez invited the veterans, their families and the audience to join them for lunch at the post.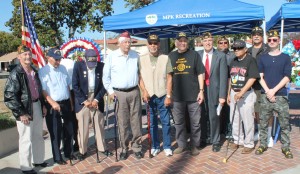 Some of the veterans posed for pictures at the end of the event.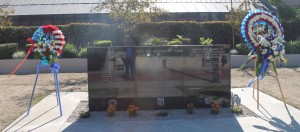 Wreaths donated by the City of Monterey Park and Opti-Mrs. surrounded the War Memorial in front of City Hall.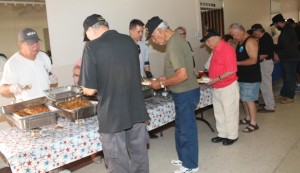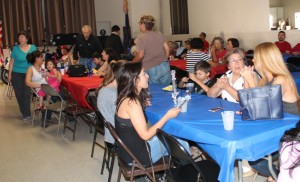 A delicious lunch was served and enjoyed by everyone at Post #397.
Leave a Response