Monterey Park Election Update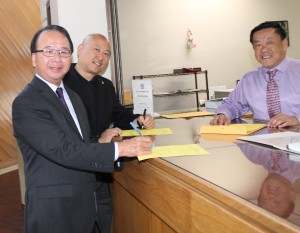 Monterey Park Councilmembers Hans Liang and Peter Chan and City Clerk Vince Chang all pulled their campaign papers on November 14th.
They are seeking re-election in the March 2017 election being run by Los Angeles County.
Deputy City Clerk Cindy Trang explained to the candidates the county rules for running for political office. There are a bit different than the city's rules.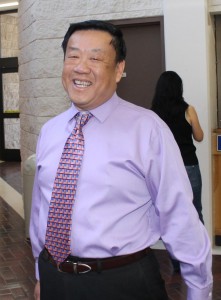 Vince Chang asked people to please vote for him in the March 2017 election. He reminds residents to register to vote and to please vote in every election. Your vote does matter.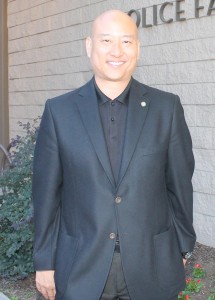 Hans Liang remarked that the last four years have gone too fast. It has been an honor and privilege to represent the people these last four years. He is looking forward to the voters that will continue to support him for the next four years.
He asked the residents to look around to see the progress that has taken place in the last four years. The Market Place has broken ground and will be home to Costco, Home Depot and In-N-Out in 2018.
The hours at city hall and the library have been extended.  There is new development coming into our city. The Council has been working with the firefighters, police officers and the general employees to keep our community together.
He supports extending the library tax to keep our library opened for longer hours and purchase more books, DVDs, new computers and more equipment.
Hans Liang said the residents are the voters.  We need to continue to work together for our hometown. He asked for the voters to re-elect him in the March 2017 election.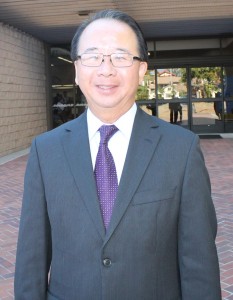 Peter Chan stated that in the last four years we did a good job. The city works as a unit. We are working together. He has worked hard to pull the whole city together.
Monterey Park is still the safest city in the San Gabriel Valley regardless of Proposition 47. The police department is the most important. We have updated our equipment and hired more police officers so our efficiency improved. The fire department will have a new building located at Station 62 next year. There also will be improvements made to Stations 61 and 63. Our public safety is excellent.
We have also made improvements at our 13 parks that are used by the residents. We are making road improvements and updating our water and sewer lines.
We need money and sales taxes to pay for our city services. He spoke about the upcoming Market Place and the new hotels that will provide additional funds to provide more city services. These funds will be used for capital improvements. These new hotels and Market Place will also provide additional jobs for the residents too.
He spoke about the new laws on shopping carts and illegal hotels that will improve the quality of our lives in the city. He supports the extension of the library tax that will continue to provide outstanding library services to our hometown.
Peter Chan asked the voters to support him for four more years. We are going in the right direction for our hometown.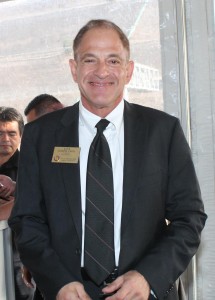 City Treasurer Joseph Leon pulled his campaign papers at a later date.
He works closely with the city manager and city controller to provide information and decide on which banks the city should invest our tax dollars in for the best rate of return and the safest place to invest.
Joseph Leon asked the voters to support him for another four year term.
City Council Challengers are Anthony Felix, Jr., Joe Ray Avila, Randall Avila and Margaret Leung. They returned their nomination papers by the December 9th deadline.
Margaret Leung announces run for Monterey Park City Council
Dear friends and neighbors,
On August 9 – we initiated an effort to update the Monterey Park Municipal Code Chapter 9.06.  The purpose was to provide MPK residents with a short Airplane Noise relief and allow time for us to continue to work with LAX & FAA for a permanent solution.
The effort was met with resistant.  Reason provided by the Council was that FAA is a federal issue and there is nothing the city can do at the local level.  The residents should continue to focus their energy at the FAA.  [I could not believe what I've heard.]  After some more discussions, the noise issue finally got onto the Planning Commission Meeting Agenda only as "Commission Communication" to make a recommendation for Council's review of this matter.  The vote passed on September 27, 2016 by 3 to 2 to recommend Council to review the matter.
However, this was a short-lived victory.  According to the city manager, the vote was rejected due to an Administrative Error  - the "Recommendation for Council's review" will need to be re-voted by the Planning Commissioners.  However, there has been NO Planning Commission meeting since September 27, 2016 at all.
As a resident – we can only continue to push the City Council Members and our Congress representative.   The longer we do nothing – the more routine and permanent this unofficial staging flight pattern over Monterey Park will be.  The lack of progress on this matter is very troublesome for those of us who are planning to retire here in the future.
This is one of the KEY reasons why I am running for City Council on March 07, 2017.   I hope that I can win the support of Monterey Park Residents to make this issue a priority for the city.   This issue alone impacts 2/3 of MPK property values, our health, and our mental sanity.
Please join me on my Facebook page Margaret4CityCouncil and web site www.MPKmargaret.com
Sincerely,
Margaret Leung
Randall Avila for City Council
It's official – I'm in.
Today, December 8th I filed my paperwork to appear on the March 7th ballot as a candidate for Monterey Park City Council.
In the coming months I will campaign, as I will serve – I will go everywhere and speak with everyone.
Every candidate, incumbents and challengers, should earn your vote. I will outwork everyone in the field to do just that.
All talk, no action politicians have failed us. Only new ideas, bold solutions and real change can grow our economy, keep our homes safe and fix City Hall.
I will fight for you. I will be your voice. Together we can deliver the Monterey Park we deserve.
Sincerely,
Randall Avila
The Library Tax will be on the ballot for renewal to continue to extend the Monterey Park Bruggemeyer Library hours, purchase more books, more DVDs, more computers and additional equipment as required to serve the patrons.
The new tax rate will be the same as already listed on your current property bill. It will be $25 a year for residential properties and $75 a year for commercial properties.
The Monterey Park Bruggemeyer Library is a free source of education and entertainment.
Leave a Response