Assemblymember Chau honors leaders who make a difference during the holiday season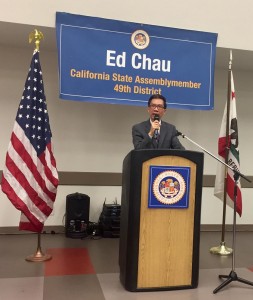 On Friday, December 2nd, Assemblymember Ed Chau (D-Monterey Park) honored five outstanding individuals and two organizations with the "Make A Difference" Award for their dedication and commitment to improving the quality of life for many people in the community.  The award ceremony took place during the Assemblymember's annual "Holiday Toy Drive" in the City of Rosemead.
"There is no better time to recognize these individuals and organizations for the positive impact their altruism has on our communities than during the holiday season, which represents a time of generosity and giving," said Assemblymember Chau.  "Their dedication and contributions to the 49th Assembly District are truly inspirational and I hope that others will follow their example by volunteering and continuing to make a difference in our communities."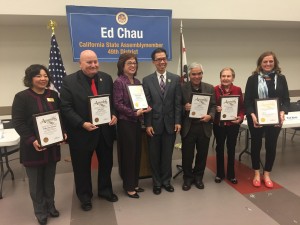 The 2016 award recipients included: Alhambra Latino Association; Five Acres; Gene Glasco; Helen Chen Marston; Louise Cook; Nancy Eng; and Nick Ut.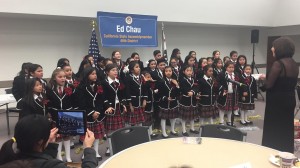 Garvey Rhythmax entertained the guests.
Family, friends, and neighbors also met with the Assemblymember during the "Holiday Toy Drive" to discuss legislative issues, services and programs offered by the district office, and to celebrate the holiday season.  All toys collected were donated to non-profit organizations for distribution to families in need within the 49th District.
"In the spirit of the holidays, it is a pleasure to bring together various communities in my district to celebrate," said Assemblymember Chau.  "I am extremely grateful for the generosity demonstrated by constituents who donated toys that will bring smiles to many children during this season."
49th Assembly District's 2016 Make-A-Difference Awards
Alhambra Latino Association: Founded in 1995, the Alhambra Latino Association is an organization comprised of educators and community members committed to supporting the educational and cultural growth of the children and parents in the Alhambra Unified School District. The Alhambra Latino Association provides scholarship, initiates and supports activities and programs that provide educational and cultural awareness in the community, affiliates and promotes communication with similar organizations, and promotes positive models, career advisors and mentors to Latino students within the Alhambra Unified School District.
Five Acres: Five Acres is a child welfare agency that works to ensure that every child has a safe, healthy, and permanent family solution through advocacy, prevention and evidenced-based services. Established as an orphanage in 1888, today Five Acres offers an array of services including; community based mental health and death services, wrap around, therapeutic behavioral services, residential care, foster care, adoption, and a therapeutic school. Their mission statement calls for "[promoting] safety, well-being and permanency for children and their families by building on their strengths and empowering them within communities". In 2015, Five Acres served over 8, 500 children and their families across five counties. Within the 49th Assembly District, Five Acres is based in the City of El Monte.
Gene Glasco: A native Californian, Gene Glasco is the first Arcadia High School graduate to be elected as City Clerk. Gene served for six years in the United States Navy – spending fourteen months in Vietnam as a Radioman. A Senior Real Estate Specialist, Gene is the Current West Coast Chapter President of Gamewardens of Vietnam Past to Present Association; Director of the Vietnam Unit Memorial Foundation (Coronado, CA); Member of the Marines Memorial Club (San Francisco), Member of Disabled American Veterans, Los Angeles American Legion Post 628; Member of Arcadia/Monrovia Post 2070 Veterans of Foreign Wars. In 2016, Gene Glasco helped found the Arcadia Vietnam War Monument Memorial.
Helen Chen Marston: Helen Chen Marston was born in China, where she attended Peking University before she immigrated to the United States, earning her M.B.A. from Cal State Los Angeles. As Planning Commissioner for the city of Temple City, a member of the Temple City Chamber of Commerce and a lifetime member of the Historical Society of Temple City, Helen is an advocate for the community. Helen sponsors the Temple City Unified School District's Performing Arts groups; the Temple City Unified School District Sports and Academic teams; Dr. Doug Sears Learning Center; the Miss Temple City organization; Temple City's Camellia Festival Parade Fly Overs; Temple City's St. Luke's Festival; Temple City's youth sports organizations; and the World Drum Major Association.
Louise Cook: Louise Cook is a long term resident of San Marino. She currently serves as a Recreation Commissioner, a position she undertook as an opportunity to serve in a meaningful way and give back to the San Marino Community. A strong advocate for public safety, she has worked with the San Marino Chief of Police office to improve community outreach. Louis was recognized in January of 2016 for serving on the committee that led to the successful passage of San Marino's Measures U and SA, which will support the Police and Fire departments. She has also spearheaded revitalization efforts for the Neighborhood Watch Program, and volunteered for over fifteen years at the Huntington Library and Gardens. Louise has dedicated her life to giving back to the community.
Nancy Eng: Nancy Eng is a resident of Rosemead, where she serves as a Rosemead Planning Commissioner. A dedicated advocate for individuals and families impacted by mental illness, she has served as a Board Member of the National Alliance on Mental Illness (NAMI) San Gabriel Valley, since 2013. Nancy has also been involved with the Garvey School District PTA Council and School PTA Boards as President and Vice President, Garvey School District Bond Oversight Committee, Superintendent Parents Advisory Committee, Budget Advisory Committee, School Site Council Chair, Head Start Policy Committee Chair, Neighborhood Watch, as a Block Captain, and the Los Angeles County Sheriff's Asian Community Advisory Committee. Nancy is currently a member of the Rosemead Public Safety Connections Forum and a local school PTA.
Nick Ut: Nick Ut is a resident of Monterey Park. He was born in Vietnam, where he began to cover the Vietnamese War for the Associated Press when he was 16. For almost ten years, he photographed the conflict occurring in Vietnam, Cambodia, and Laos. In 1972, Nick was awarded the World Press Photo of the Year and in 1973, he was awarded the Pulitzer Prize for Spot News Photography for 'The Terror of War', which depicted children in flight from a napalm bombing. The picture features a nine year old Kim Phuc, who Nick has remained close too, running towards the camera. In September 2012, Nick Ut became the third person inducted by the Leica Hall of Fame for his contributions to photojournalism. He believes that it is important to register and document the human condition in dangerous situations. Nick plans to retire from the Associated Press, where he has worked for the past 51 years, shortly.
Leave a Response