Peter Chan For Monterey Park City Council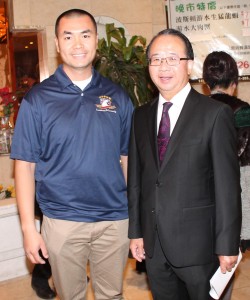 Councilmember Peter Chan welcomed Monterey Park Police Officer Tao Zeng to his fundraiser on November 18th at Ocean Star Restaurant.
He has been working with the police department, fire department and general employees on keeping Monterey Park a safe place to live, to work and to shop.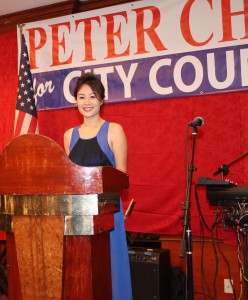 Gigi Yam the Mistress of Ceremonies. She welcomed the guests to this fundraiser for Peter Chan's re-election to the City Council in 2017.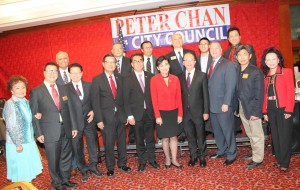 She introduced Peter Chan's special guests that included Congressmember Judy Chu, State Senator Ed Hernandez, Trustee Mike Eng, Trustee Mike Wong, Water Boardmember Thomas Wong, Monterey Park Councilmembers Stephen Lam and Hans Liang, San Gabriel Councilmember Chin Ho Liao, State Treasurer John Chiang, Dr. Sophie Wong, former Mayors David Lau and Lily Chen, Tax Collector Jeffrey Prang, School Boardmember Bob Gin, School Boardmember Henry Lo, former City Clerk Theresa Amador, Arcadia Councilmember Sho Tay, Walnut Councilmember Eric Ching and  School Boardmember Sophie Tse.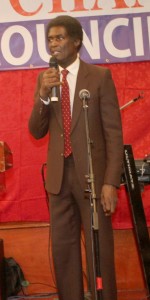 Delario Robinson led our Flag Salute.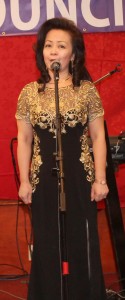 Xin Xin Sun sang our National Anthem.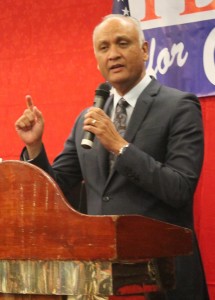 Ed Hernandez said we have a great country. Judy Chu, Mike Eng and the Monterey Park Councilmembers all work together. He supports Peter Chan and asked the voters to return him to the City Council.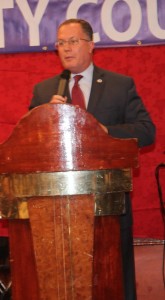 Jeffrey Prang asked if everyone had paid their property taxes yet. He supports Peter Chan. Monterey Park is a clean and safe city. We need to keep Peter on the Council.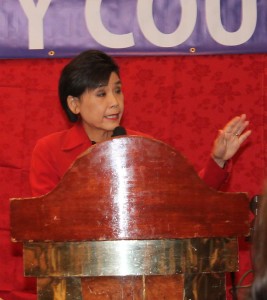 Judy Chu said she is happy to be here. She met Peter Chan 31 years ago. He is her neighbor. She supports him for Council. He and his wife, Jenny, moved to Monterey Park from Wisconsin after he completed his education there. He is devoted to making Monterey Park a better place. He works to raise funds for the library. He helped to have the improvements made on the Barnes Park swimming pool. He also pushed for the Market Place development. He is also working with her office to have the FAA reduce the airplane noise over the city. He helped to balance the city's budget. He also worked on extending the hours at City Hall and the library.
Peter Chan makes sure the residents are well served. We must make sure he is re-elected in March.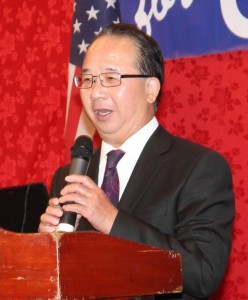 Peter Chan stated he is one of the five Councilmembers who works with the staff and the residents to make Monterey Park a better city. The Council, city manager and staff work together to make things happen.
Four years ago the City Hall was not opened five days a week because of budget cuts. We are working together to make good things happen at City Hall. We have a balanced budget with over $28 million in reserves.
The library has extended hours but we need to raise more funds to improve our library. The police department is working hard to keep us safe. They are educating the residents on traffic safety.
The fire department has a new engine and the station at Garfield and Elmgate will be rebuilt as a two-story building.  They work for our safety. Our fire department has the city rated as a Class One that reduces the cost of our fire / home owner's insurance.
We have spent $5 million to improve our parks. We have trimmed the trees and resurfaced many streets in the city. We have replaced many old water and sewer lines. We are working on synchronizing the lights on Atlantic from Hellman to Newmark. We are doing everything we can for the people to make our city safe and clean.
He spoke about the shopping cart ordinance and closing down illegal hotels.  He spoke about the new hotels on Atlantic that will bring in more taxes to the city.  The Market Place will also bring in more sales and property taxes as well as jobs to our city. He has held three Town Hall meetings in the neighborhoods to meet with the residents. He has an opened door policy.
Peter Chan wants to continue to make Monterey Park a safe place to eat, shop and live. He asked the voters to support him for four more years to accomplice what our residents want him to do.  Have a good night.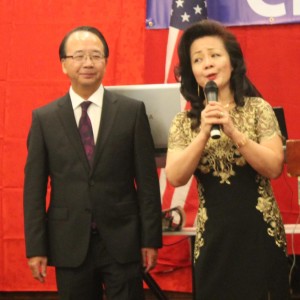 Peter Chan advised the audience that Xin Xin Sun is an Opera singer.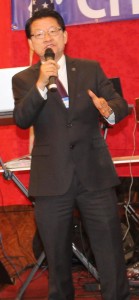 Mike Eng supports Peter Chan. We need Peter on the City Council. He thanked Peter Chan for running again.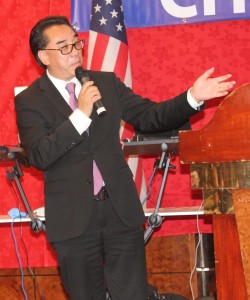 Stephen Lam supports Peter Chan for four more years. We need to keep the city moving forward in the next four years. We need to keep Peter Chan on the City Council. We need Peter Chan and Hans Liang. Please support them in the March election.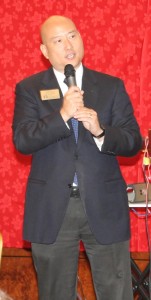 Hans Liang said he is honored to be here. He works with Peter Chan to help improve the city. They work together on the Council for the city. Please support Peter Chan and myself on our re-election to the Council.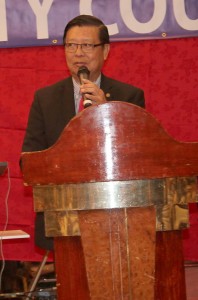 David Lau said he supports Peter Chan. He picked Peter to replace him when he retired from the City Council. Peter has done so much for the community. He works with the young and the old. He works with the Council, staff and the residents. Monterey Park is the gateway to the San Gabriel Valley. We are a very successful city. We must return Peter Chan to the Council. He needs your support to help him be re-elected.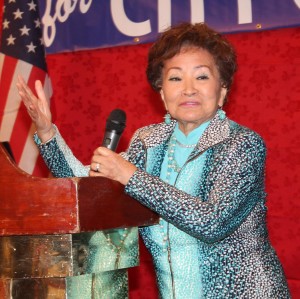 Lily Chen thanked Peter Chan for his support. He supports his elders. We are facing a divisive world today in America. We have a terrible divide. Peter Chan has special qualities to help heal our world. He works hard for the city without claiming credit. He is humble. She supports Peter Chan for Council. He is the only person to bring our community together. He provides the leadership to bring our country together. We are united and we are together. Monterey Park is not divided. We need to show the world that we are united and help the country heal. It takes courage to bring people together. Please vote for Peter Chan in the March election.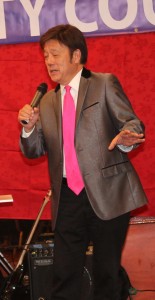 Sam Lo entertained the guests with his beautiful voice. He supports Peter Chan for Council.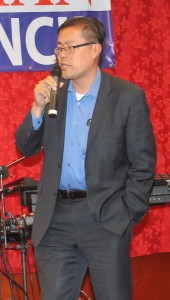 Mike Wong said he supports Peter Chan for Council. He has done so much for the city.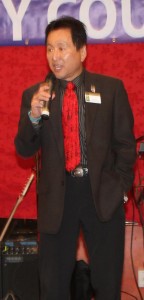 Sho Tay asked people to ask their friends in Monterey Park to vote for Peter.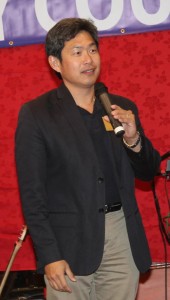 Eric Ching reminded people that Jenny Chan is the woman behind Peter Chan. He supports Peter's re-election to the City Council.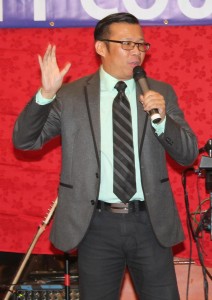 Henry Lo said Peter Chan helps the schools and supports the school districts. Please support Peter Chan.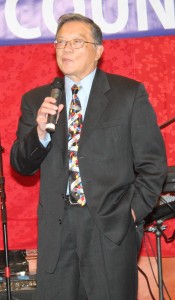 Bob Gin reminded the audience that Peter Chan is a "go-getter". He supports him.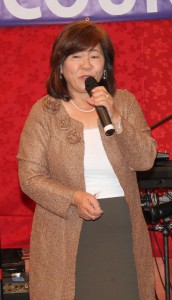 Sophie Tse said Peter Chan is the man for the Monterey Park City Council.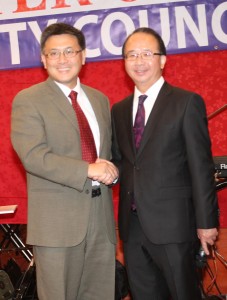 John Chiang asked the voters to support Peter Chan. We need competent and intelligent leadership at the local levels. Peter works hard for the residents of Monterey Park.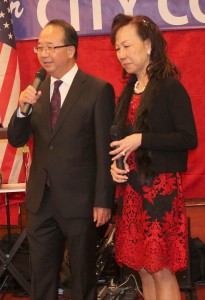 Peter and Jenny Chan sang a beautiful Chinese love song to the delight of the guests.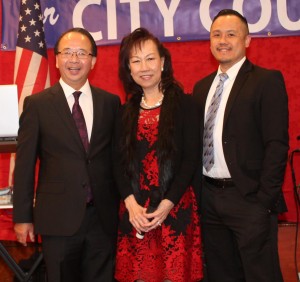 Peter Chan, Jenny Chan and their son, Kevin Chan thanked the guests for their attendance.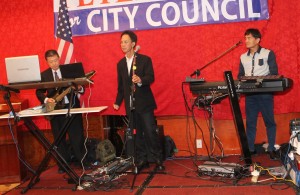 Danny So and the Wong Brothers provided the evenings entertainment.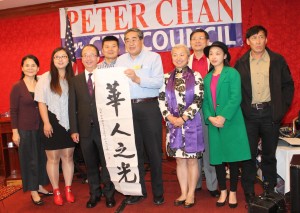 Professor Phillip Yang and his staff presented Peter Chan with a beautiful scroll that stated "Proud of the Chinese".
Peter Chan thanked all of the sponsors and supporters for this special event.
He also thanked everyone for attending his fundraising event.
Leave a Response