Monterey Park Bruggemeyer Library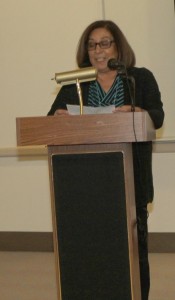 Librarian Cindy Costales welcomed the guests to this special event held at the library on November 20th. It honors all of our veterans. This event is co-sponsored by Chinese American Citizens Alliance of the Greater San Gabriel Valley Lodge.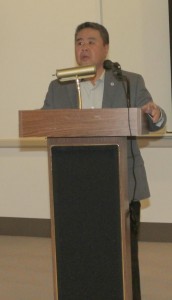 John Wong from the Lodge thanked the members of CACA for their support.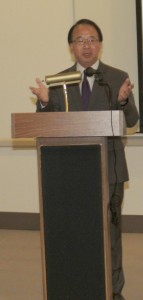 Councilmember Peter Chan thanked the members of CACA and Samantha Cheng for screening this Three-Part Documentary Series titled "Honor and Duty: The Mississippi Delta Chinese".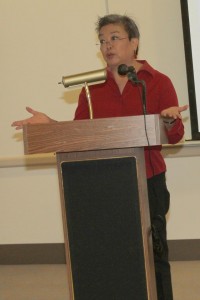 Samantha Cheng produced this film based on the history of the Chinese immigrants who came to the United States in 1850 to discover gold and later worked on the railroads. They helped to develop America.
She found in her research that a large number of Chinese immigrants settled in the Mississippi Delta before 1870. They began their community in small towns by establishing grocery stores that provided their livelihood. Their families lived in their stores.
The storeowners provided credit to the farm field hands who were mostly black.
They later established their own schools since their children were not allowed to attend schools for white children or black children based on the segregation laws of the day.
Many of the young men enlisted in the military after Pearl Harbor to fight for their country. This action also allowed them to become U S citizens.
After the war many of the young men moved back home to carry on the family business.
These Americans had established a community that lasted until the Civic Rights Movement that allowed many of their customers to move up North for better jobs and a better life.
This documentary provides a historical view of the Chinese immigration into the United States of America that included the 1882 The Chinese Exclusion Act. It was the first major law restricting immigration to the United States.
In 1943, Congress passed a measure to repeal the discriminatory exclusion laws against Chinese immigrants and to establish an immigration quota for China of around 105 visas per year.
Ms. Cheng said she spent 22 years on research to co-produce this film. The American Chinese need to present their history for education. She hopes to have copies of the documentary series at the library for everyone to view.
Samantha Cheng is a Co-Founder and Executive Producer at Heritage Series, LLC in Silver Spring, MD. Her E-mail address: e.smantha.cheng@gmail.com.
The Chinese American Citizens Alliance was established in 1895 to promote "civil and immigration rights, for educational, economic, and political opportunities and for the general welfare of our community". For more information on CACA their E-mail: caca.gsgv@yahoo. com.
Leave a Response