MERCI's 27th Annual Trees of Enchantment Brunch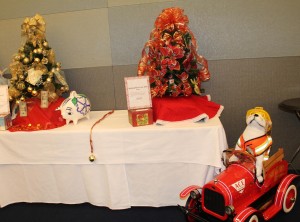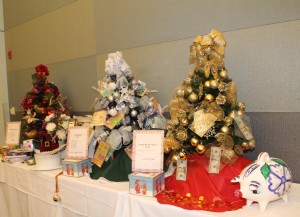 Colorfully decorated Christmas trees, each with a special theme, lined the walls of the Golden Eagle Ballroom at the Cal State Los Angeles Campus on December 4th.
This was MERCI's annual fundraiser of the year.  Over 400 guests purchased raffle tickets in hopes of winning their favorite trees.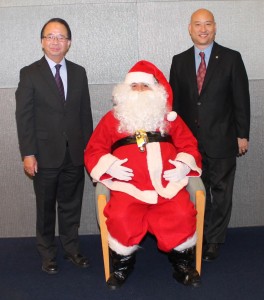 Monterey Park Councilmembers Peter Chan and Hans Liang visited with Santa. They each asked him for a late Christmas gift to be delivered in March as they are seeking to be re-elected to the City Council. They want to serve the residents for four more years to help complete the major projects in the city that include the Market Place, and three hotels.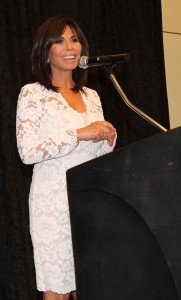 Laura Diaz, a longtime local news reporter, was the Mistress of Ceremonies for this event.  She is happy to be here today. This is a good way to celebrate the season. It is a good way to help people help their family members with disabilities. She welcomed the guests to the brunch and suggested they purchase raffle tickets. Enjoy the season! Enjoy your lunch!
Guests enjoyed a delicious champagne lunch served buffet style. They also walked around the room checking out the 21 Christmas trees and put their tickets into the boxes in front of the favorite trees. The more tickets they put in the boxes it gave them a better chance to win their favorite trees.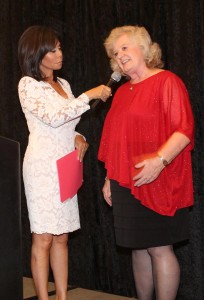 Laura Diaz interviewed Christine De Vito, a longtime supporter of MERCI. Her son Angelo De Vito has been attending Day Care at MERCI since he was a young boy. She said the bus would pick him up at her office so she could continue to work. MERCI met all of his needs. He now lives at Ernie's Place. Parents need help helping their kids. She thanked all of the donors and sponsors. She called MERCI's staff angels for helping care for our children.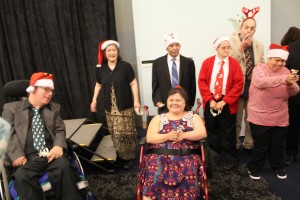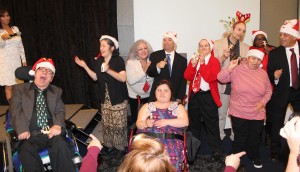 MERCI's Jinglers entertained singing and dancing to Christmas carols to the delight of the guests.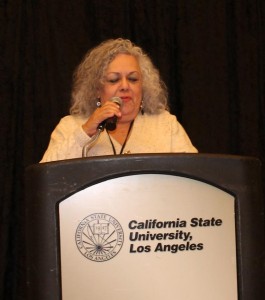 Executive Director Marta Escanuelas thanked Laura Diaz for attending this event. She thanked all of the guests for caring. She spoke about the new buildings that are finally built. The construction project was crazy but it is completed.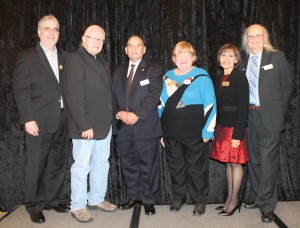 Boardmembers Keith Breskin, Linda Wilson, Shell Hess, Bob Bruesch, Elizabeth Diaz, Rene Araiza and Marta Escanuelas addressed the audience. Christine Cisneros was not able to attend this event. They are looking for new Boardmembers to help run MERCI. They asked the guests to see the wish list in the program.  They need additional funds to upgrade the old buildings.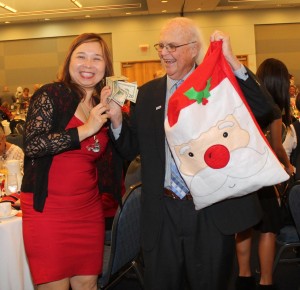 Bob Bruesch and his magic Christmas stocking walked around the room to raise additional funds for MERCI. MERCI is French for thank you! He said that Kiwanis Club of Rosemead would double each donation.  The final count was $5,221.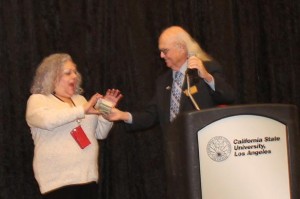 Ms. Escanuelas told the audience that this would be her last "Trees" event as she is retiring next year after many years in the human services. She thanked the sponsors for their donations. She thanked her staff for their dedication to their clients. She thanked the guests for their generous donations. She thanked Cal State for the delicious luncheon. She thanked the businesses that saved the MERCI project: the Project Manager; Genesis LA; LEDCOR Group/EDGE Construction and Facility Builders and Erectors.
Bob Bruesch thanked Marta Escanuelas for her service to MERCI.
Ms. Escanuelas said it has been her pleasure to work at MERCI. They serve the underdog. Please spread kindness. Remember every dollar matters. It is a great thing to donate your time and funds to any causes. She thanked everyone for joining us. Have a Good Holiday Season!
Marta Escanuelas and several members of her staff began bagging up the trees with their gifts for the highlight of the event.
Guests watched their raffle tickets closely as each of the 21trees were raffled off to their lucky winners.
MERCI has been serving the San Gabriel Valley since 1955. Their mission is to provide people with severe to profound developmental disabilities the right to an education in life skills, the opportunity to maximize their independence, and to advocate for their choices.
MERCI, Inc. is a 501(c) 3 non-profit organization, federal tax ID#95-2219917. Donations are tax deductible minus the amount of goods and services received.
Leave a Response