EAST LOS ANGELES-MONTEBELLO BPW NAMES MONTEREY PARK CONTROLLER ANNIE YAUNG WOMAN OF ACHIEVEMENT FOR 2016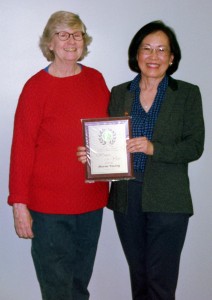 The East Los Angeles-Montebello Business and Professional Women has selected Monterey Park Controller Annie Yaung, as it's 2016 "Woman of Achievement."
President Nancy Arcuri presented the award to Annie Yaung, during a dinner meeting at the MERCI Board Room, 525 N. Chandler Avenue, Monterey Park on Wednesday, October 26th.
Mrs. Yaung has worked for the City of Monterey Park for more than two decades and has been the Controller since 2013. Under her leadership the City of Monterey Park has continued to win national and State distinguished budget awards. During the 2008 budget crisis Mrs. Yaung helped to keep the City of Monterey Park in the black.
Many of her coworkers and friends attended the dinner. They praised Annie Yaung for her dedication to the city of Monterey Park, her family and her friends.
Leave a Response