Hispanic Heritage 2016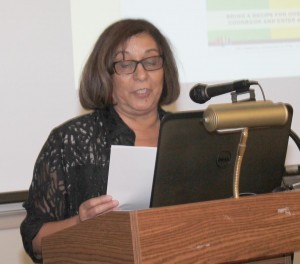 Librarian Cindy Costales welcome everyone in English to the Hispanic Heritage Programs at the Monterey Park Bruggemeyer Library on September 25th in honor of Hispanic Heritage Month.
She explained that as a Mexican-American her parents did not teach her Spanish at home. She learned Spanish to speak with her grandparents.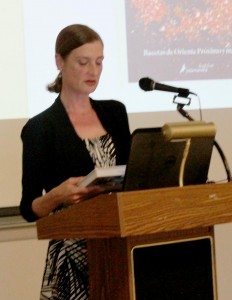 Maritzu De Alaiza, a librarian and cook, also welcome everyone to this event in Spanish.
They took turns introducing several cookbooks now available at the library: Eat Mexico; Persiana; Mexican Made Easy; Smoothies; Mexican Today; Martusi and Boutique De Pasteleria.
Each one of these cookbooks shares the flavors of the Latin Cuisine.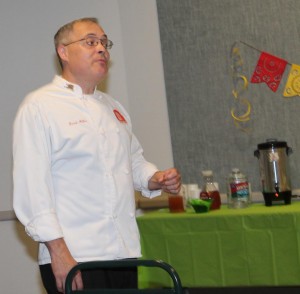 Chef, Educator and Historian Ernest Miller was the guest speaker. He shared the history of the chili peppers in Spain, Mexico and California.
Explorers from Spain brought the chili peppers from Spain to the new world to flavor their food in 1769.
He explained that food ingredients make us who we are. Chili was first grown in the western hemisphere.
He provided a time line on the history of chili peppers from 1769 to today.
He advised the audience that these peppers are green until they change their color to red when they are ripe.
In 1897 the Ortega family began to sell their chili peppers to California and the world. Their grandfather was one of the Spanish explorers who helped to discover the California Missions.
Some of the chili pepper history included a chili pepper was named after the city of Anaheim. In 1917 La Victoria packed their chili sauce in jars. In 1920 chili sauce was also packed into cans.
Chef Miller also shared the history of Tex-Mex food, tamales, chiliburger and cheeseburgers, hot sauce, Tabasco sauce and Srircha hot sauce.
He recalled that Disneyland had a Mexican Restaurant that feature corn chips that were later flavored with chili peppers and cheese. They are sold under the name Doritos.
Ernest Miller provided a wonderful history on "Chili, Chiles and Hot Sauce" for the Monterey Park audience.
He can be reached at RLM Provisions LLC located in Montebello, CA at 562-365-4979 or rimprovisions@gmail.com.
Cindy Costales thanked the audience for their attendance.
The Library will have several more events to honor the Hispanic Heritage in Monterey Park.
Leave a Response