City Council To Vote On New Fire Chief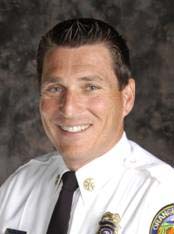 City Administrator Fred Wilson announced today that he will be asking the City Council to vote on the appointment of Orange County Fire Authority Deputy Fire Chief Patrick McIntosh as the new Fire Chief for the City of Huntington Beach. Fire Chief Duane Olson is retiring on December 22, 2009 after 39 years with the City.
Chief McIntosh's contract is on the City Council agenda for Monday, December 21st. If approved, he will start on January 27, 2010.
"Chief McIntosh was selected from a very qualified group of candidates who were gathered from a national recruitment," stated City Administrator Fred Wilson. "He is certainly capable of leading the Fire Department and I look forward to him joining the executive team.'
Deputy Chief Patrick McIntosh has been with the Orange County Fire Authority since 1982 when he started as a Firefighter. Prior to that, he was a Firefighter with the City of San Gabriel from 1979 to 1982.
During his nearly 28 year tenure with the Orange County Fire Authority, Chief McIntosh worked up the through the ranks and has served in a wide variety of operations and administrative positions. He was a Chief Officer for 20 years, having served previously as a Battalion Chief, Division Chief and Assistant Chief, before reaching the position of Deputy Fire Chief in 2007.
"Huntington Beach is a great community with a long history of excellent public safety services and I look forward to serving the citizens of our city," stated Chief Patrick McIntosh. "As Fire Chief, it will be an honor to have this opportunity to serve side by side with the members of the Huntington Beach Fire Department."
Chief McIntosh holds a Master's Degree in Organizational Leadership from Chapman University, a Bachelor's Degree in Fire Protection Administration from Cal State University Los Angeles, and is a graduate of the National Fire Academy Executive Fire Officer Program.
In 2000, he became one of the first executive fire officers in the nation to receive Chief Fire Officer Designation from the Commission on Chief Fire Officer Designation and in 2003, completed the prestigious Harvard University Program for Senior Executives in State and Local Government.
Deputy Chief McIntosh is a native of San Gabriel and resides in Laguna Niguel with his wife and two daughters, ages 11 and 15.
Leave a Response