Enchanted Holiday Boutique
Enchanted Holiday Boutique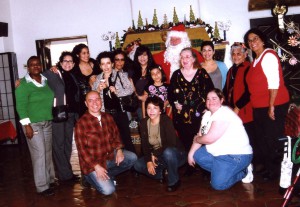 Santa visited the Enchanted Holiday Boutique held at the historical El Encanto on December 19. He checked out all the hand made gifts and one of a kind crafts presented for sale as Christmas and Hanukkah gifts.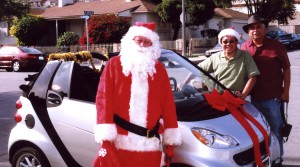 Santa with his elf, Vince Chang and City Clerk Dave Barron had just finished visiting with the children of Monterey Park in an "green" car.  Santa passed out candy canes to all. The Chamber of Commerce and LAMP Optimists sponsored his visit as part of their Christmas celebration.
Local artist Ofelia Esparza created Angel decorations for Christmas trees. She also creates altars for the Day of the Dead holiday. Huell Howser's California's Gold featured a large Nativity scene Ofelia Esparza created in her own home. He visited her while she was beginning to set up the scene. Mr. Howser also returned on the Feast of the Three Kings to see the completed Nativity scene and join in the family celebration.  Mrs. Esparza's artwork is for sale. For more information please call 323-266-2198 or e-mail: o.esparza@juno.com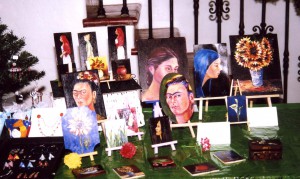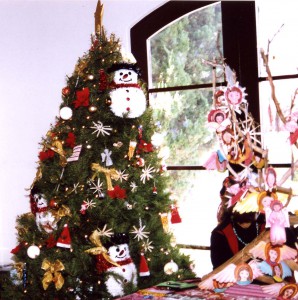 Lily's Family and Friends offered paintings, hand made jewelry, hand made flowers, silk-screened T-shirts and other unique gifts for sale.
Leave a Response