HOUSE ON MELROSE HILL
By Mona Raskin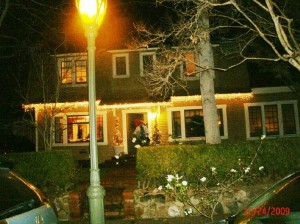 On Christmas Eve we were invited to the charming home of Jason and Valerie Seitz located on Melrose Hill in the city of Los Angeles.
This particular neighborhood is neatly tucked away in the section between Hollywood and Hancock Park. Somewhere between 1911- 1926, the city of Los Angeles set up certain boundaries, creating this particular site where quaint bungalow- style homes were built. In 2003, an L.A. magazine deemed it one of this city's "10 great neighborhoods."  These historic beginnings with its unique bungalows have since been renovated into today's two story cottage-style houses.  We were especially impressed by this particular set back appearance of the Seitz home which was surrounded by trees and a green front lawn…  It was all high-lighted by the glow from Christmas lights and decorations.
Upon entering the Seitz home, one could not help but notice their lovely fireplace at one wall. A lovely trimmed Christmas tree lit up with bright blue lights was standing erect by the front window. It was complete with a toy train busily running around the tree. It all made a perfect holiday scene!
To the left we got a glimpse of the dining room which was complete with two long buffet tables. While we were there we could smell the delightful aroma of the home-cooked dinner we were soon to savor (turkey, prime rib roast and an array of tasty side dishes) an assortment of desserts, pies and cake were to follow as well.
Guests began to saunter in from time to time! Parents from both sides of the family were actually there before us. Jason's parents, Jeff and Judy and Valerie's parents, Cole and Donna… Valerie's sister Jackie and fiancé Jay were next to arrive, and followed later was another sister, Dorie and spouse Eka and their three children. Other guests, Chris Rubin (son of former actress, Virginia Bruce) Nellie, his wife, son Clinton and daughter, Mary and Nellie's sister Regina were present, as well!  Completing the guest list was my daughter, Keri. My son in-law Mark, their children Jessica, Adam and Laura
It was a wonderful "holiday gathering", delightful dinner, including an awesome gift exchange.  Our special thanks to our host and hostess and their adorable daughters, Cassidy and Stella!
Oh! YES! Another special thanks to "Santa" for the huge gift basket!
Leave a Response