MERCI Open House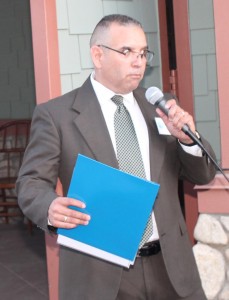 Boardmember Rene Araiza welcomed the audience to this special event celebrating the completion of MERCI's building project on August 31st.
He also welcomed the other Boardmembers: Christina Cisneror, Keith Breskin, Linda Wilson, Pastor Shel Hess, Bob Bruesch and Elizabeth Diaz; EDGE/Ledcor and Facility Builder and Erectors, the builders and Genesis, LA, the lender.
He introduced the elected officials: Congressmember Judy Chu, Henry Lo from Assemblymember Ed Chau's office, Monterey Park Mayor Mitch Ing, Vice Mayor Teresa Real Sebastian, Councilmember Peter Chan, City Clerk Vince Chang, Water Boardmember Thomas Wong and KeAndra Dodds from Supervisor Hilda Solis' office.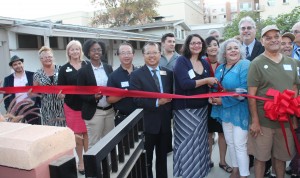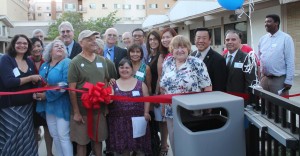 Executive Director Marta Escanuelas was joined by elected officials, Boardmembers, clients and residents that were thrilled to cut the symbolic red ribbon across the gate in front of the the new classrooms.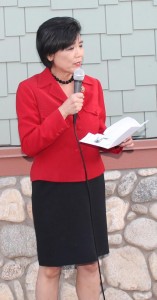 Congressmember Judy Chu stated that MERCI that was established 61 years ago by families to support of their special needs children. She recalled that 28 years ago on the City Council she supported MERCI. She is proud to support MERCI. Now the new buildings are state of the art. She thanked everyone for supporting MERCI.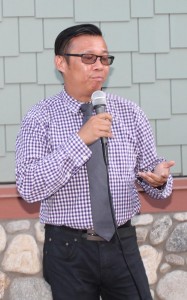 Henry Lo, representing Assemblymember Ed Chau, said that he met Marta Escanuelas 17 years ago at MERCI. She works with people to educate the clients with dignity. It is a labor of love.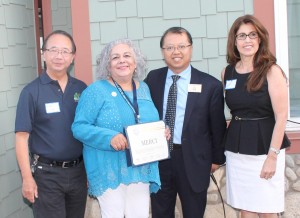 Monterey Park Mayor Mitch Ing, Vice Mayor Teresa Real Sebastian and Councilmember Peter Chan presented Marta Escanuelas with a proclamation of support.
Mayor Ing said it is an honor to be here at the Grand Opening of the Administration Building and the Multipurpose Classroom here at MERCI. When he talked about MERCI, he knows it is much more than a physical building, it is about the dedication and compassionate staff and volunteers here at MERCI. They provide services and opportunities to the developmentally disabled community in the San Gabriel Valley.
On behalf of Monterey Park he thanked the care providers, staff, the Boardmembers and volunteers for their services to the community.
Our city slogan is "Pride in the Past" and "Faith in the Future". Since 1955 MERCI has been meeting the needs of the developmentally disabled community. MERCI provides support to ensure that every individual works to their potential as a member of the community. With MERCI our Future looks bright.
Mayor Ing thanked everyone for supporting MERCI.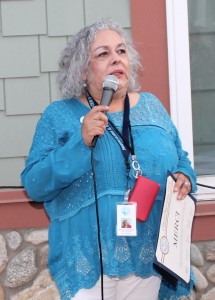 Executive Director Marta Escanuelas welcomed everyone to the Grand Opening of MERCI. In 1955 families who had special needs children and were not able to find services for them established it.
She thanked former City Manager Chris Jeffers for suggesting that MERCI apply for funds to build a new residential property since funds were available for construction in 2003.
In 2008 there were no funds available for construction due to the downturn in the economy.
In 2011 HUD money was now available for new construction.
She gave a short history of the construction of these buildings when trying to get the necessary funds for construction. MERCI had no liens on the property. EDGE/Ledcor and Facility Builder and Erectors, the builders and Genesis, LA, the lender came to the rescue of the project. They worked with her and would not let this project die.
She will still beg for funds. The Boardmembers still raise additional funds.
Marta Escanuelas said she has been in this field for the last 39 years and may retire next year.
She thanked the community and Boardmembers for their support. She also spoke about the financial arrangement with Chase Bank with their tax credits that is paying off the interest. MERCI till has no mortgage on this property.
Marta Escanuelas reminded the audience that the John and Mary Duce House was built with a $150,000 donation from Mary Duce. After her death in July of this year she donated $800,000 to MERCI, one of her four charities.
The kindness of people will help people.
She thanked all of the people who helped build the buildings. She thanked the community for their support.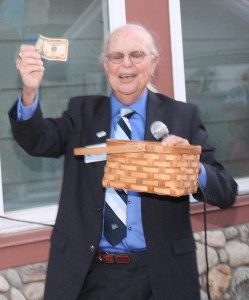 Boardmember Bob Bruesch said MERCI is heaven for our disabled citizens. He presented a magic basket that would multiply any donation put it. He showed a $5 bill that became a $10 bill and a $10 bill became a $20 bill.
He asked the guests to dig into their pockets and place their money into the magic basket.
Mr. Bruesch said his magic basket received $1,300 in donations in a very short time.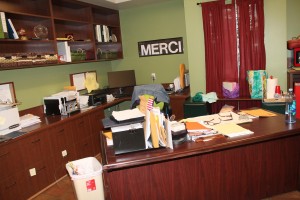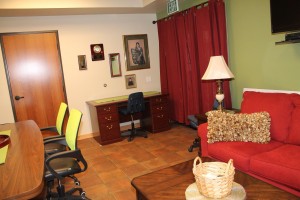 Marta Escanuelas' office was part of the grand tour of all of the new buildings.  The new classrooms with the dividers opened looks like a very large ballroom. The classrooms also feature a state of the art kitchen so the clients can learn to cook and bake for themselves.
Leave a Response