My World Without Monterey Park
By Mona Raskin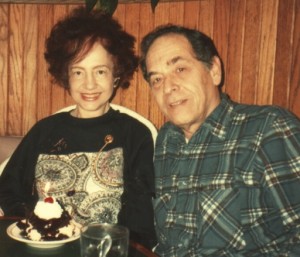 The year 2016 was one I will always remember. Unfortunately Mr. Sol Raskin is no longer with us due to a very serious illness. He spent his last two years following an operation in which he tried to alleviate suffering and pain from his surgery. We often spoke of our 47 years about our home in Monterey Park.
Monterey Park a quiet and peaceful community where one could come and go peacefully and occasionally attending a variety of events including our city meetings and occasionally interesting entertainment. Special thanks for the above interesting and happy years along with enjoyable atmosphere of the lovely Monterey Park.
Occasionally we would reminisce of this pleasant atmosphere, and our city newspaper, The Citizen's Voice. Nancy Arcuri made it all possible. Now I have found myself in a new and interesting atmosphere where I have become somewhat involved with a variety of interesting people, in which they have found themselves time to reveal their stories to one another. It has softened their sad past as well as my own. Although our hearts are still reminiscing of the past I have now awakened to a new Monterey Park, Montclair Royale Assisted Living and Memory Care.
I wind up with a special thank you for the city of Monterey Park where I grew up in a peaceful atmosphere and outstanding interesting events including the one city newspaper, The Citizen's Voice. This is one special memory that I will never forget.
P.S. In Memory of Mr. Sol Raskin
SOL RASKIN
1927 – 2016
March 19 1927 – May 13 2016
Memories by Rachel Zrehen
Dad lost his battle with mesothelioma just two months into his 89th year non bad for a kid from Brooklyn, born to Russian/Ukrainian immigrants Chana "Hymie"
Raskin and Dora Rabinowitz who fled the anti-Semitic pogroms of Eastern Europe in the early part of the last century.
Injured out of Brooklyn Dodgers baseball career, widowed at 23 and having survived the loss of his older brother and sister-in-law in a train crash, Dad always
maintained that the worst thing that ever happened to him was having to move and change schools at age eight, after the Depression cost his family the house his father built and in which he was born.
Dad's 13 year marriage to Mom produced his only two natural children, through the bulk of his life, he occupied the father role in the lives of the children of his last wife, Mona, a young widow who stuck with him for nearly 50 years until parted by death.
Dad preferred staying home with family to nearly anything else. He could fix almost anything and could kick nearly anyone's butt at any type of trivia game, so well and widely read and TV documentaried was he.
He loved chocolate chip ice cream, halva, baked chicken and matzo ball soup, but hardly anything else, making him a challenge to cook for.
He was a life-long union man and political animal, working for the Democratic Party even before he was old enough to vote.
He could sing and dance attributes he inherited from his parents and passed to his children – though he applied them rarely in his later years.
Dad is survived by his wife, Mona, his adult children, Rachel and Barry; his stepchildren, Keri and David; his grandchildren; his brother, Norman, and several nieces and nephews, all of whom will feel his absence.
Published in Times Herald online on May 24, 2016
Leave a Response