Senior Citizens Were Honored By Monterey Park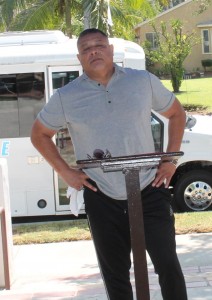 Ben Herrera, Recreation Supervisor at Langley Center, welcomed everyone to the August summer social held at Jardin El Encanto on August 20th.
This event was held in association with National Senior Citizens Day and the city's 100th anniversary. The Greater Monterey Park Chamber of Commerce also sponsored this special event.
Mr. Herrera advised the guests that this is one of the scheduled events to be held across the city to educate the seniors about all of the events and services available to them through Langley Center.
The event also included a slide show with current events; display tables with information abut the many services, programs and activities available at Langley as well as information on the Dial-a-Ride program and medical services available to them.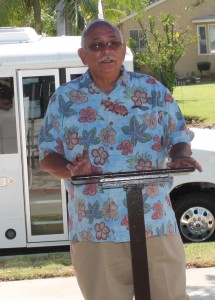 David Barron welcomed all to the event and provided a history lesson on El Encanto that was established as a real estate office in 1929 before the Great Depression.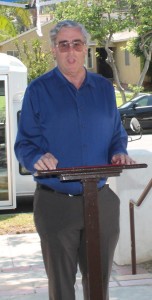 Dan Costley, the Recreation Director, welcomed the seniors and their guests to this special event to honor Monterey Park centenarians or soon to be centenarians seniors 90 years and older.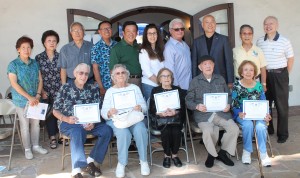 The seniors honored are: Domingo Algorri (March 4, 1924 – 92 Years Young), Mercedes Algorri (June 9, 1924 – 92 Years Young), Josephina Vega (March 13, 1924 – 92 Years Young), Mon Chris Kwong (November 23, 1912 – 104 Years Young) and Sheila Zuchman (November 22, 1925 – 90 Years Young).
The Commissioners, City Clerk and Councilmembers shared the spotlight with them: Commissioner Beryl Shieh, Commissioner Betty Ping Cheng, Commissioner Steve Shieh, Commissioner Alex Tang, City Clerk Vincent Chang, Vice Mayor Teresa Real Sebastian, Commissioner Michael Lopez Council Member Hans Liang, Commissioner Samuel Song Park and Commissioner Charles Mau.
Commissioner Virginia King and Commissioner Agnes Arakawa were not available for this picture.
Mr. Herrera thanked Greater Chamber of Monterey Park members Dave Barron and Dora Leung for hosting this event. He thanked all of the seniors for their attendance.
Mr. Costley thanked all of the guests for coming today. He thanked the staff at Langley Center for their service to the community.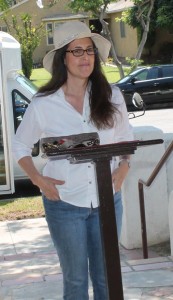 Vice Mayor Teresa Real Sebastian welcomed all to this event and thanked the staff for their dedication. She said seniors need to be introduced to all of the services offered at Langley. A senior is a person 55 years or older. She asked the guest to pleased advise your neighbors about Langley Center.  She suggested the seniors to share their ideas with the Council and staff.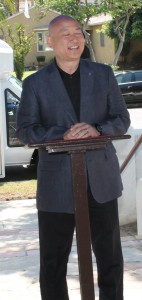 Councilmember Hans Liang said he was pleased to be here today. He thanked Mr. Costley and his staff for their services. We are all part of the community. Please enjoy yourself here and get to know the services at Langley Center.  He thanked the guests. Have a wonderful day.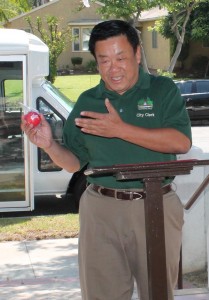 City Clerk Vince Chang said it is a great day to learn about our services at Langley and the Chamber.
The Chamber is looking for volunteers to be interns.
Mr. Herrera thanked the Chamber members, the commissioners and the City Councilmembers for attending this event.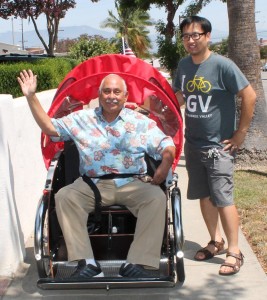 Dave Barron took a ride on the Tri Shaw that was available for a trip around the block. Many of the seniors also enjoyed the ride as part of the celebration.
For more information about Langley Senior Center programs and services please call 626-307-1395 or visit www.MontereyPark.ca.gov.
For more information of the Greater Monterey Park Chamber of Commerce please call 626-570-9429.
Leave a Response