Monterey Park Honored Chris Arriola and Anna Gutierrez with Tree Memorials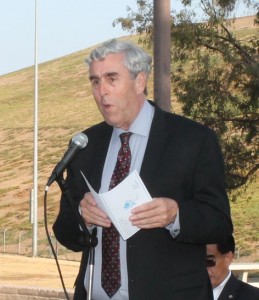 Dan Costley welcomed the family and friends of Chris Arriola and Anna Gutierrez to this very special memorial.  The City of Monterey Park honored former employee Chris Arriola and community volunteer Anna Gutierrez on June 9 at Garvey Ranch Park on the west side near the Alhambra Avenue entrance. Mr. Costley said this park means a lot to both of them.
Chris Arriola was highly regarded by the city staff members he worked with. He even gave up his position so that someone would not be laid off during the recession of the late 2000s.
Anna Gutierrez was a volunteer who was active with Langley Senior Center, the police department and a number of community organizations. Her hard work was recognized on the federal, state and local levels.
Mr. Costley introduced Councilmembers Stephen Lam, Hans Liang and Peter Chan and City Clerk Vince Chang to the audience. He also introduced Committee members: Dora Leung, Julie Pang-Cortez, Randall Avila and Bryant Yang. They selected the honorees based on personal recommendations.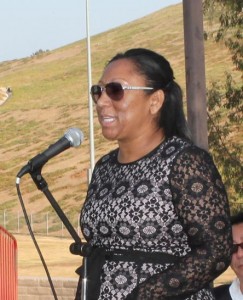 Charissa Manor, Chris Arriola's wife thanked the city and Council for being here. He worked at the city. Chris would have loved it. He liked the attention. He liked the City Yard (located across the street from this side of the park).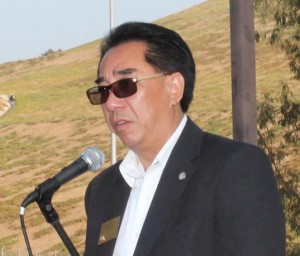 Councilmember Lam thanked everyone for being here today. We remember Monterey Park residents Anna Gutierrez, a longtime volunteer and Chris Arriola, a former employee. We are proud of them. We dedicated these trees to them. They are role models. We will never forget. Thanks for your friendship.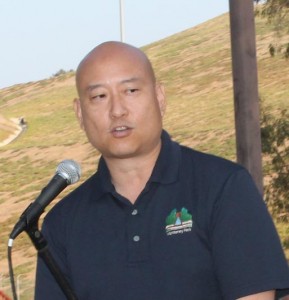 Councilmember Liang thanked the audience for being here today. We serve on the Council. We are here for Anna and Chris. He is happy the city has this tree program to honor them for their love and dedication. He thanked the family, friends and employees. We are a family community. It is an honor to be here today.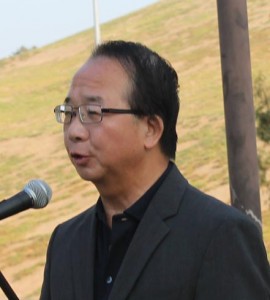 Councilmember Chan thanked the guests for being here today to honor these two people who have done great things for the community. He recalled that Chris, ill with cancer, continued to work for the city. He was positive. It was good to know him. He set a good example. Anna was on all of the commissions and Citizens' Patrol. She sacrificed her time for the community. They deserve this honor. He thanked the committee and the city for this honor.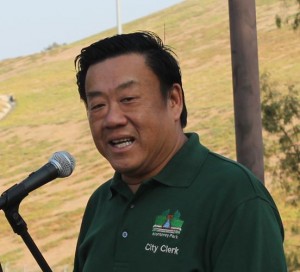 Clerk Chang said he likes the tree program. It helps to keeps their memories in our hearts. He didn't know Chris but he was dedicated to Monterey Park. He thanked his family and friends for allowing him to be part of our city.  He said that Anna inspired him to become involved in the city and the LAMP Optimist Club. He thanked Dennis and Margaret Gutierrez for sharing her with the city. He thanked the committee for this great event. He thanked Chris' family and Anna's family for sharing them with our city.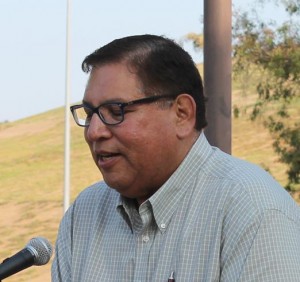 Dennis Gutierrez thanked the city for honoring his mother, Anna. She would be surprised. She didn't like all of the attention. She retired after 50 years and started volunteering at the Historical Society, LAMP and the Citizens' Patrol. She was a docent at the Museum. She loved the children. She also volunteered at Maryvale. Christmas was her favorite holiday. She collected toys for the kids. Anna was well known by various elected officials. She took an interest in our community. We are honored to have this tree. He thanked the Council and committee.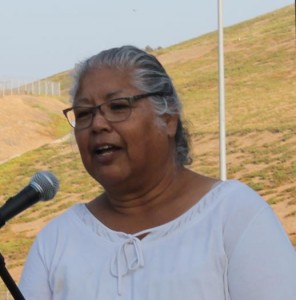 Carolina Gutierrez spoke about her mother sending her to Catholic school. Her mother volunteered at the school. Her mother taught her about volunteerism. It did not matter being up front or in the back. Her mother was friends with the police and politicians. She always met someone she knew in the city. Volunteering always makes the world better. Her mother introduced her to the Bruggemeyer Library. She started volunteering at home and then in the community. Carolina said she would not be here without her parents. Never give up. You are making someone else time.
Dolores Arriola said her son moved back to Monterey Park. He was part of the Eagle Scout Program and worked hard to complete his project with the help of other scouts. He supported the Boys and Girls Club. He loved the Parks and Water Departments. He supported the employees. Please keep him in your hearts. She thanked the Council and Tree Committee for this honor. We are appreciative.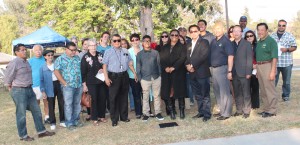 Dolores Arriola, Charissa Manor, other family members, friends and elected officials surround the tree dedicated to the memory of Chris Arriola. A plaque is installed at the base of this tree for all to see when they visit Garvey Ranch Park.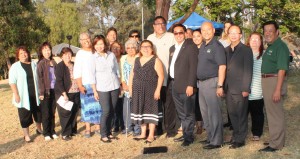 Dennis and Margaret Gutierrez, Carolina Gutierrez, other family members, friends, elected officials and members of LAMP Optimist Club surround the tree dedicated to the memory of Anna Gutierrez.  A plaque is installed at the base of this tree for all to see when they visit Garvey Ranch Park.
The Monterey Park Tree Memorial is a wonderful way to honor dedicated residents who volunteer their time and energy to improve the quality of life in our community.
Leave a Response