Board Member Jerome E. Horton Honored:
John Rodriguez Intellectual Property Rights Award of Excellence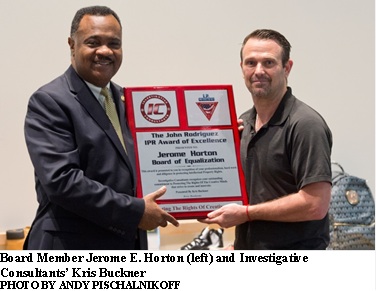 Board Member Jerome E. Horton and Investigative Consultants' Kris Buckner
Photo by Andy Pischalnikoff
The prestigious John Rodriguez Intellectual Property Rights Award of Excellence was awarded to California State Board of Equalization (BOE) Member Jerome E. Horton in recognition for his work combatting piracy, counterfeiting, and other underground economic activity during an intellectual property crimes training class in Sacramento, on April 19. The award is in memory of Detective John Rodriguez, who was a pioneer in building the Los Angeles Police Department's intellectual property investigations program.
It is estimated that the motion picture, pharmaceutical, music, and other industries are losing billions to brand infringement, counterfeiting, and theft of their products.
Brand owners also recognized Horton's efforts against underground economic activity by recognizing him for his efforts combatting theft of intellectual property. They commended Member Horton's efforts to establish the TRaCE task force, an inter-agency partnership led by the Department of Justice formed in 2014 to investigate criminal elements of the underground economy engaged in manufacturing, importation, distribution, and the sale of pirated intellectual property, as well as other crimes resulting from the evasion of business and income taxes.
"It is the men and women who fight to protect our precious tax dollars from 'tax cheats' who manipulate the system for their personal gain who deserve this recognition," said Board Member Horton. "I am humbled to be one of them."
Board of Equalization Member Jerome Horton Honored by Los Angeles County Board of Supervisors
On April 26 The Board of Equalization (BOE) Volunteer Income Tax Assistance (VITA) program sponsored by Board Member Jerome E. Horton was acknowledged today at the monthly Board meeting in Culver City with a commendation from the Los Angeles County Board of Supervisors for his "dedicated service to the community and for the civic pride demonstrated by numerous contributions for the benefit of all the citizens of Los Angeles County."
Horton and his army of staff and volunteers conducted 17 Free Income Tax Preparation and Family Resource Fairs throughout the 3rd BOE District during the 2016 tax filing season which ended on April 18th. Even on the last day, Horton arranged for a VITA Mobile program where a bus visited two locations in Los Angeles to prepare income tax returns for low-income families.
"This year's campaign was intended to return $1 billion to low- to moderate-income families, with the state and federal Earned Income Tax Credits (EITC), and I wanted to give those who earned $54,000 or less, people with disabilities, the elderly, and limited-English-speaking taxpayers in the inner-city one final opportunity to claim their share," said Horton. "Bringing up to $6,242 from the federal EITC and $2,653 from the state EITC was a boost to Los Angeles County's most needy residents and I am grateful that my work was acknowledged by the Board of Supervisors."
The VITA program is one of a number of initiatives that Horton presents to benefit Los Angeles County residents and business owners. Recently, Investigative Consultants, a company specializing in intellectual property investigations and enforcement, presented Member Horton with the John Rodriguez Intellectual Property Rights Award of Excellence for efforts in combating intellectual property crimes. His next event is the 2016 Connecting Women to Power Business Conference, scheduled for June 16, at California State University, Dominguez Hills. More than 5,000 business owners and entrepreneurs are expected to learn how to "navigate their business beyond limits."
Leave a Response