Mission History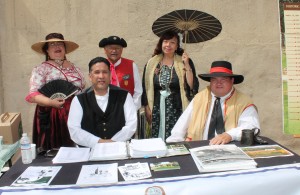 Chris Vargas, Jon Reed, Kathleen Rabago, Al Bautista and Lisa Garcia celebrated de Anza Day in front of the San Gabriel Mission on March 13th.
In 1775 Juan Bautista de Anza led a group of 240 men, women and children from Culiacan, Horcasitas and other towns in present day Mexico on an expedition from Tubac Presidio to Alta California on the land route. The travelers stopped at the various Missions along their route.
They spend sometime resting at the San Gabriel Mission before they continued their long and dangerous trip across the coast of New Spain.
On June 27, 1776 the expedition arrived at their destination to what is now San Francisco.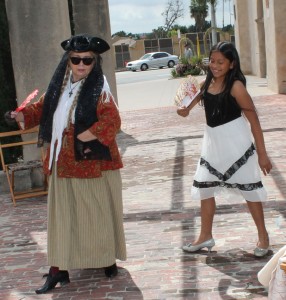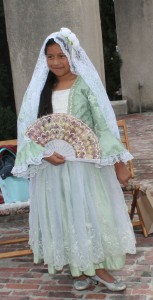 Irene Hjda teaches young ladies how to dance in traditional Spanish gowns with fans.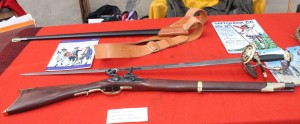 Some of the rifles used by the Spanish soldiers to protect the expedition drew the attention of young boys and their parents.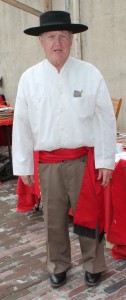 Bob Smith, a member of the Los Pobladores. He traced his family history to both the Spanish settlers and the English settlers on both coasts.
Many fourth grade students and their parents attended this event in preparation of their California history project.
The National Parks Service has provided signs along the roadway on locations within the corridor traveled by the expedition.
Kathleen Rabago, a historical re-enactor and a member of the Montebello Historical Society. They provide tours of the Juan Matias Sanchez Adobe Museum.
She is happy to be here at the San Gabriel Mission to celebrate the historical event of de Anza's expedition.
To step back into early California history please visit the San Gabriel Mission located at 428 S. Mission Drive in San Gabriel (626-457-3035) and the Montebello Historical Society to tour the Sanchez Adobe located at 946 N. Adobe Avenue in Montebello (323-887-4592).
Kathleen Rabago, a historical re-enactor, is available to share her knowledge of early California history. She can be reached by calling 323-721-3479 or Email her at rabagokatheen@hotmail.com.
Leave a Response