The Cici Lau Show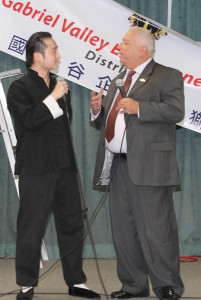 Entertainer Roman Xing and Mark Rafter, Ph.D. (AKA Marco Polo) were the Masters of Ceremonies at the Cici Lau Show held at the Monterey Park Service Club on February 27th. The San Gabriel Valley Entrepreneur Loins Club sponsored the event.
Dr. Rafter entertained the audience with his stories of following Marco Polo's route through China after a serious car accident. He said the Chinese people are very friendly. The greatest treasure is friendship. He stated so goes America…so goes China.  We have the same dreams.
Mr. Xing translated Dr. Rafter's remarks for the guests. He also spoke about his life in China and his life in America. He enjoys being an entertainer. He sang in Chinese and Italian to warm up the audience.
Dr. Rafter thanked his friends for their support of China. He has traveled across the world and China has the greatest hospitality and Chinese Americans have the greatest hospitality. He loves the tea culture, especially green tea and pandas.
Mr. Xing said Americans have learned about the Chinese culture. He learns about the American culture. He said the people of Beijing are friendly and help people in their country.
They welcomed all the guests to this event and thanked them for supporting the Lions Club. They introduced Mayor Peter Chan, Councilmember Hans Liang, Lani Liang and Councilmember Stephen Lam.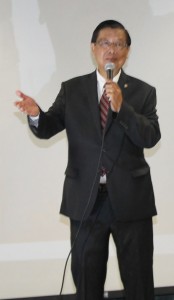 Former Mayor David Lau opened the program singing "God Bless America" to the delight of the crowd.
A short film presented the history of the Lions Club that was founded in 1916 and serves over 200 counties. They are a service organization that helps the young and seniors all over the world.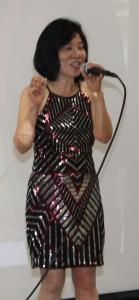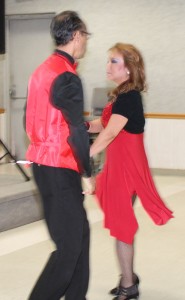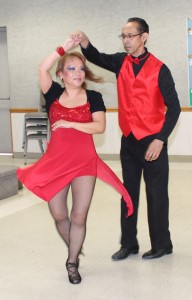 Cici Lau sang two of her favorite tunes "I Will Follow Him" and "La Bamba."  Vickie and Bill Pena danced to the beat of the music as several members of the audience enjoyed their teen years through these golden oldies.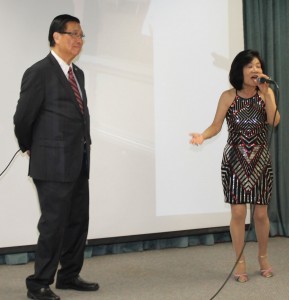 David and Cici Lau serenaded each other with "My Heart Will Go On" in honor of their 50th Anniversary.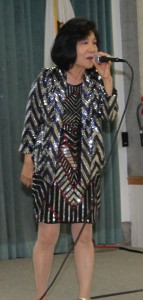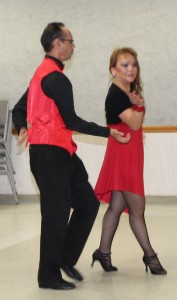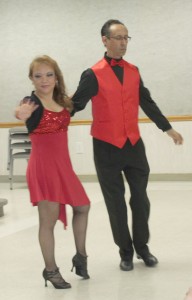 Cici Lau sang "Unchained Melody" as Vickie and Bill Pena danced to this very romantic song.
Former Mayor Lau introduced several other guests that included Linda Wilson, Kathy Wills, members of the cities commissions and the club to the audience.
He thanked the all of the guests for attending this special event. A donation jar was on the table. The funds will be used to help support the club.
Dr. Rafter and Mr. Xing introduced David Lau to the audience as a former mayor and school boardmember who has serviced the community for 40 years.
Dr. Rafter said he is producing a film staring Cici Lau. She is very talented and a businesswoman. He promised Cici the best is yet to come.
A film clip featuring Cici Lau was shown to the audience.  They included  "Spicy Grandmother", "Walking Dead" and hosting a Game Show in Cantonese.
Cici Lau, Monterey Park's local celebrity, has acting in many movies, TV shows and plays.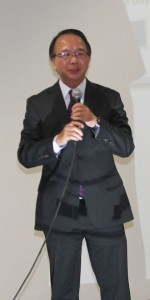 Mayor Peter Chan said today is about Cici Lau. Cici spoke in Cantonese within 60 seconds in the Game Show. She has talent, expertise and works hard in the TV and film industry where every second counts.
He spoke about the new developments in the city. We need to strike a balance between new developments and traffic. He invited everyone to celebrate the city's 100th birthday on May 14th.
Dr. Rafter thanked Peter Chan for his great work in Monterey Park. He thanked Hans Liang for his great work in Monterey Park. He will support them in their next election. He also thanked them for supporting the Lions Club.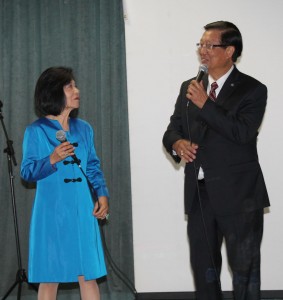 David and Cici Lau sang more love songs to each other in honor of their Golden Anniversary.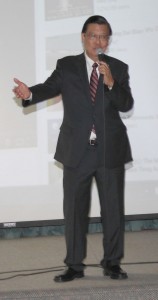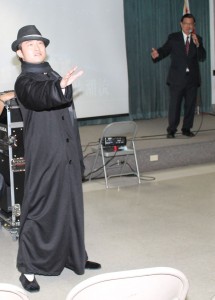 David Lau sang and Roman Xing danced to the rhythm.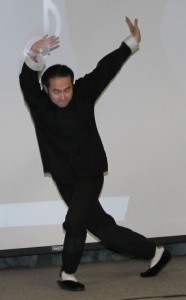 Roman Xing performed several Kung Fu moves as part of the entertainment.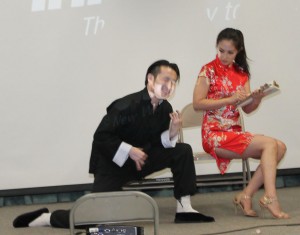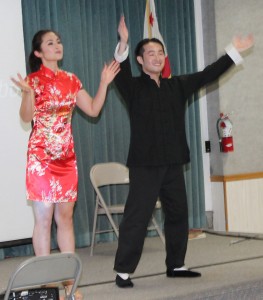 Kathy Wu and Roman Xing performed two skits from "Fragrant Flowers" and "Three Years".
Cici Lau thanked the audience for their attendance. Roman and Kathy are two up and coming actors staring in movie and TV productions.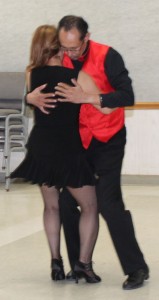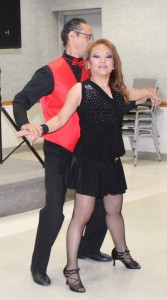 Vickie and Bill Pena danced to the famous "Will You Still Love Me Tomorrow".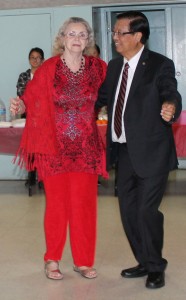 Kathy Wills and David Lau also dance to this famous tune.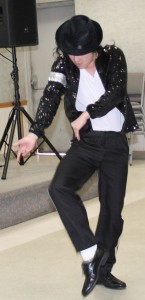 Roman Xing performed as Michael Jackson.

David Lau dedicated "Falling In Love With You" to his wife, Cici. He also sang "My Way".  He thanked the guests for their support.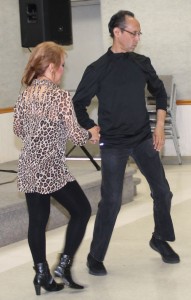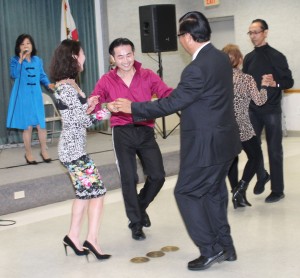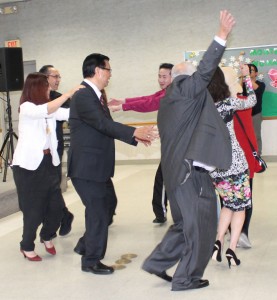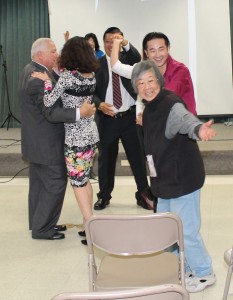 Vickie and Bill Pena danced the Cha-Cha and were joined by the audience doing a Disco dance.

Mark Rafter and Roman Xing thanked the audience for attending the Cici Lau Show. Staff members and club members joined the entertainers on stage for a final curtain call.
Leave a Response