Gladstone and Rosemead Girls Basketball Teams Make 1,140 Sandwiches for Veterans
Gladstone High School and Rosemead High School girls frosh soph basketball teams played a non league game at Gladstone on Jan. 30, and then combined to make 1,140 peanut butter and jelly sandwiches for veterans as part of Volunteer Day
"Both teams had a lot of fun working together after the game to help others, "said Chuck Lyons, Rosemead girls frosh soph coach. "This Volunteer Day was a great way for students who don't know each other to play a game with great sportsmanship and then combine efforts to help so many other people. These youth showed great leadership and compassion for other people."
Ron Tressel, Gladstone girls frosh soph coach, commented that he was happy to make the extra effort for the day as he knew it would be a great community giving project for youth. Tressel said the enthusiasm from everyone was outstanding.
Local businesses helped by donating items for the project. Oroweat on Temple City Boulevard in Rosemead donated 110 loaves of bread, Target in Rosemead donated peanut butter and jelly, Dollar Tree donated the zip lock sandwich bags. Taco Bell donated plastic knives for speading the peanut butter and jelly.
The players also enjoyed a lunch of pizza and snacks that included the players and coaches contributing food to enjoy, said Tressel.
"It is hoped that other teams and schools will take this idea and use it at their school," said Lyons. "Would be nice if the hundreds of high schools in Southern California did something like this on the third Saturday in January." He said an interesting part was people watching Rosemead team loading many supplies into the bus to take with the team, and host Gladstone also contributed.
The 1,140 sandwiches were delivered to Veterans of Foreign Wars (VFW) to distribute to people in need.
Go Rosemead Panthers and Gladstone Gladiators!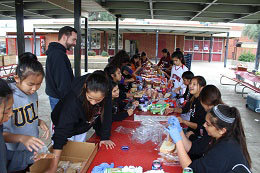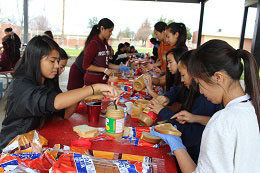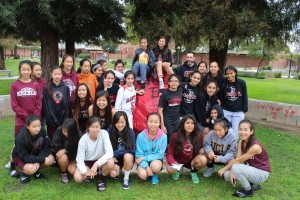 Leave a Response