High School Students Plan Their Business Future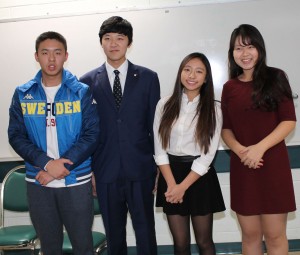 Carl Xue, Adam Kang, Yao Xiong and Huili (Stephanie) Wang, each spoke about their business development plans, before the San Gabriel Valley Entrepreneur Lions Club on December 12th at the Monterey Park City Hall Community Room.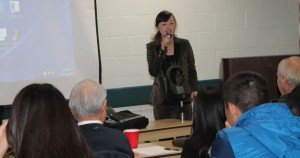 Second Vice President Evelyn Xu welcomed everyone to this special event.  The high school students were provided five to seven minutes to present their business plans complete with an executive summary, business description, market strategies, competitive analysis, design and development plan, operations and management plan, financial factors and more to create a successful business.
Adam Kang explained a business is an economic system when goods and services are exchanges for one another or for money.
He said students should follow their dreams. They need a business plan of some sort to help their small business succeeded. He plans to study business in college.
He wants to be a manager and explained the system from the CEO down the line to the workers.
He submitted a business plan to provide Nursing Home Care in apartments for the elderly. His idea was formed in China. This plan would show his love.
Carl Xue presented his executive summary to create a bike shop with some of his friends. Cycling is a form of entertainment as well as exercise.
He would locate his shop in a neighborhood where people ride their bikes like Arcadia. He would import his bikes from China. He would also sell American made bikes, helmets and other equipment for bikers. He plans to also repair bikes for his 200 or more customers.
He is a cycling enthusiastic and will have professional bikes at his shop. He hopes to locate it on Huntington Drive.
Huili (Stephanie) Wang presented her idea to have a website to help people locate a personal trainer. Her customers then would have the trainer help them exercise at home. The clients then could make their own schedule for their workout. The training would then be paid for on line.
She would provide a consumer review of the trainers so her clients could get an idea of their rating.
She presented her management plan on how the money would be made. She would take a percent from each trainer to support her business.
Yao Xiong presented her plan for Humanity for the Homeless. She stated that her agency would find them housing, train them for jobs and help them find jobs.
She said the homeless need to work in a stable job, earn money and enjoy life. She would create a support system of family, friends and society.
Her goals for helping the homeless are an integral part of our society. She would open a clinic to help them. She would pay a stipend to families to help them and locate homes for them to live in.
She would have funds donated to her organization to help the homeless as well as funds from the government.
Her goal is to help the homeless become successful in our America.
The judges were Phil Smith, Ashley Hsu and Donald Chan. The made their decisions based on the students ideas, thoroughness and presentation skills.
The judges also offered words of encouragement and suggested they get a good education and follow their dreams.
Evelyn Xu said it was a difficult decision on the prizes as the scores were so close. She thanked the judges and the students. She called the students our future leaders.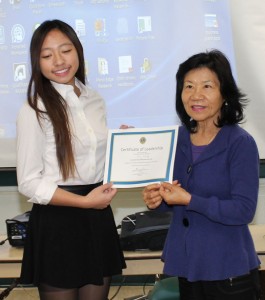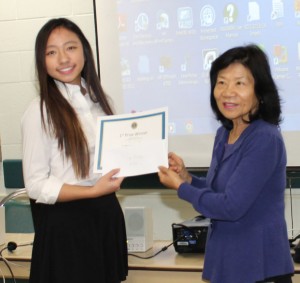 President Cici Lau awarded Yao Xiong the $100 First Prize and a proclamation.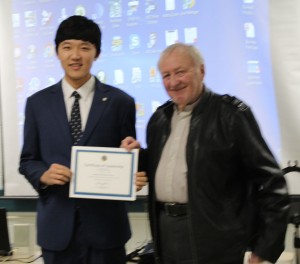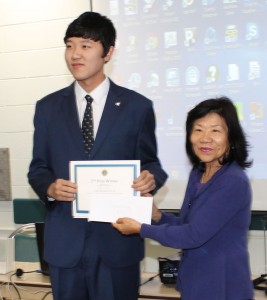 Judge Phil Smith awarded Adam Kang the $75 Second Prize and Cici Lau awarded a proclamation.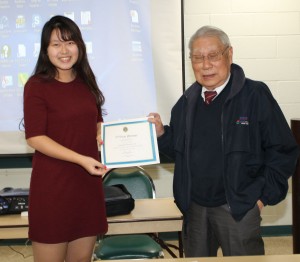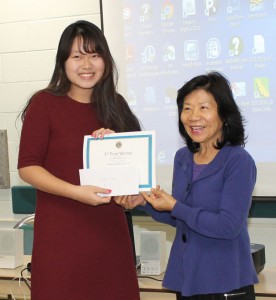 Judge Donald Chan awarded Huili (Stephanie) Wang the $50 Third Prize and Cici Lau awarded a proclamation.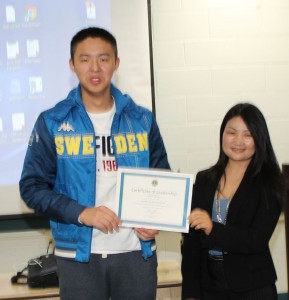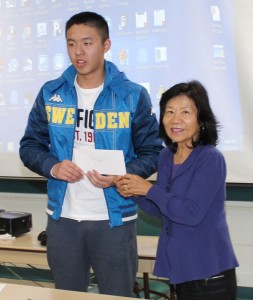 Judge Ashley Hsu presented Carl Xue with a $10 Honorable Mention Prize and Cici Lau awarded a proclamation.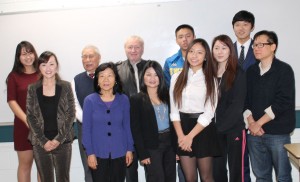 A group picture of the winners: Yau Xiong, Adam Kang, Huili (Stephanie) Wang and Carl Xue with the judges: Phil Smith, Donald Chan and Ashley Hsu and Lions Club members: Cici Lau, Louis Yau, Yvonne Shiue and Evelyn Xu.
President Cici Lau thanked Evelyn Xu for doing such a great job. She organized the whole event. She told the students that you are all winners. At your young age of 16 and 17 you have a lot of good ideas. Your ideas may change. Go for it. She wished them good luck. She suggested that they get a good education. You will be great. She thanked everyone for coming. She thanked the judges for their participation.
Leave a Response