Rosemead H.S. Dominates MVL Cross Country Wins 3 Titles
Rosemead High School Panthers girl's varsity, and boy's junior varsity and frosh-soph cross country teams won a Mission Valley League (MVL) Championship on Oct. 29, against South El Monte at Rosemead High/Rosemead Park 2.92-mile racecourse. All three Rosemead teams finished MVL action with a 5-0 record.
Including all three Rosemead boy's teams and both girl's teams in all of the league races this year, Rosemead won 22 of 25 races. Rosemead boy's varsity finished in third place in league, and Rosemead's girl's junior varsity finished in second place.
"Our runners are team-oriented like a family, dedicated and having a great season, one of the best in the 50-plus years of the school," said Rosemead Head Coach Fidel Dominguez. Dominguez and Assistant Coach Krista Marquez are in their first year coaching at Rosemead.
The Rosemead girl's varsity has won every league meet at home for four straight years, and seniors Brittnie Munoz and Elizabeth Lyons have helped those varsity teams win at home all four years. Munoz is undefeated in league action for the third straight year and is going for her third straight MVL Runner of the Year award.
The Panthers girl's varsity won 19-43 (low score wins) and were led by Munoz with a time of 18:28 for the win and Lyons, in third place (18:56), junior Edlin Simental in fifth place (19:54), and sophomores Kelly Luc in fourth place (19:29), Jocelyn Hua in sixth place (20:03), Jennifer Phung in seventh place (20:23), and Dieu Pham in ninth (20:35) as Rosemead earned seven of the first nine places.
South El Monte's Veronica Bejar was second (18:50), and Vanessa Rodriguez was eighth in 20:32.
Rosemead girl's junior varsity won with a perfect score of 15-50 as the host Panthers earned 11 of the top 12 places. Rosemead runners were Melanie Chhem (20:31), first, Freesia Quezada (21:44), second, Kelly Dinh (21:45), third, Tracie Wong (21:47), fourth, Jacqueline Tran (22:13), fifth, Jordan Bush (22:16), sixth, Trinh Ly (22:18), seventh, Melissa Chhem (22:21), eighth, Harleen Saini (22:44), tenth, Jennifer Lopez (22:55), 11th, and Lauren Huerta (22:58), 12th. South El Monte was led by Nancy Barrales (22:35) in ninth place.
South El Monte boy's varsity won 19-37 to finish undefeated at 5-0 in league action to win the MVL championship.  The visiting Eagles were led by Jayson Perez, defending MVL Runner of the Year, in first place with a time of 15:23, Isaias Hinojosa, in second place (15:23), Fernando Hernandez in third place (15:34), and Alex Pardo in fifth place (15:58).
Rosemead was led by senior Chris Le in fourth place (15:53), Kelvin Zhong in sixth place (16:00), Daniel Moreno in seventh place (16:02), senior Gilbert Ramirez in ninth place (16:11), and Johny Leung in 11th place (16:14) to complete Rosemead's scoring. Abraham Esparza, 13th in 16:19, and Michael Rosales, 14th in 16:24 also had good efforts, said Dominguez.
Rosemead won the boy's junior varsity race 25-30 to remain undefeated. South El Monte's Josue Linarte (16:53) and Robert Conchas (16:54) finished one-two, yet Rosemead won the race by placing in the next five places. The Rosemead runners who led their team to an undefeated season were John Martinez, third in 17:05, Michael Moreno, fourth in 17:27, Tommy Sy, fifth in 17:33, Anthony Huerta, sixth in 17:37, and Andy Pham, seventh in 17:59.
The frosh-soph Rosemead boy's team also completed the season undefeated by defeating South El Monte 18-45. Alex Li (16:50) won the race for the Panthers, and Rosemead teammates following were David Moreno (16:55) in second, Arturo Serrano (17:36) in fourth, Kevin Xiao (17:47) in fifth, Jimmy Cheng (17:53) in sixth, Elias Soriano (18:02) in seventh, Carlos Silva (18:39) in eighth, Panos Hua (18:50) in ninth, Alessandro Quezada (18:58) in tenth, Brandon Ho (19:14) in 11th, and Henry Lam (19:19) in 13th.  South El Monte's Humberto Maya (17:19) led the Eagles with a third place finish.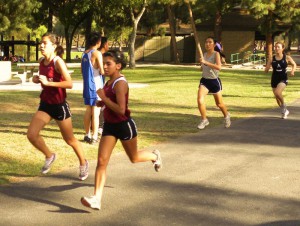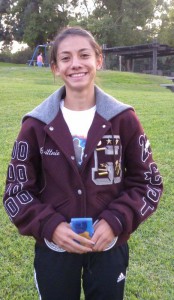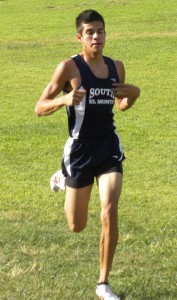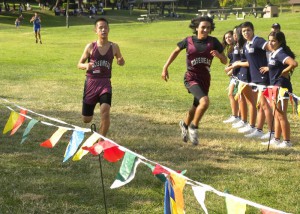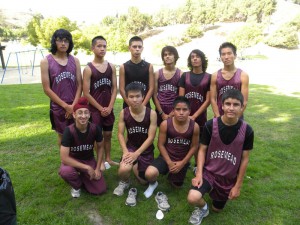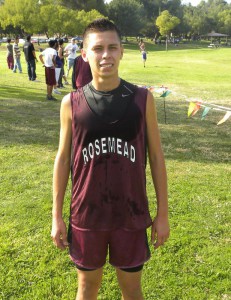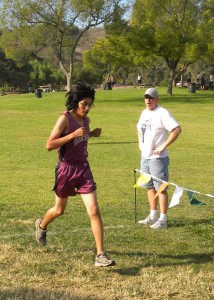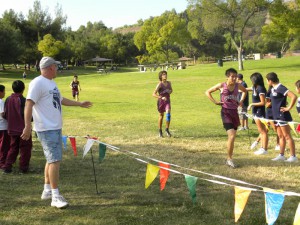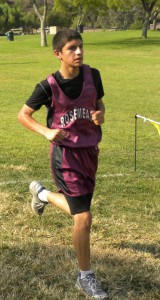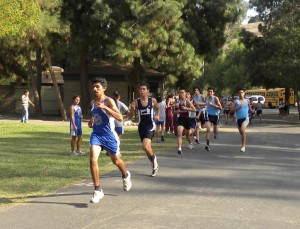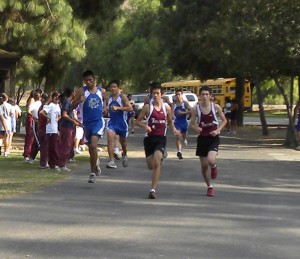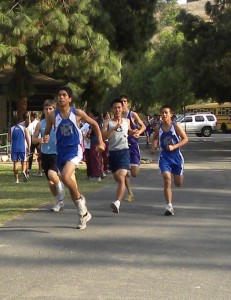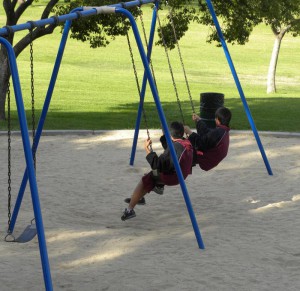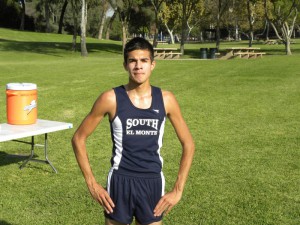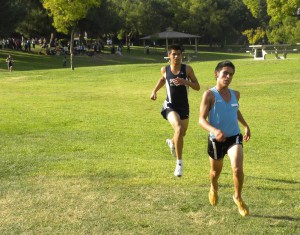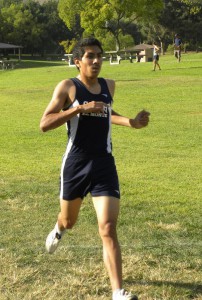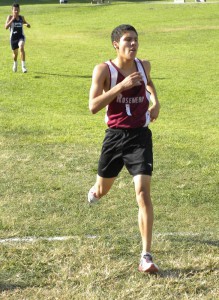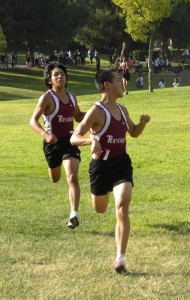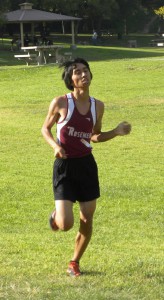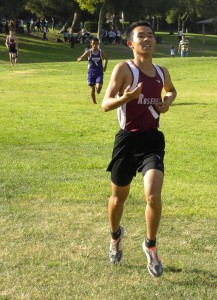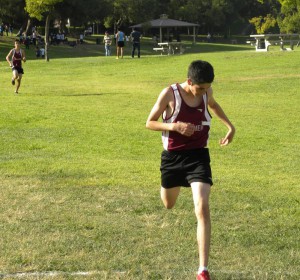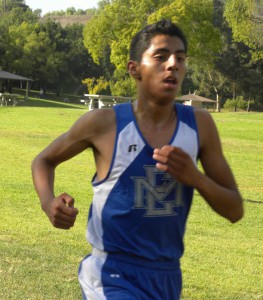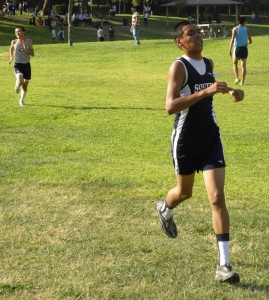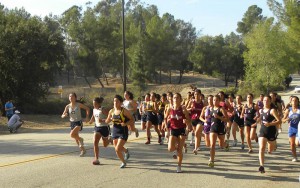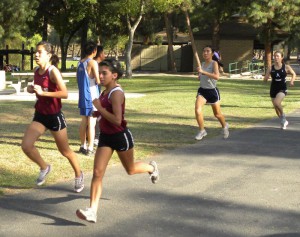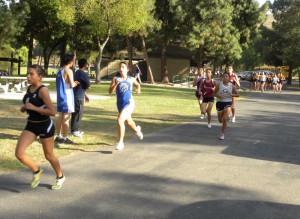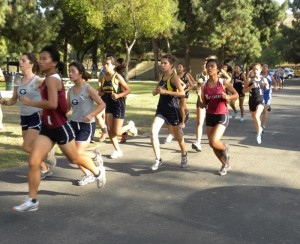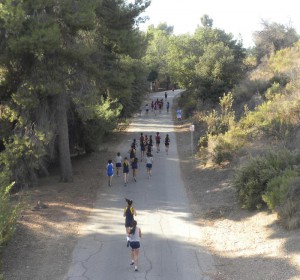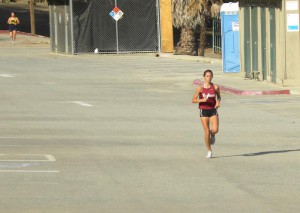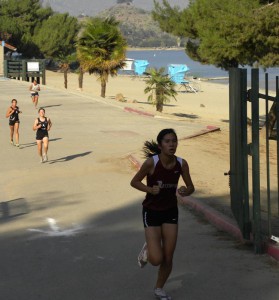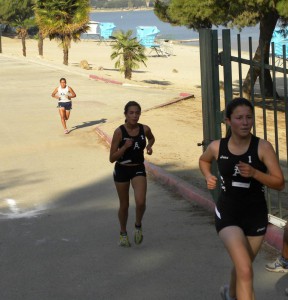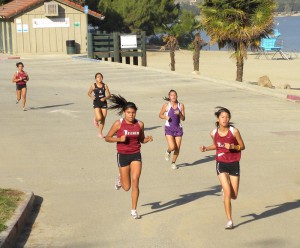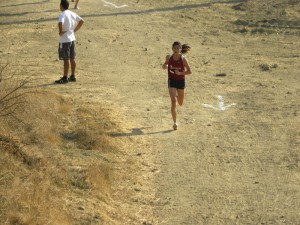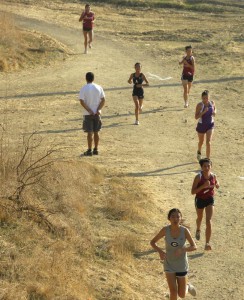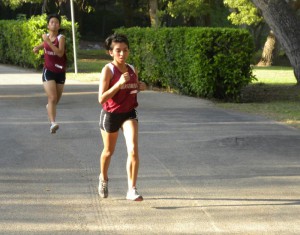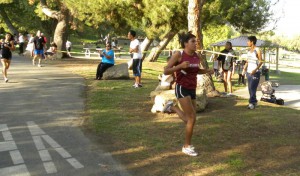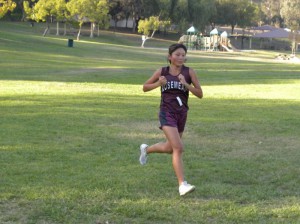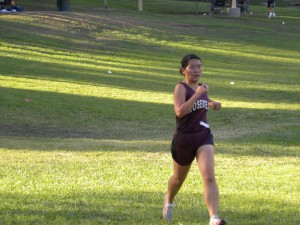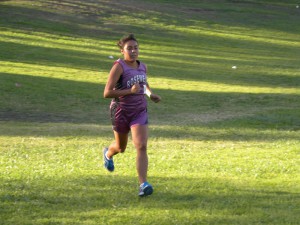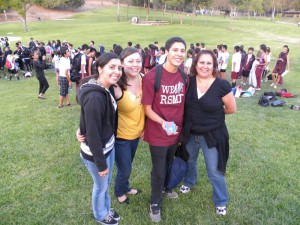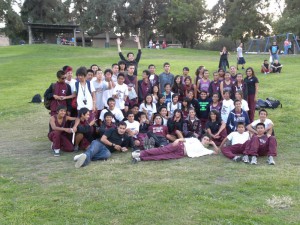 Leave a Response