EAST LOS ANGELES-MONTEBELLO BPW NAMES KAREN ROBERSON WOMAN OF ACHIEVEMENT FOR 2015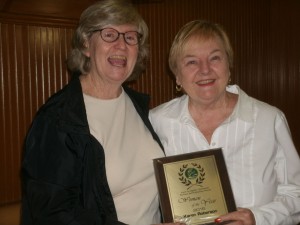 Club President Nancy Arcuri and Karen Roberson at the awards ceremony
The East Los Angeles-Montebello Business and Professional Women honored Karen Roberson as its 2015 "Woman of Achievement" on Wednesday, October 28th at Polly's Pies Restaurant in Montebello.
Roberson is the Chair and one of the founding members of Family Promise of San Gabriel Valley, which helps homeless families via an interfaith network of thirteen host churches and more than five support churches in the west San Gabriel Valley. Family Promise of San Gabriel Valley is a 501 (c) 3 organization which has served more than 70 families with more than 100 children since it was formed in 2011.
Roberson was raised in La Cañada, but later moved to Pasadena with her family.
She graduated from the University of Southern California School of Social Work. Her social work career was very varied from working with children and families to being the Supervisor for the Trauma Emergency Department at Huntington Memorial Hospital, to working with the Visiting Nurses Association and to being the Regional Director of Clinical Social Work with Providence Health and Services for Providence St. Joseph Medical Center and Providence Holy Cross Medical Center. She retired in 2011 after serving as the Director of Clinical Social Work and Palliative Care at Providence Holy Cross Medical Center. Throughout her career, Roberson was very active in the Association for Social Work Leadership – a non-profit organization that supports networking, advances social work related issues and supports the continuing education of practicing social workers. She is highly respected within the Social Work community.
Before retiring Roberson started working with other volunteers to get Family Promise of the San Gabriel Valley started. Besides Chairing the Family Promise Board, she has also run the program as a volunteer between Executive Directors. One time she ran the program for more than a year. She also continues to serve as the supervisor of the Social Work interns who help at Family Promise. She is also Chair of the Fund Development Committee for Family Promise and has worked to make the Empty Bowls and Big Band Theory Concert/Dance events a success.
Roberson is married to Russell, and they continue to make their home in Pasadena.
She is an amazing human being and a bright light of sunshine for all of us and well-deserving of the "Woman of the Year/Achievement."
East Los Angeles-Montebello BPW usually meets on the 4th Wednesday of the month at Polly's Pies, 1322 W. Beverly, Montebello. For more information about East Los Angeles-Montebello BPW, contact Linda Wilson at (626) 307-5650 or lindalwilson@juno.com.
Leave a Response