Rosemead HS 31st Annual Cross Country Invite Was "Lights Out" Big and Fast
Rosemead HS 31st Annual Cross Country
Invite Was "Lights Out" Big and Fast
By Chuck Lyons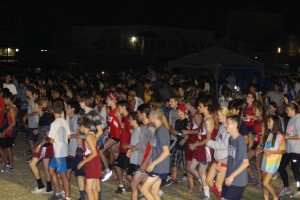 Rosemead High School's 31st Annual Cross Country Invitational experienced the biggest meet in the school's history with 87 high schools competing and competition that was very fast with meet records broken before the lights went off right before the senior races on day two of the now two-day meet.
An electrical power transformer exploded about a half mile from the campus and the stadium lights went dark with the senior girls at the starting line on Saturday night and the junior boys race near completion. Fans quickly followed the request of Rosemead High School coaches and volunteers to line the sidewalk by the stadium and stadium area with their cellphone lights as the junior boys races was about two-thirds done when the power outage occurred.  Fortunately the additional portable big lights brought in for the event made it possible the finish the race in progress with compassion and urgent participation by the fans to "light the way" for the runners to finish. It was reported that the same thing happened at Rosemead Park next door where the large lights also went off with many people immediately using their cell phone and flashlights to light the way for the remaining runners still on the course in the park.
However, after a 45-minutes delay, checking with Los Angeles County Sheriff Department on status of possible power returning and meeting of coaches it was decided in the safety of the runners and fans the girls and boys senior races remaining would be cancelled.
So the delay would be fun for the few thousand runners, coaches and fans, DJ Armando played the dance music that is usually a big tradition after the last race. It was obvious the disruption would not effect the memories of the event as it became a huge dance party.
A total of 1,217 runners competed on Friday, and 1,218 competed on Saturday on the 2.95 mile course making Rosemead's Invite one of the fastest growing invites in the state the past four years, announced Meet Director and Rosemead High School Cross Country Head Coach Fidel Dominguez.
"We thank all the Rosemead volunteers for their great service to the meet and cross country in general as this meet has become one for a lot of fun and fast times and Rosemead runners still did well in competition even though the runners helped on Friday when they still competed," said Dominguez. "Saturday was much easier for our volunteers. The crowd even started shouting Bob to salute race starter Bob Boyd who apparently has started the event races most years! And our DJ, tee shirt supplier and food stand people were all great according to some comments heard at the meet."
The event grew in 2007 when former Rosemead Coach Eddie Escobar convinced school officials to allow a night meet which at the time there was only two or three in California. The meet grew from 10 teams in 2006 with the help of the team members, some parents and relatives, to 39 teams for the first night meet in 2007, then to more than 40 teams the following year and has continued to grow with Dominguez as coach before it was decided this year to go to two days to allow more schools to have fun running at night in the cooler temperature in the evenings than during the hottest part of the day. There were 45 small schools on Friday and 42 large schools on Saturday that participated.
An amazing race was run by freshman Chloe Arriaga of Walnut High School on Saturday when she finished in 16:56.14 breaking the old freshman girls record and course record. Then two races later Emily Virtue of Burbank High School set a new sophomore girls record and course record with a time of 16:48.86.
In between those two races, freshman Daniel White of San Juan Hills High School set a new freshman boys record of 15:51.24.
Friday's Results (Small Schools)
Flintridge Prep (CIF Southern Section Div. 4) won the freshmen and junior girls races and was second in the girls sophomore team standings, while Mayfield (CIF-SS Div. 5) also did well despite only one second place team finish. When comparing Flintridge Prep and Mayfield in head-to-head competition of the two Prep League rivals, the results were a very few points difference.  Both schools are ranked tops in the state currently and strong contenders to win the state title in their division.
Host Rosemead won the boys freshman team award and was third in freshmen girls race, and fourth in girls sophomore, girls junior and boys senior races to have good team highlight in competition for the day while still volunteering to host the meet. San Marino High School earned second in boys freshmen and senior girls team standings.
McKenna Smith of Mayfield High School won the freshmen girls race in 18:09 to set a new freshman girls record and Rosemead's Jessica Perez was sixth in 19:32. Team standings (lowest score wins) were Flintridge Prep with 45 points in first, Mayfield with 66 for second and Rosemead with 91 for third.
In freshmen boys race, Christian Castro of Los Altos won in 17:07, with Rosemead's Ruben Lopez fifth in 17:41, and Don Bosco Tech's Aaron Dominguez sixth in 17:46. Team standings was Rosemead first with 143 points, San Marino second with 148 and Mark Keppel third with 177.
Sophie Gitlin of Flintridge Prep won the girls sophomore race in 18:16 and team winners were Norwalk in first with 65 points, Flintridge Prep second with 85 and Immaculate Heart third with 88.
Jayson Espinosa of Gabrielino won the sophomore boys race in 15:36 and Alex Ortega of Temple City was seventh in 16:18. In team standings, Valley Christian was first with 74 points, Bassett was second with 106 and Covina was third with 131.
Flintridge Prep continued its good day as Natalie O'Brien won the girls junior race in 17:28 and teammates Maia Cohen was third in 18:40 and Marissa Langley was sixth in 19:36. Hannah Morales of South El Monte was eighth in 19:38 and teammate Briana Patrick was ninth in 19:43.
Flintridge Prep easily won the team standings with 32 points, followed by St. Joseph with 81 and Immaculate Heart with 101, just edging Rosemead with 102.
In boys junior race, Jacob Dela Peza of Los Altos won in 15:43, with Michael Yen of Pasadena Poly second in 16:00.  Team standings were Norwalk first with 87 points just edging Pasadena Poly with 88 and Don Bosco Tech was third with 112.
The girls senior race was won by Emily Serhan of Mayfield in 17:44 and in a virtual tie for second was Demi Marine of Covina with a time of 17:48.32 and Katherine Tighe of Mayfield in 17:48.33.  Team standings were Sacred Heart first with 39 points, then San Marino in second with 65 and Covina third with 67.
Cesar Bermudez of Sierra Vista won the boys senior race in 15:00, Daniel Salazar of Covina was second in 15:13, Jesse Gonzales of Rosemead was sixth in 15:21 and Gabrielino's Gavin Fukawa was eighth in 16:17. Team standings were Los Altos in first with 33 points, Sierra Vista second with 93 and Valley Christian third with 113.
Saturday Results (Large Schools)
In the girls freshmen race Chloe Arriaga of Walnut won in 16:56 and teammate Emma Arriaga was second in 17:48. Ivanna Chagolla of St. Lucy's was seventh in 20:31. Isabella Veljacic of Schurr was ninth in 20:36. Team winners were Walnut in first with 84 points, Etiwanda had 85 and Alta Loma scored 104 points as did Burbank, with Alta Loma earning third place because its sixth finisher finished ahead of Burbank's sixth finisher.
In boys freshmen race Daniel White of San Juan Hills won in 15:51, Noah Hibbard of Arroyo was second in 16:05 and teammate Jonathan Lopez was fifth in 16:24. In team standings, Loyola won with 59 points, Cathedral was second with 82 and Arroyo was third with 94.
Emily Virtue of Burbank set the course record in 16:48 in winning the girls sophomore race, Rylee Penn of Centennial was second in 17:41, Neumann Megan of Torrance was third in 17:51, and Anderson Ariana of Torrance was fourth in 17:59, which all broke the previous sophomore record. Lizette Castro of Arroyo was sixth in 18:57 and Lizbeth Cano of Schurr was eighth in 19:05.  In team standings Arroyo won with 72 points, Yorba Linda was second with 93, and St. Lucy's was third with 97.
In boys sophomore race, Alexander Hirsch of Burbank won in 14:50, and Eduardo Briseno of Arroyo was fifth in 15:21. Team standings winners were Loyola in first with 40 points, Burbank second with 63 and Arroyo third with 94.
Joy Huang of Arcadia won the girls junior race in 17:25, followed by Rebecca Villa of Arroyo in fourth in 18:45 and her teammate Raylene Martinez in fifth in 18:55. Team winners were El Rancho with 75 points just ahead of Arroyo in second with 76 points and Yorba Linda third with 93.
Hugo Novoa of Long Beach Poly won the junior boys race in 14:57 as Bloomington won the team title with 71 points, with El Rancho second with 75 and Burbank third with 123.
Complete race results are available at www.rhsxc.com.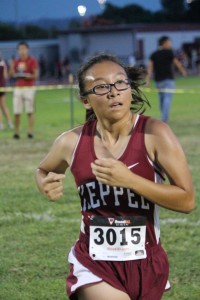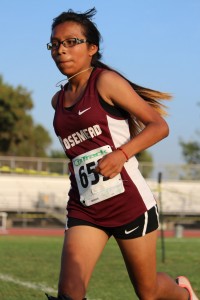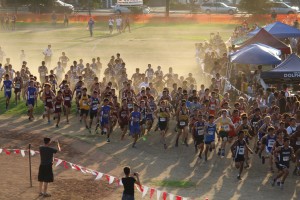 Students from Mark Keppel and Rosemead High Schools participated in the races along with fellow students from the local  High Schools.
Leave a Response